INDIANAPOLIS — The NFL career of Antoine Winfield, Jr., is just beginning, as he is among the select group of draft prospects in Indianapolis for the 2020 NFL Scouting Combine.
But the former University of Minnesota standout already has plenty of experience with the league because he grew up surrounded by the ins and outs of the NFL.
Winfield's father is Antoine Winfield, who enjoyed a notable 14-season NFL career that included 2004-12 with the Vikings, a span highlighted by three Pro Bowl appearances.
The 21-year-old recalled a story from a decade ago when he joined his dad for a weekly film session as the Vikings were preparing for a division game against the Lions.
"When I was younger, my dad would lay in his bed with his laptop. I would be sitting right next to him watching film," Winfield, Jr., said. "In particular, it was Calvin Johnson.
"I remember sitting next to him, and he was watching it and breaking the film down and everything," Winfield, Jr., added. "That's a cool experience that most people don't get to do."
Antoine Winfield was a first-round pick by the Bills in 1999 after a standout career at Ohio State. His son spent the first five years of his life in Buffalo before the family moved to Minnesota for the nine seasons in Purple.
And although Winfield, Jr., said his father never pushed him to play the game, the son noted he developed a passion for the pigskin on his own.
"I've been playing football my entire life, since I was probably 2 years old," Winfield said. "So, there was never a moment I didn't feel I was going to play football."
Winfield, Jr., played high school football in Texas but ended up back up north with the Gophers, where he developed into one of the nation's top defensive backs.
He was a unanimous All-American in 2019 and an All-Big Ten First-Team selection. The defensive back additionally earned the Big Ten Defensive Back of the Year award and was one of five finalists for the Bronko Nagurski Trophy.
"Antoine is a great football player. He's smart, he's talented, he's very competitive," said former Gophers wide receiver Tyler Johnson, who is also at the Combine. "Just being able to be around him each and every day not only [improved] my game, but [improved] his game as well.
"Two top-level guys going at it every day, 1-on-1 drills, 7-on-7, just being able to compete, which is what we want to do," Johnson added. "It was highs and lows to it all the time, very equal battles."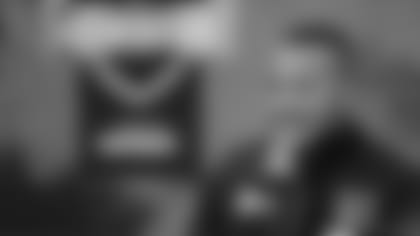 As he gets ready to enter the league, Winfield, Jr., said he would prefer to play free safety, but added that he can play safety, slot cornerback or as a corner on the outside.
"I think versatility is my best attribute," Winfield, Jr., said. "I can pretty much play anywhere. Also, create takeaways. That's my goal, to create takeaways for my team, and that gives us the best opportunity to win. I'm going to do everything in my power to do that."
"I can play in the post, down in the box, over slot receivers, over tight ends," Winfield, Jr., added. "Anywhere a team needs me to play, that's what I'll do."
Both Winfields stand at 5-foot-9, although the younger Winfield said with a smile Friday morning in Indianapolis that he is certain he has better speed than his dad.
But with the two similar in size, Winfield, Jr., said he takes a lot of pride in playing the game the same way his dad did.
"Very similar. We're almost about the same in size," Winfield, Jr., said. "My dad had a lot of heart, and that's kind of what I looked up to in him.
"Seeing him go out there against professionals and great guys that you see on TV all the time, that's something I kind of modify my game after," Winfield, Jr., added. "It's not about how big you are, how tall you are … it's about how much fight you have."
Winfield, Jr., is not the only player in Indianapolis who has family ties to the Vikings.
Randy Moss' son, Thaddeus, spoke earlier in the week about the advice he's gotten from his Hall of Fame dad. And former Vikings wide receiver Jake Reed also has a son at the Combine. J.R. Reed recently finished up his college career as a safety at Georgia.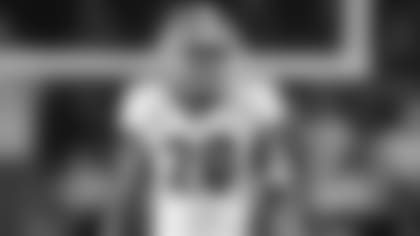 Jake Reed played 134 games with the Vikings and ranks fourth in team history with 4,633 yards and sixth with 413 catches. He notched four straight 1,000-yard seasons from 1994-1997.
"Being here, my dad has done it, following in his footsteps," J.R. Reed said. "You watch the combine when you're little, and you come out here and you just compete and perform.
Both players said Friday they believe having a lineage to the NFL can only help them as they navigate through a wild week at the combine.
"I think it gives you the upper hand," Winfield, Jr., said. "If you've got family members who have been through it firsthand, you can always lean on them for advice and they'll tell you pretty much anything you need to know prior to coming to an event like this. I think it definitely helps from an advice standpoint.
"At a young age I was being taught things most other kids weren't even thinking about at the time," Winfield, Jr., added. "Having an All-Pro dad play football and he's out in the backyard doing footwork [drills], and I'm out there doing footwork at an early age, watching film at a young age and doing everything most kids wish they had. I don't take it for granted at all."
Added Reed: "From my dad, one of the things I learned at an early age is it's never too early to start being a pro. You've got to start being a pro now. So, if you want to be a pro, you've got to start now. Don't wait until you get to the league or wait until you get to college to act like a college player. You know, do it now. So, that started at a young age."
Winfield, Jr., has been linked to the Vikings, including in a recent mock draft from ESPN draft expert Mel Kiper, Jr.
Winfield, Jr., said he would be happy to end up on any NFL team, but admitted there would be something special about wearing the same colors that his father once did.
"That would be incredible. When my dad played, I grew up a Vikings fan," Winfield, Jr., said. "That would be incredible to play for Minnesota after watching him all these years.
"It's very special. This is something I've always wanted to do ever since I was a kid," he added. "I watched my dad play in the league for 14 years and knew at a young age this is what I wanted to do with my life. It's a surreal feeling to be here right now, so I'm just excited and enjoying the process so far."