INDIANAPOLIS — Like most players at the 2020 NFL Scouting Combine, Thaddeus Moss has relied on family, friends and coaches to help get himself ready for the weekly showcase in Indianapolis.
But it's much more rare when a draft prospect can lean on a Hall of Famer for advice in the biggest job interview of his life. That guy happens to his dad, too — a guy you've probably heard of.
Yes, as he tries to impress NFL teams, Thaddeus is quick to go to former Vikings wide receiver Randy Moss "a lot" for professional and personal guidance.
"He's helped me all the way up to this point in my career," Moss said of his father. "He's been through a lot and seen a lot, so he has answers for everything.
"He has the answers to everything," Moss added. "I'm leaning on him during this time because he has the answers to everything. He's given me advice from A to Z."
Football fans around the country are certainly aware of who Randy Moss is, as the 2018 Pro Football Hall of Fame inductee ranks second all-time with 156 career touchdown catches, fourth in league history with 15,292 receiving yards and 15th with 1,062 career catches.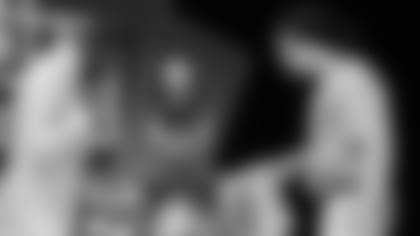 The 21st overall pick in the 1998 NFL Draft, Moss burst onto the scene right away with a rookie-record 17 touchdown catches. He had 69 receptions for 1,313 yards as the Vikings went 15-1 in 1998. Moss also holds the NFL single-season record with 23 touchdown catches, which he set while with New England in 2007.
But as Thaddeus — who was born less than a month after his father was drafted — gets set to enter the league on his own, his father has preferred to stay out of spotlight and turned down an interview request.
Instead, Thaddeus is drawing buzz on his own after a strong redshirt junior season for the national-champion Tigers. He set school records for a tight end with 47 catches for 570 yards and added four touchdown catches.
"It's a dream come true just to be in this position — to be going to the NFL Draft, have a chance to play in the NFL," Moss said.
Moss was at his best in the College Football Playoffs, hauling in nine catches for 135 yards and three scores in wins over Oklahoma and Clemson to help LSU cap off a perfect 15-0 season.
While his dad made highlight reels as a wide receiver, Thaddeus had made his name as a tight end.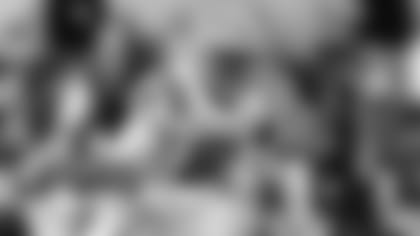 "Tight end's been the one position, I've been playing football since the second grade, tight end's the one position I've played my whole life," Moss said Tuesday morning at the combine. "I started playing tight end and middle linebacker when I first started playing.
"I was too big to play receiver, so I've always been big," Moss added.
Moss announced Wednesday that he will not partake in any physical drills this week, choosing to hold off on that until LSU's Pro Day on April 3.
"When April 3rd comes, just competing with myself. I don't compete with others," Moss said. "Just putting my best foot forward and living with the results.
"Just the long, grueling season that we had. SEC West, physical games, our season just ended not too long ago," Moss added. "Trying to rest my body and rest my mind, put my best foot forward and put all my focus on the Pro Day."
Moss began his college career at North Carolina State, where he had six catches for 49 yards and a score in five games in 2016. He then transferred to LSU and sat out the 2017 season due to transfer rules, only to miss the 2018 season with a foot injury.
The 21-year-old Moss feels like his football career is just beginning, and he plays a position that is constantly evolving in the NFL.
It's been great. It's been such a big part of the offense," Moss said. "These two past two teams in the Super Bowl had the two best tight ends in the NFL [in Travis Kelce and George Kittle].
"Tight ends are really being utilized more and more and more, so it's great to see offenses use tight ends," Moss added.
You can be sure that Randy Moss will continue to give advice to his son as Thaddeus gets closer to the draft and eventually embarks on his rookie season in the NFL.
Want proof that the father and son share a close bond? When Randy Moss was inducted into the Hall of Fame in August of 2018, Thaddeus presented him. That meant helping his father slip into an iconic gold jacket and unveiling his bronze bust for the world to see.
"I was nervous. I'm not gonna sit here and lie to you," Thaddeus Moss said. "When he first told me [he was going into the Hall], that was the first thing he told me: 'I'm going to have you introduce me into the Hall of Fame.' And the next words out of his mouth were, 'You're not gonna have to do a speech or anything like that,' because he knows, at the time I was as nervous as could be.
Thaddeus also spoke in the video below as part of his father's enshrinement.
"But it was a great experience. The people that I got to meet, the hands I got to shake, just the whole experience," Moss added. "Being able to finish off his NFL career by putting his gold jacket on him … it meant a lot to him, but it meant a lot to me, too. That experience, I'll never forget it. One of the best few days of my life."