Eric Kendricks and his fiancée Ally Courtnall are consistently looking for ways to better the world around them.
Especially when they have the opportunity to combine their respective platforms and passions.
Most recently, Courtnall has developed and established Dual Citizen, a new brand and social media platform that focuses not only on mental health awareness but also on creating a virtual wellness community.
Courtnall explained her mission to make mental health a more approachable topic and continue breaking down the stigma that often surrounds – consciously or unconsciously – a difficult topic.
"We wanted to have [engaging] graphics and meaningful posts," Courtnall said, "but also find a good balance between educating people and providing a place where anybody can come and find a quote that speaks to them or something that uplifts them in their day.
"I feel like we talk about getting in shape and all these workout brands and fitness brands, and I just don't think there's enough of that for the mental health side of things," she added. "My focus was first on social media because it's a platform that we spend so much time on, and we consume so much, so I just want it to be something positive for people within all the craziness that goes on."
"When I see it pop up on my own social media, it's a good reminder of things that I need to do to check in with myself, reminders of messaging that I need to hear, and a reminder of how to treat myself," Kendricks said.
The idea came to Courtnall during the initial COVID-19 lockdown in spring 2020.
She and Kendricks spent time ruminating on how to continue making a consistent impact beyond their respective careers as a model and NFL linebacker.
What are we passionate about? What's our purpose?
The couple asked these questions to themselves.
"I was like, 'You know, I love modeling and it's fun, but I really want to do something that has a bigger purpose and has more depth to it,' " Courtnall reflected.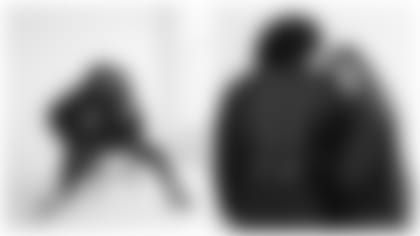 She first considered a physical wellness brand but challenged herself to bring something "new and innovative" to the table in a space she described as oversaturated.
The name Dual Citizen, she said, is a multilayered moniker but ultimately highlights the importance of tending simultaneously to the mind and body.
"You can't take care of your community without taking care of yourself … [or if] you're only taking care of your physical health and not your mental health," Courtnall emphasized. "There's two parts to one's health."
While Courtnall has taken the reins on this project, she's grateful for Kendricks' whole-hearted support in the endeavor.
"It's awesome. At the end of the day, she's trying to help people, and this is a platform that allows her to do that," Kendricks said. "It's been cool to see her go through this process of beginning this [brand and] business for herself."
She said Kendricks has helped immensely throughout the process, from the brainstorming stage to lending his creative eye to the brand's design and presentation.
Kendricks, who enjoys painting and drawing, has assisted in the overall aesthetic of Dual Citizen's Instagram page and daily social posts, as well as on limited-release apparel the brand recently unveiled.
"He's helped with colors and helping me figure out the branding – and making sure some of the content is appealing to men, as well," Courtnall said. "I've just been picking his brain and asking his opinions on things, just because he comes from a perspective unique from mine. For instance, Eric loves to put items in his back pocket, and maybe others would appreciate a pocket, as well. Those types of things, he's been super helpful with."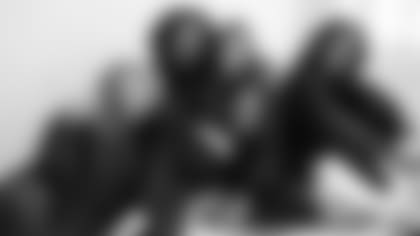 The merch – which includes sweatsuits and hats – is a secondary piece to the community Courtnall is creating, but she hopes the unique items will further promote the messaging around mental health.
The sweatshirts come in two colors and are available for purchase while inventory lasts. Printed on the back of each hoodie/crewneck is a graphic Courtnall especially loves: a custom word search.
"The crossword has really powerful words embedded that will hopefully encourage people to just take a moment in their day, whether it is 'breathe' or 'love' or 'hope,' " Courtnall said. "I think it's gonna be cool in a really interactive way to bring awareness to the brand but also [first and foremost] just spread that positivity.
"I'm excited to keep creating pieces that hopefully will do that for people," she added.
Similar to Dual Citizen's presence on social media, Courtnall aimed to create merchandise that appeals to a broad spectrum of people, personalities and body types.
The sweatsuits are designed as unisex, with universal color tones.
"We didn't want it to just favor one [gender] or the other," Courtnall explained. "I think that's also an issue when it comes to mental health. Women are more likely to speak on their feelings. They're more likely to go to therapy. So I really wanted to make sure it was a space men felt like they could come to, as well.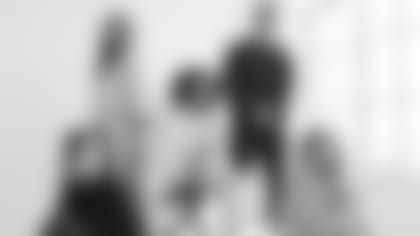 Courtnall used Kendricks as her fit model for the sweats, intentionally steering away from "stick-straight" body types generally favored in the fashion and modeling industry.
"I really just wanted to make sure that when I say 'these are oversized sweats' and you buy your size, it'll be oversized on you. I took pieces of things that I feel like are issues in the industry and things that I've come across [and modified the approach], Courtnall said.
"They're super comfy," she added. "I'm really excited."
Her true anticipation lies, however, with making a positive impact on those around her. Having navigated mental health challenges herself over the years and worked with young people facing similar hurdles, Courtnall is intent with her approach.
"This is going to be a space where professionals will come and share," she explained. "We make sure the information we get is from licensed professionals, and it's not just the feel-good stuff on there. It's going to be a proper balance of the two.
"We also want to set it up where a percentage of every purchase will be donated to a mental health organization," she added. "Every part of the brand will be tied back to something with mental health, and we want to be a company that not only educates and talks about it but also takes action."
Note: A percentage of proceeds on the first release of Dual Citizen apparel will be donated to Children's Minnesota. Any purchases made on Thursday, Nov. 18 will be doubled for Give to the Max Day.