MINNEAPOLIS – Danielle Hunter pushed past a block by Trent Brown, got to Mac Jones and put him on his back for a 9-yard loss.
It took the Vikings 57 minutes and 45 seconds of game time to get their first sack; but Hunter met Jones at a crucial time.
Jones then threw an incomplete pass on fourth-and-16, and the Vikings took over on downs en route to the 33-26 come-from-behind win.
"It was a team effort. It's about doing what you're supposed to do," Hunter said. "The back end was able to do their job and have him hold the ball until our rush was going to get there."
Once again, the Vikings defense hit another gear in the fourth quarter, when the Patriots were held scoreless.
The unit hit rough patches throughout the Thanksgiving night game, but when it came down to crunch time, the group delivered.
"We just keep fighting. That's been the theme all year," safety Camryn Bynum said. "Every time we hit adversity through the game, it doesn't matter. Flush it. Next series. Fourth quarter, we came down with the win."
Added cornerback Chandon Sullivan: "We're closers. We want that situation. We want the game coming down to us and us making a play, and that's what we're able to do. I think it's the key to our victories so far."
Sullivan was in coverage on Patriots tight end Hunter Henry during a third-quarter play that initially was ruled a touchdown. The officials reviewed the play, however, and overturned the call, forcing New England to settle for a field goal rather than the six points.
"Initially, I didn't think he caught it. I saw it hit the ground, and I'm just glad they reviewed it," Sullivan said. "That was a key point in the game. … We made it close; it was interesting. But we'll take it."
Minnesota took the lead with an Adam Thielen touchdown with 9:34 left in the game. Next up, defense.
The group certainly did that, making the Patriots go three-and-out thanks to a second-down tackle by Jordan Hicks and incomplete pass on third-and-1. New England's next series was capped by Hunter's sack and the incompletion on fourth-and-16.
Minnesota's offense ran the ball three times, even though New England was selling out to stop the run. The decision by Head Coach Kevin O'Connell exhausted the final two Patriots timeouts.
The Vikings found themselves having to punt with just 1:02 left in the game. Ryan Wright punted the ball 59 yards to the New England 1, and it was returned 10.
Defensive lineman Ross Blacklock took Jones down for another 9-yard loss, notching his first sack as a Viking and third of his career.
"Just trusting the plan, trusting the rush plan, and knowing it's going to come when it comes. Just excited," Blacklock said. "We just know what's at stake. At the end of the day, we can put it all on us, and we'll be able to handle it.
"We just go out there and make plays, flying around," he added. "Guys love playing with each other."
Cornerback Patrick Peterson credited Patriots Head Coach Bill Belichick for always having a good plan for his opponent.
"It was a bumpy road throughout that game; it was tough getting to the quarterback today," Peterson said. "That's what Bill Belichick does. He finds a way to take your best guys out of the game. … They found a way to keep our edge rushers at bay.
"But when we needed it, in the fourth quarter with about a minute left, [Blacklock] got home when we really needed it," Peterson added. "[Vikings Defensive Coordinator Ed Donatell] does a great job of mixing it up up front and just believing in those guys that at some point they will get home."
Blacklock's sack set the Patriots back to second-and-19, on which Jones connected with Kendrick Bourne for a 17-yard gain. Peterson didn't allow Bourne to run out of bounds, instead tackling him just inside the sideline. With the clock running, the Patriots got one final play off with 0:08 remaining, and Minnesota walked away with the win.
Peterson called the game – which featured seven lead changes and five ties – a "slugfest."
"Haymakers thrown back and forth. Kick returns, touchdowns. It was a firework day. But defensively, we pride ourselves on closing out games, and when we needed to close it out, we closed it out," he said. "Got a big sack, and they tried to dump it out of bounds, having good football awareness keeping him in-bounds with no timeouts left … make it harder on them to get a play off.
"These guys, we find a way to play our best when it is required," Peterson added. "That's what it takes to win games. That's what it takes to build confidence. I think we're definitely moving in the right direction, finding ways to win games, and also closing it out on defense."
When all was said and done, the Vikings allowed the Patriots to cover a lot of ground. Jones finished the game 28-of-39 passing for 382 yards and two touchdowns with a passer rating of 119.8.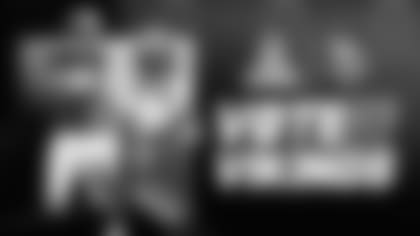 2023 Pro Bowl Voting Open!
Cast your vote to send your favorite Vikings to the 2023 Pro Bowl Games.
Minnesota contained the run game, giving up just 45 yards, but allowed five Patriots receivers to record 60-plus yards apiece. DaVante Parker led the team with 80 yards on just four catches, and Rhamondre Stevenson had 76 receiving yards in addition to 36 rushing.
Bynum acknowledged some of the missteps in the secondary that let Jones complete nine passes of more than 16 yards and four of 30-plus.
"[It's a] matter of us doing our job every single play. If one guy gets out of their gap, coverage for us on the back end, we've gotta be perfect every play, otherwise – we're in the NFL – people will find your mistakes. Moving forward, details, details, details," Bynum said.
"We gave up a lot of passing yards. A lot of small-detail things where we'd get out of our assignment, just a small thing, and they would exploit that," he continued. "Good enough to win, but we're never satisfied with that."
The Patriots tried to exploit Vikings cornerback Duke Shelley, who made his first start for Minnesota Thursday night, but he held his own.
Shelley even recorded another pass breakup in the end zone after doing the same at Buffalo two weeks ago.
Not bad for a guy who joined the Vikings in September and spent the first two months on practice squad.
"He's a dog. That's really it. He practices hard, plays hard, he has a mindset of, 'Whenever I'm in, I'm gonna make a play,' " Bynum said of Shelley. "You saw that in the Buffalo game, you saw it [Thursday] when he made plays. He's been a good player. That's exactly what we expect of him."
Minnesota is weathering a banged-up secondary, playing without Cameron Dantzler, Sr. (Injured Reserve), Akayleb Evans (concussion) and Andrew Booth, Jr. (knee). But no one uses that as an excuse.
"We know anybody can play, so everybody's got to be ready," Bynum said.
Linebacker Eric Kendricks emphasized not panicking when some things go awry – which they likely inevitably will.
"Early in the game, they were definitely making their plays. They came out with a certain game plan. We eventually settled down and made some crucial plays down the road," Kendricks said. "But late in that third and fourth quarter, just looking at everybody's eyes on the sideline, everybody was locked in. We've been in that situation before this year. We know what it's going to take for us to win. Got some amazing pressure, dialed some stuff up, covered some stuff.
"We battled. We knew that was going to be a battle, especially on a short week," he added. "But it was fun, and we got the dub. We closed it out."