Add the Justin Jefferson footage from Thursday to Vikings fans' favorite Thanksgiving clips.
Jefferson led all players with 139 yards on nine catches and put the Vikings on the scoreboard early with a 7-yard touchdown reception.
His 37-yard grab in the second quarter set up a 1-yard touchdown pass from Kirk Cousins to tight end T.J. Hockenson and pushed his career yardage past the 4,163 by Moss in his first three seasons, setting a new NFL record.
Jefferson added a 36-yard catch in the fourth quarter one play before Cousins found Adam Thielen for the final score of the night, and the defense held on for a 33-26 win at U.S. Bank Stadium in the first Thanksgiving game hosted by Minnesota.
The Vikings improved to 7-2 all-time in Thanksgiving games. Minnesota (9-2) recorded its sixth fourth-quarter comeback victory under first-year Head Coach and former Patriots backup quarterback Kevin O'Connell.
The Patriots fell to 6-5 on the year.
Here are four more observations presented by Minnesota Eye Consultants, the Proud LASIK Partner of the Minnesota Vikings, followed by a scoring summary:
1. Thielen ties Anthony Carter
Thielen's score was the 52nd touchdown reception of his career, tying him with Anthony Carter for third in team history. Only Moss (92) and Cris Carter (110) have more receiving touchdowns for the Vikings.
Thielen caught nine passes for 61 yards with a long of 16.
Thielen and Jefferson combined for 21 targets and caught 18 passes, helping Cousins finish 30-of-37 passing for 299 yards with three scores and an interception for a passer rating of 116.1. One of Thielen's receptions was on an 11-yard pass by Jefferson.
In an amazing back-and-forth game with seven lead changes and five ties, the Vikings defense delivered in the fourth quarter.
Minnesota forced back-to-back three-and-punts by New England.
The first stop was helped by back-to-back pass breakups by Eric Kendricks and Camryn Bynum.
It followed a field goal that tied the game at 26. Minnesota piggybacked off the defensive momentum and put together the game-winning touchdown drive on the next series.
Danielle Hunter's sack of Mac Jones created a fourth-and-16 that finished with an incompletion inside the 2-minute warning, and Ross Blacklock stuffed Jones for a loss of 9 as New England's final possession started.
New England was 0-for-3 in the red zone.
3. Special teams bring the fire
The Vikings special teams unit was able to leave its fingerprints on another win.
The biggest play was a 97-yard kickoff return touchdown by Kene Nwangwu that immediately answered a touchdown drive by New England and tied the game at 23 with 10:41 remaining in the third quarter.
Minnesota's punting coverage also came through at crucial moments.
Wright punted just three times, but he pinned New England inside it's 20 all three times. He averaged 52.7 with a net of 49.0.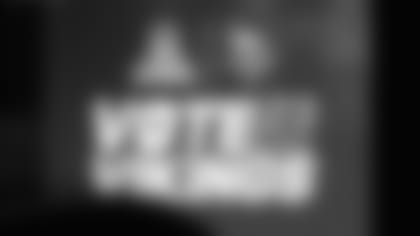 Pro Bowl Voting is Open!
Cast your vote to send your favorite Vikings to the 2023 Pro Bowl Games.
4. Vikings owned time of possession
After failing to sustain drives against Dallas days earlier, the Vikings offense put together two drives that lasted more than seven minutes and possessed the ball for more than nine minutes of three of four quarters.
Minnesota was 8-for-15 on third downs and limited New England to a 3-for-10 showing.
The Vikings weren't prolific in the run game, rushing for just an average of 2.1 yards per carry, but a steadfast commitment enabled Minnesota to stay within its offense. Minnesota finished with 57 yards on 27 carries, but it played keep away from a New England offense that played well and got off to a hot start.
Justin Jefferson catches a 7-yard pass from Kirk Cousins (Greg Joseph kicks PAT) [8 plays, 80 yards, 4:20 time of possession]
Throwing and catching: The Vikings used a bit of trickery on their fifth play of the game with Jefferson catching a lateral from Cousins before setting and firing to Adam Thielen.
Jefferson then finished the drive with a grab on third-and-3.
Nelson Agholor catches a 34-yard pass from Mac Jones (Nick Folk kicks PAT) [5 plays, 75 yards, 3:43 time of possession]
2 big ones: The Patriots came out firing their muskets with Jones finding Jakobi Meyers for a gain of 26 on New England's first snap. After two runs and a short pass to tight end Hunter Henry, Jones found Agholor in an opening in the Vikings zone defense.
Folk kicks a 34-yard field goal [4 plays, 1 yard, 2:00 time of possession]
Defensive stand: The Patriots took over at the Minnesota 17-yard line after a 55-yard interception return by Jonathan Jones. Minnesota was able to limit New England to a field goal thanks to a 7-yard tackle for loss by Za'Darius Smith on a run by receiver Kendrick Bourne. Harrison Phillips caused the initial disruption of Bourne.
Joseph kicks a 30-yard field goal [14 plays, 72 yards, 7:59 time of possession]
Catch erased: The Vikings appeared to have a first-and-goal on the New England 2 after an incredible catch by Jefferson, but the play was negated by a holding penalty on Ed Ingram. It was a legit penalty with Ingram grabbing Matthew Judon on the play.
Folk kicks a 46-yard field goal [5 plays, 23 yards, 2:48 time of possession]
Special teams set up: New England took over at its own 49 after a 46-yard kickoff return by Marcus Jones.
T.J. Hockenson catches a 1-yard pass from Cousins (Joseph misses PAT) [9 plays, 75 yards, 4:10 time of possession]
Key conversion: The Vikings were able to convert a third-and-7 with a 37-yard pass to Jefferson on which he passed Randy Moss for the most receiving yards in an NFL player's first three seasons.
Folk kicks a 23-yard field goal [9 plays, 70 yards, 1:27 time of possession]
52 yards in three plays: The Patriots were able to go from their own 30 to the Minnesota 18 in three plays: completions of 22 yards to Hunter Henry and grabs of 16 and 14 yards by DeVante Parker.
Henry catches a 37-yard pass from Mac Jones (Folk kicks PAT) [8 plays, 75 yards, 4:06 time of possession]
Open space: Henry found another opening down the middle of the field between Minnesota's linebackers and safeties.
Kene Nwangwu returns the kickoff 97 yards (Joseph kicks PAT)
Finding the lane: Nwangwu was able to pick up blocks and walk the tightrope in front of the Vikings sideline for his third career kickoff return touchdown.
Folk kicks a 25-yard field goal [9 plays, 69 yards, 3:58 time of possession]
After review: The Patriots were initially ruled to have a touchdown catch on third-and-goal from the 6, but after officials reviewed the play, they determined Henry did not control the football all the way to the ground after contact by Chandon Sullivan.
Joseph kicks a 36-yard field goal [14 plays, 65 yards, 7:36 time of possession]
Disrupted by sack: The Vikings faced a second-and-8 from the 9 on the first play of the fourth quarter but allowed a sack by Josh Uche for a 9-yard loss.
Thielen catches a 15-yard pass from Cousins (Joseph kicks PAT) [6 plays, 71 yards, 3:32 time of possession]
Second-chance points: The score occurred three plays after Minnesota was able to keep the ball because of a running into the kicker penalty. Ryan Wright punted the football and was run into by Pierre Strong, Jr. Instead of the Patriots taking over at the New England 8, Minnesota was awarded a fresh set of downs