HUTCHINSON, Minn. — There was hardly a dry eye in the building.
Especially for Scott Schindler, who struggled to find the words to describe his emotions of Thursday afternoon, and the past nine months of his life.
Schindler, a Hutchinson native who was paralyzed from the neck down in a September car accident, was honored in the Hutchinson High School gymnasium by former Vikings linebacker Chad Greenway in front of hundreds of people.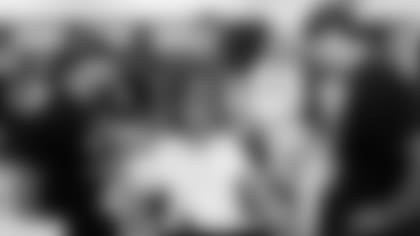 But then the surprise came in the form of a $5,000 check to help Schindler's home become more accessible, and the emotions poured out.
"Oh, I mean it's just wonderful. It's so humbling," Schindler said as his voice cracked. "I wasn't quite sure what to expect.
"I thought something was going on, and I kind of has a suspicion," Schindler added. "It was just awesome because it will definitely go to good use."
Greenway, who was in Hutchinson for his annual youth football camp, said he was happy to be part of Schindler's journey.
"It's just an appreciation to do things like this. Sometimes you lose sight of the fact that people are going through some really hard stuff," Greenway said. "If you can play a small role in helping them, it's pretty special. We're proud to be here."
Schindler was driving home from work when his car was hit head-on by an oncoming vehicle. He was airlifted to Hennepin County Medical Center in Minneapolis, where doctors performed emergency surgery before announced the life-changing news that he was paralyzed.
The 55-year-old father of two then spent four-plus months at a rehabilitation center in Denver, and another four-plus months at a similar space in Omaha before he finally returned to Hutchinson last Saturday, just in time for Father's Day.
"I couldn't wait to get back. We got back Saturday about 3:30 p.m., and pulling into town seeing that 'Hutchinson' sign, I almost cried," Schindler said. "To see that, it means we made it."
"Everybody has been so supportive here in Hutch," Schindler added. "I always said that I don't really like winter, but that my family and friends keep me warm. But now they'll really have to help keep me warm."
Schindler's son, Shaun, has been by his father's side every day since the accident. He said he was overwhelmed by the support and the check presentation.
"We're humbled. I didn't expect any of this to happen," Shaun Schindler said. "It shows how much dedication and time he's put in here without ever looking for anything in return.
"Something was returned, and it's just a blessing how a community can come together after a tragedy," he added.
Scott Schindler played football at Minnesota State University, Mankato in 1987 and 1988, and Shaun played for the Mavericks from 2013 to 2015.
Schindler said the past nine months have built an even stronger bond between father and son.
"Very hard and tough, but also kind of rewarding. Being a football player myself, you always want to do your best, and hard work shows," Schindler said. "That's what we've been doing, and we've had a lot of laughs along the way, too.
"All the years of me pushing Shaun with football and weight lifting, now he's pushing me. He makes sure I'm working as hard as I can. Now he's going to take care of me," Schindler added as his voice trailed off. "What more rewards could you get?"
Scott Schindler is a beloved figure in the Hutchinson community. He helped establish one of the town's first youth football camps in 2002, and sometimes showed up in a shirt and tie to help out during the day before heading back to work.
He also coached the defensive line for the Tigers varsity football team from 2001 to 2004, and has been involved with the program in various ways for roughly two decades.
Chad Harlander has partnered with Greenway to host the youth camp in Hutchinson for the past 11 years. Harlander, who impacts high school students through the REACH program at the high school, recalled a story from a few years back when he noticed a random man cleaning off cars and driveways for strangers in the middle of winter.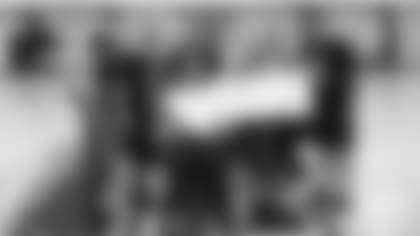 "For me personally, this is the first time I've seen him since he's been home," Harlander said. "He is a man who is full of life. He may have some restrictions, but he is still living life to its fullest.
"With everything that this man and his family have gone through in the last nine months, and for him to be home for the first time this week and be a part of this, it's what this camp is all about," Harlander added.
Greenway hosted more than 300 kids from fourth to ninth grade at the two-day camp, which concluded Friday. The former captain, who retired after the 2016 season, said he enjoys building relationships and seeing repeat faces each year.
That includes 11-year-old Ryan Merkins, a Hutchinson resident who was at his third camp.
"I like it because he keeps on pushing me," Merkins said of Greenway. "I like the tackling drill."
Said Greenway: "Every year has been really good. We're going to try and keep this thing going on forever. This community has given us so much over the last 11 years. It's important for us to do this, and it feels pretty good to help out."
There's no doubt the camp will return to Hutchinson in the summer of 2020. But by then, Schindler said he wants to be able to help out any way he can.
"What an opportunity for these kids," Schindler said. "Chad Greenway is a wonderful guy. I wish he didn't retire and was still playing."
"I just love this," Schindler added. "And next year, maybe I will be here."