EAGAN, Minn. — Last week, the Vikings faced a familiar foe and won, beating the Saints 27-19 at home.
Entering Week 11, Minnesota (6-4) is again preparing for a well-known adversary.
Denver Head Coach Sean Payton, who faced Minnesota 12 times during his tenure with New Orleans, will be on the opposing sideline at Broncos Stadium at Mile High for Sunday Night Football.
Denver (4-5) has won three straight games, including victories against AFC preseason favorites the Chiefs and Bills. A two-point win over the Packers started the Broncos current win streak.
Kickoff is set for 7:20 p.m. (CT) Sunday.
The Vikings will wear their traditional road uniforms with white jerseys and purple pants.
The Vikings are one of the hottest teams in the NFL.
Minnesota has won five games in a row, the longest active streak in the NFL. It's also the team's longest stretch since it won seven consecutive games from Weeks 3 to 10 in 2022. Winners of six of their past seven games, the Vikings have gone on this run without star receiver Justin Jefferson and have started three different quarterbacks over that span.
Head Coach Kevin O'Connell has the Vikings playing their best football so far this season. The second-year play-caller and his staff have onboarded quarterback Joshua Dobbs to find advantageous situations, and the offensive line has excelled in pass protection. When that hasn't worked, Dobbs has been able to improvise and extend plays.
Since facing the Chiefs in Week 5, Defensive Coordinator Brian Flores has found a clear identity for the Vikings defense built on causing chaos for opponents. Minnesota has allowed 297.9 yards per game since Week 4 and has 11 takeaways in the past five contests.
Could Jefferson return to action?
Jefferson carried a questionable game status ahead of last Sunday's game. He was a limited practice participant all last week before ultimately not playing against the Saints.
The three-time Pro Bowler is likely to continue ramping up his workload at Vikings practice this week. On Monday, Head Coach Kevin O'Connell said the team will continue to be "smart" with Jefferson.
"It's going to be a major, major boost for us, getting the best receiver in football back out there," O'Connell said. "With the group and the confidence that this group has had kind of overcoming him not being out there with us."
Jefferson is currently in a 21-day evaluation window that opened Nov. 8, beginning his return from Injured Reserve for a hamstring injury suffered in Week 5.
Jefferson has remained involved with the team, encouraging teammates on the sideline and celebrating each time a player has delivered for the Vikings. He posted the following on social media:
Filling in for Hicks on Vikings defense
For the first time this season, a different green dot player will lead the Vikings defense.
On Tuesday, Minnesota placed linebacker Jordan Hicks on Injured Reserve following a leg contusion during Sunday's win over the Saints. He tried to return to action but was removed from the game. That night, he was transported to a hospital and underwent a procedure to address significant swelling.
O'Connell said the procedure was successful, but Hicks will miss at least the next four games on IR.
"He's played a lot of snaps for us and has done an unbelievable job," O'Connell said. "It's hard to even put into words the loss that he'll be for our group, just from all the jobs and communication he does."
In a corresponding roster move, the Vikings signed linebacker Anthony Barr to their practice squad. Barr spent the first eight seasons of his career with Minnesota after the team drafted him in the first round of the 2014 draft.
Barr, 31, spent last season with the Dallas Cowboys. He played 14 games (10 starts), totaling 58 tackles, two tackles for loss, four quarterback hits, one sack, one pass defense, and two fumble recoveries.
On Wednesday, Barr said he's excited to be back but expects he'll need time to shake off some rust. It's unclear whether Barr will be activated to the 53-man roster by Sunday.
Regardless, Flores said a combination of players will have to step up to replace Hicks' "Pro Bowl" caliber production. The team will use practice this week to determine whether rookie linebacker Ivan Pace, Jr., or safeties Josh Metellus or Harrison Smith will wear the green dot, which allows one defensive player to hear the defensive play calls Flores calls in and relay them to teammates. Pace wore the green dot in Minnesota's preseason games.
Keeping an eye out at running back
Running back Ty Chandler scored his first NFL touchdown in the first half, running in from 2 yards after taking a direct snap*versus the Saints. A quarter later, fellow running back Alexander Mattison *exited the game after a 3-yard run where he was tackled by Saints linebackers Demario Davis and Pete Werner.
Mattison is in the concussion protocol. If he cannot play Sunday, the Vikings will start a different running back this season for the first time.
Chandler had 14 career carries before Sunday when he recorded 15 in the win. He finished with 45 yards and a touchdown. Chandler had a 29-yard rushing touchdown nullified due to a holding call against right tackle Brian O'Neill in the fourth quarter.
After the game, O'Connell presented Chandler with a game ball. During the celebration, O'Neill said to Chandler, "I owe you one."
3 Things 'Bout the Broncos
Payton rebuilt the offensive line and unlocked playmakers: *This offseason, Payton was named the Broncos 20th head coach in franchise history. He inherited quarterback Russell Wilson and an offense that underwhelmed last year. *
*But Payton has Wilson playing well behind a remade offensive line and a clear offensive identity. Denver wants to run the ball and give Wilson clear, quick throws or 1-on-1 downfield shots. *
*Over the past three weeks, the Broncos 34 rushing attempts per game ranks second in the NFL, behind only Cleveland. In Week 8, Denver beat the Chiefs 24-9 and ran the ball 40 times. *
*Payton leans on the offensive line that is benefiting from continuity. *The starting five of left tackle Garett Bolles, left guard Ben Powers, center Lloyd Cushenberry, right guard Quinn Meinerz and right tackle Mike McGlinchey have shared the field for all but two snaps this season.
The Broncos rank second in the NFL in ESPN's run-block win rate.
At receiver, Courtland Sutton and rookie Marvin Mims, Jr., stretch the field on the outside while Jerry Jeudy controls the slot. Running back Javonte Williams has dominated the Broncos backfield. In the past two games, he's handled 80 percent of the team's carries and 41 percent of pass targets to running backs.
Wilson is protecting the ball:Wilson isn't putting up MVP numbers, but he's quietly reestablishing a style of play reminiscent of his Seattle days. Through 10 weeks, Wilson is fourth in passer rating and second in touchdown to interception ratio.
Payton is helping Wilson make sound decisions without asking the 34-year-old quarterback to take unnecessary risks. For example, Wilson threw for 114 yards and three touchdowns in the team's win over the Chiefs. That total was Wilson's fifth-lowest mark in the 181 career games he's played.
Payton is finding ways to gain yardage between the 20s via runs and drawing defensive penalties. Then he trusts Wilson to hit open targets in the red zone when windows are condensed, and everything unfolds more quickly.
Since Week 4, Denver ranks 10th in red-zone touchdown rate at 58.8 percent.
Turnover-seeking defense: The Broncos defense attacked Buffalo last week. Quarterback Josh Allen threw two interceptions and fumbled. Denver forced four total turnovers.
In their last four games, the Broncos held Patrick Mahomes to just one touchdown over eight quarters, kept Green Bay under 20 points, and then bothered Allen and an explosive Bills offense.
"They are very well coached. The guys are flying around the field," O'Connell said. "Defensively they are locked and loaded and playing really well. In that phase, they are a team that is forcing turnovers a ton and changing games that way."
Vikings defense versus mobile QBs
Against the Bills, Wilson created second opportunities during plays by scrambling to re-open passing lanes or picking up key yardage rather than taking a sack. Wilson's feet have always been a strength of his, but the Vikings defense should be ready for his spontaneousness.
This season, Flores and the Vikings defense have already faced Jalen Hurts, Justin Herbert, Mahomes, Jordan Love, and Brock Purdy. All five of those quarterbacks are athletic enough to make plays with their feet and consistently challenge defenses to keep their eyes in the backfield.
Minnesota lost to three of those five quarterbacks but only allowed 99 total rushing yards on 23 combined carries. In wins against the Chiefs and Bills, Wilson gained at least 30 yards rushing in each game.
Dobbs' athleticism is unlocking a new wrinkle in the Vikings offense. In two games with Minnesota, Dobbs has 426 passing yards, 110 rushing yards and no interceptions. He became the first player in NFL history with at least 400 passing yards, 100 rushing yards, and no picks in his first two games with a team.
The Vikings have rushed for 100-plus yards in back-to-back games for the second time this season. In those games, Dobbs totaled 66 and 44 rushing yards, respectively. He also leads the team in rushing touchdowns with two.
"Coming off another great team win. We've gotta go on the road, Sunday Night Football, against a team that's really hot right now. They're playing really good football, have beaten three really good teams the past three weeks. Again, we've gotta bring our A game, build upon our performances over the last two Sundays and continue to improve moving forward. We're excited to get back after it, another really good team, and go on the road and bring back another victory to Minnesota."
— Dobbs on facing the Broncos during Sunday Night Football
College and Pro Connections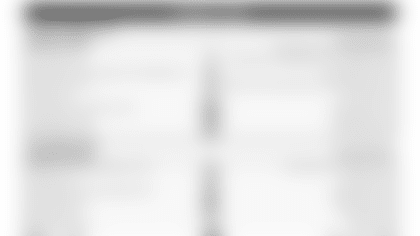 The Vikings are 8-7 in 15 games against the Broncos but 3-4 as the visitors in the series. Minnesota last won at Denver in 1999 on a last-second field goal.
Ten of the 15 games have been decided by four or fewer points.