MINNEAPOLIS – Sunday night was a win-win for Lindsey Devos.
Devos, a lifelong Vikings fan, was attending the Sunday Night Football game at U.S. Bank Stadium with her boyfriend, Tyler Hotten – who happens to be a Packers fan.
The two arrived downtown with time to spare before kickoff and visited the Longhouse, after which Devos suggested taking a photo in front of the large SKOL letters on the Medtronic Plaza.
But what Devos thought would simply be a pregame photo turned into much more when Hotten got down on one knee and popped the question.
"I was in complete shock. There were really no signs or anything that it was going to be happening," Devos told Vikings.com. "[My] parents and his parents, a couple of our friends, have known for months and haven't let it slip. So I was completely shocked, but I think because of our love for the Vikings and Packers, it was the perfect place to do it at."
Hotten had been planning to propose at the Border Battle game for months but decided to let the exact moment play out organically, and he's glad he did.
"We had actually met up with my cousin and her fiancé, who were just recently engaged themselves," Hotten said. "Lindsey went to the side for a couple of minutes to get a picture of the Vikings ship, and my cousin said, 'Hey are you going to do it now?'
"It worked out perfectly," Hotten said. "I couldn't have timed it any better."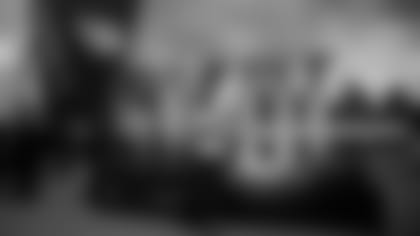 As coincidence would have it, a photographer for Vikings.com was on the plaza and captured photos of the special moment between Devos and Hotten, who wore an Adam Thielen and Aaron Rodgers jersey, respectively.
The two football fans agree that U.S. Bank Stadium was a fitting place to begin the rest of their lives.
Devos, a native of Crookston, Minnesota, traveled with friends to Devils Lake, North Dakota, in October 2017. It was there that she met Hotten, and the two struck up a conversation.
"We just hit it off," Devos said. "We exchanged numbers, started texting, and the rest is history."
Over the past year, Devos and Hotten have watched lots of football games together, including – of course – rivalry matchups between their beloved teams.
"When we first met, she kind of downplayed how much of a hardcore fan she was," Hotten quipped. "I was pretty upfront about bleeding Green and Gold, and then later on I found out how [passionate of a Vikings fan] she was, and it was a surprise, but it's been a lot of fun. This season has been a blast."
Added Devos: "Especially when we got that tie in the beginning of the year – that was quite the game. He was surrounded by about six other Vikings fans, so he's a trooper."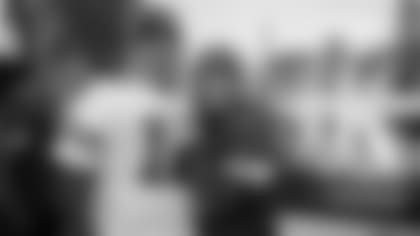 Hotten's first trip to U.S. Bank Stadium was certainly a memorable one.
"The stadium was incredible. That atmosphere is crazy," Hotten said.
When the Vikings defeated the Packers 24-17 to improve to 6-4-1 on the season, Devos said she held back from giving her now-fiancé too much of a hard time.
"I told him, 'Sorry, dear, that your team lost – but not really," Devos laughed.
"She was really good about it," Hotten said. "I think she felt bad for me."