Minneapolis Public Schools students who are participating in Project Success and some alumni gathered virtually last week to "visit" the Smithsonian's National Museum of African American History and Culture (NMAAHC).
A partnership between Project Success and the Minnesota Vikings sent Legends, current players, Owner/President Mark Wilf and staff to Washington, D.C., to visit the museum in 2019. It has hosted more than seven million people since opening in 2016.
The second-annual trip was initially scheduled for April, but it was postponed because of the COVID-19 pandemic.
As that challenge continues, Project Success and the Vikings pivoted to last week's videoconference that featured guest appearances by Wilf, Vikings Legend Alan Page, and current players Ameer Abdullah, Anthony Barr, Anthony Harris, Eric Kendricks and Alexander Mattison.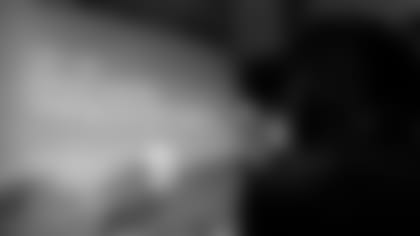 Abdullah, Barr, Harris, Kendricks and Mattison are members of the Vikings Social Justice Committee, which formed in 2018 and has expanded its efforts each year, including in the aftermath of George Floyd's death.
"Tonight's theme is about identity, history and motivation," said Project Success Executive Director and Founder Adrienne Diercks. "This has been a hard year with COVID-19, with the murder of George Floyd, with fighting for social justice, economic issues. But we've also had a year of inspiration and hope and resiliency, and tonight, we are going to live in those themes."
The evening featured a discussion with Page, as well as NMAAHC Curator of Sports, Dr. Damion Thomas, who shared images from the museum, including a display that features Page sitting as a Minnesota Supreme Court Justice. Thomas' presentation also included pictures of an 1850s slave cabin from South Carolina and Doug Williams' jersey from when he played at Grambling before becoming the first Black quarterback to win a Super Bowl.
Page earned his law degree during his on-field career that landed him in the Pro Football Hall of Fame and Vikings Ring of Honor. Upon enshrinement in his hometown of Canton, Ohio, he and his late wife, Diane, launched the Page Education Foundation that has helped advance educational opportunities for persons of color through a mentorship/scholarship program.
He humbly said his "aptitude" in football emerged and temporarily "sidetracked" him from a childhood dream of becoming a lawyer. Page lamented that his parents were unable to pursue their educational dreams, described what Brown v. Board of Education in 1954 meant to him and fielded questions.
"It is important to seek excellence, and seeking excellence not for the sake of winning, not for the sake of being better than the person next to you, but so you can achieve your highest self," Page said. "If all you want to do is win or be better than the person next to you, you can't reach your highest self, or you're not likely to, and the other thing is you'll tend to play to the level of the competition. When the competition isn't very good, you won't perform very well.
"Those lessons apply on the athletic field. They also apply in life in general," Page continued. "I was fortunate enough to learn that in my athletic career."
Page said another takeaway from his football career that he applied after retiring from the sport was the importance of being able to focus.
"You have to be able to think critically. You have to be able to make decisions," Page said. "You have to be able to do what is right — not what is easy, not what is convenient, but what is right.
"If you're going to make a contribution, and I think we all have the ability to make a contribution to this world we live in, you have to be a person of good character: telling the truth, being honest, saying what we mean and meaning what we say, respecting ourselves and respecting others, making decisions with others in mind," Page continued. "All of those things are critically important, I think, if we are going to survive as a community of people."
Dr. Muhammad Khalifa, Professor/Executive Director for Urban Initiatives at The Ohio State University, encouraged the young people that they have the opportunity to "define your humanity."
"All of these earlier narratives were meant to describe people and categorize people," Khalifa said. "They are forcing you into categories. You define who you are and what you represent, and then you defend what you are and what you represent."
Current players participated in smaller breakout sessions in which the youth were able to ask wide-ranging questions and then encouraged to name items at their respective locations that inspire them, represent them as a leader or represent their cultural history/identity.
Kendricks chose his helmet for the exercise because he has focused, among many things this year, on learning more about the players who came before them.
"One of the only ways to gain freedom was through sports," he said. "Sometimes they were the only way for people from a disenfranchised area to gain financial independence. It is important to understand history and appreciate it."
Abdullah encouraged future decisions to be made from a position of love instead of a position of fear.
"I understand how important it is to get young influencers and young minds together to help build better community and better communion among all people," Abdullah said. "It's just intriguing to see the youth kind of figure out what they want to do with themselves, go after their dreams and try to develop them as best as they can."
Wilf announced the awarding of a dozen $1,000 scholarships to Project Success participants.
"The Vikings and the Wilf family will be pleased to be able to support these scholarships and proud to continue to collaborate with Project Success," Wilf said. "Thanks for keeping up the great work. Keep dreaming and making change and getting all of our society to be a better place."
Founded in 1994, Project Success motivates and inspires students to dream about their futures, help them create a plan to get there, and provide the tools and support they need to achieve their goals. Over the course of seven years, beginning in grade 6 and continuing through grade 12, Project Success engages students through a facilitated curriculum and through local-to-global expeditions, arts programming and skills-based certificates. Project Success has grown to serve 16,000 Minneapolis students annually in 26 Minneapolis public schools and serves all seven Minneapolis core high schools. – projectsuccess.org