Andrew DePaola still remembers playing video games with his younger cousin, Bo.
It wasn't often that he'd win.
"He'd always kick my butt, or any of the other cousins', in whatever video game we played. It was very frustrating getting worked over by a kid seven years younger than me," Andrew quipped.
Bo loved playing the Xbox. He enjoyed lacrosse and baseball and loved his Jeep, his dog Tucker and the holiday season. His family describes him as empathetic, creative and funny.
Bo also struggled with mental illness that darkened some days more than others and stole joy from the little things in life. Bo attempted to overcome his mental health struggles but tragically passed away from an accidental overdose in 2015 at the age of 20.
In the wake of Bo's passing, his parents – Andrew's aunt and uncle – established Bo's Effort, a nonprofit dedicated to assembling community resources to break the stigma around mental illness through education and guidance.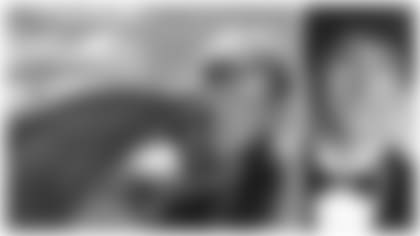 Andrew has been impacted by the loss of his cousin in more ways than one, and he's proud of the mission behind Bo's Effort.
"I think for so many years prior there was this thing, you know, 'Don't talk about it. Hide your feelings, hide your emotions, just bury stuff down deep.' As we've seen, that really can lead to a lot more problems in life," Andrew said. "It's important to encourage people to talk about what they're going through. That really can be it. That can really be what helps someone overcome what they're fighting. Just having that outlet, getting it off your chest.
"For me, it's really kind of opened my eyes to this fact that just talking to someone – 'Hey, how's your day? How are you? What's going on?' – can really help someone out there. And you never know who you're helping," Andrew added.
Every season, Andrew participates in the NFL's My Cause My Cleats campaign and dons custom-designed kicks to shine a spotlight on Bo's Effort and its messaging.
He hopes to help bring awareness on a league-wide stage and continue breaking down the stigma that can surround such a difficult topic.
"I wanted to do something to use my platform a little bit, to try to get the word out there and help them as much as I could. If it helps to honor my cousin in some way and keep his name alive, that's fantastic. And if I can also help just one person, that's enough for me," Andrew said. "I know for my aunt and uncle, they're great people who do a lot of great things. This is their cause, and I want to try to help them as much as I can. I think, also, just bringing Bo back a little bit is nice, too, and it helps them in a way."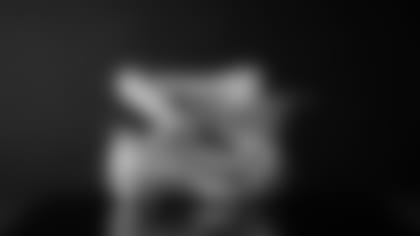 Andrew appreciates the way more people are becoming comfortable speaking about their own mental health experiences.
He especially believes it's an important subject to keep at the forefront within the NFL. As was illustrated through the Vikings "Getting Open" content series, mental illness and its reverberations do not discriminate based on career, ethnicity or gender.
"I think people paint this picture of us like we're these barbaric giants that make a ton of money, so therefore our problems are gone … but that's not the case. And in some cases, it might actually be a little worse," Andrew said. "And at the end of the day, we're people outside of these walls. We have lives, we have families, we have obligations. We have responsibilities.
"Guys in this locker room come from all walks of life. Everybody has a different background; I mean, you'd be hard-pressed to find two guys in the locker room who grew up the same," he continued. "So you just don't really know what guys are dealing with, what walks of life they come from, and what's going on outside of these doors.
"Mental illness doesn't go away simply because you make a decent salary or because you're 'famous,' " Andrew emphasized.
The 2021 season marks Andrew's first with the Vikings, and he's looking forward to learning more about the various causes his teammates are recognizing through the NFL's initiative.
He appreciates the NFL allowing players to use their platforms, Andrew noted, and he additionally appreciates the conversations that often ensue through My Cause My Cleats.
"Guys wear their cleats, and you get these fancy colors, or a symbol, and guys might say, 'Hey, what is that? What does that stand for?' It just kind of opens the door for a conversation," he explained. "With my cleats, Bo's favorite design was tie-dye, so to honor him we've designed them like that [in past seasons]. Guys will be like, 'Whoa, those are funky; what's going on there?' That opens up a conversation, and then we can have a dialogue, and it starts there.
"Then we can talk about theirs, and it kind of goes down the line," Andrew added. "You may pick up on something that you may have never heard of before. It's just kind of getting different things in front of guys to help get the word out even more."