After Further Review is a deeper look at plays or stats after Vikings games…
The Vikings were able to affect Lions quarterback David Blough from the first snap of his second career start.
Harrison Smith knocked down Blough's first pass while blitzing, and Shamar Stephen swatted down the next throw. The third-and-10, along with a 1-on-1 matchup against tight end Jesse James, enabled Danielle Hunter to record his first of three sacks on the day.
Hunter became the youngest player (25 years, 40 days) to record 50 career sacks and now has 52.5.
The Vikings didn't stop there, totaling five sacks and five pass breakups on the day.
Smith picked off Blough in the third quarter, and Andrew Sendejo iced the game with an interception in the end zone with 30 seconds remaining.
Here's another look at the pair of picks:
Q3, 4:33 remaining — First-and-10 at the Detroit 43
The Lions have just received a 15-yard roughing the passer penalty against Stephen Weatherly, who incidentally made contact with Blough's helmet during a rush.
The Vikings are in their nickel defense with five defensive backs and two linebackers. Minnesota has Weatherly and Everson Griffen in at defensive end, and Stephen and Armon Watts in at defensive tackle.
Minnesota blitzes with linebacker Eric Kendricks as Detroit runs a play-action pass.
Blough fakes a handoff to running back Bo Scarbrough, who then successfully picks up the blitz by Kendricks.
Griffen drives left tackle Taylor Decker back and flushes Blough to the quarterback's left. Griffen quickly spins and is able to put pressure on Blough.
Kenny Golladay has run an inside route against Xavier Rhodes and created separation out of his break.
Golladay is open at the 41, but Griffen's pressure causes an overthrow that Smith tracks. Smith collides with Rhodes but is able to hang on. Rhodes unfortunately hurts his ankle on the play.
Q4, 0:35 remaining — First-and-10 at the Minnesota 21
The Vikings have brought in their reserves on the back seven of the defense, aside from nickel cornerback Mackensie Alexander.
After using a rotation up front, Minnesota has starters Griffen and Hunter in at defensive end, along with Linval Joseph and Stephen at defensive tackle.
The front four has an effective rush that prevents Blough from fully surveying his reads. He fires down the middle to tight end Logan Thomas, who is surrounded by Sendejo, Alexander and Kentrell Brothers. Sendejo tracks the overthrow for his second interception since re-joining Minnesota.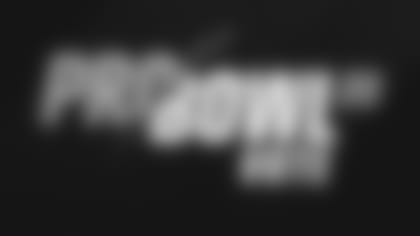 Pro Bowl Voting
Last chance! Vote to help make sure all your favorite Vikings make the 2020 Pro Bowl in Orlando. Voting ends Dec. 12, 2019.