EAGAN, Minn. – A player like Justin Jefferson doesn't come around often. The Vikings know this and want to him to keep playing for Minnesota.
Vikings General Manager Kwesi Adofo-Mensah and Head Coach Kevin O'Connell spoke with Twin Cities media members at Wednesday's end-of-season press conference and were asked about potential contract conversations with Jefferson, who would be eligible this offseason for an extension.
In 2022, he racked up career highs in receptions (128) and yards (1,809) and caught eight touchdowns. Not to mention the multiple records he broke, including those previously held by Hall of Famers Randy Moss and Cris Carter.
Because of the incredible success Jefferson already has experienced over his first three NFL seasons, the question was posed to Adofo-Mensah as a "challenge" of navigating cap space and roster decisions when it comes to Jefferson.
"I wouldn't use the word 'challenge.' You have a special player, special person. Those aren't problems – or at least those are champaign problems, so we'll start there," Adofo-Mensah said.
He told reporters the Vikings have "had initial dialogue" with Jefferson and his agent.
As a member of the 2020 NFL Draft class, Jefferson recently became eligible to negotiate on a second contract. He remains under contract for 2023, and the team has an option on his fifth pro season because he was selected in the first round.
"We factor that into planning, but [it] really starts with the player, the person, and [then we] work out solutions from there on," Adofo-Mensah said.
After completing their first year in their respective roles, Adofo-Mensah and O'Connell also were asked about Kirk Cousins and whether they will look this offseason to extend the quarterback who currently is under contract through the 2023 season.
"It's our expectation that he'll be our quarterback, but I can't say exactly how that would look," Adofo-Mensah said. "We have everything at our disposal, and we'll consider those things just like we will with everyone else on the roster."
Cousins finished the 2022 season 424-of-643 passing for 4,547 yards 29 touchdowns and 14 interceptions. His passer rating was 92.5, and he tied an NFL single-season record with eight fourth-quarter comebacks.
O'Connell was pleased with the way Cousins played all season, especially in the first year of a new offensive system.
"When I envisioned this offense and his fit within the offense and then watching him really flourish throughout the year and come to life in big moments. His toughness, his durability, his ability to go out there each and every week and try to put our offense in optimal situations through his play and his leadership, his ownership of the offense," O'Connell said, "I thought his growth from the beginning to the end and just our personal dialogue week in and week out with the gameplan [was impressive].
"I'm excited for not only Kirk but a lot of our players who will now have a year in the system and can really build off that," O'Connell continued. "We can evaluate all the things that we did and all the things that we did well, things that we need to improve and then tie our players into that as far as how we foundationally build that starting day one of our offseason program. We're going to want to have a clear-cut plan of where we want to take our offense and continue to grow roles and responsibilities within it, and I think Kirk will be leading the charge with that."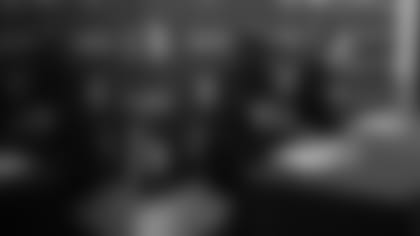 While O'Connell and Adofo-Mensah didn't talk a tremendous amount about individual players during their press conference, one other name they did highlight was tight end T.J. Hockenson.
After joining the Vikings via trade with the Lions midseason, Hockenson totaled 60 catches for 519 yards and three touchdowns in 10 regular-season games.
Adofo-Mensah emphasized how the move to acquire Hockenson positively impacted the team's immediate future as well as its long-term outlook.
"I think that was a today move," Adofo-Mensah said. "But he's also a really great, ascending young player who played well for us this year and we have under contract next year with the ability to keep around for a long time. He fits so well into our culture.
"Part of our alignment is sitting in an offense and talking about the player and then watching him be used in the exact way we talked about, which makes my job so much easier and makes our whole front office and our coaching staff just vibe together that much better," Adofo-Mensah added. "I would say that move was both a competitive and rebuild at the same time."
Less than a week removed from Minnesota's season-ending loss to the Giants in the Wild Card Round, O'Connell and Adofo-Mensah are turning the page to the offseason and prepping for the 2023 campaign. Decisions and transactions may not be set in motion yet, but the Vikings brass certainly is working on it.
Looking at Minnesota's current cap situation, Adofo-Mensah – per usual – didn't appear rattled.
"Every team has those constraints," he said. "First, you start off with the players – and we have good players and good people.
"Ultimately, we have a lot of tools at our disposal with extensions and different things like that where you can get under the cap and continue on," Adofo-Mensah noted. "We'll consider everything we have, and ultimately it will be to fit our vision with the end goal in mind of meeting that talent threshold to win a championship."