MINNEAPOLIS — There was no time for Adam Thielen to celebrate.
His 7-yard catch from Kirk Cousins converted a third-and-4 with under a minute in the first half.
The receiver hopped up to prepare for another play in the hurry-up.
Minnesota scored five plays later, with 16 seconds on the clock, to take a 21-17 lead into halftime.
Thielen's catch was the 414th of his career and moved him past Vikings Legend Jake Reed for sixth place on the franchise's all-time receptions leaderboard.
Thielen entered Sunday's Week 3 game between the Minnesota Vikings and Seattle Seahawks with 412 career receptions.
Reed totaled 413 receptions with Minnesota from 1991-99 and 2001.
Thielen tied Reed on a 15-yard touchdown catch with 5:28 remaining in the second quarter.
Thielen entered the 2021 season with 397 career receptions and passed Ring of Honor member Ahmad Rashad (400 receptions with Minnesota) in Week 1 at Cincinnati.
Really impressive for a Viking who began as a tryout player and special teamer who managed eight catches in 2014.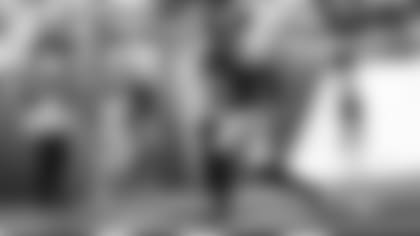 Vikings Career Receptions Leaderboard
6. Adam Thielen 414 (at halftime of Vikings-Seahawks game)