Army Staff Sgt. Dylan Shallenberger is similar to an NFL football coach trying to get the most out of a young player.
But Shallenberger's stakes are higher.
Shallenberger is a drill sergeant stationed at Fort Jackson in South Carolina. A steadfast supporter of the Purple, Shallenberger molds green newcomers to the U.S. Army into soldiers.
"It's definitely a whole different task [than previous assignments in the Army]," Shallenberger said. "I came into it knowing what I was here to do and everything, but once you start to get new trainees and you mold them into actual soldiers from civilians, it's very gratifying.
"When you actually notice, finally, the difference from when they first got to you and once they're there, it's a good feeling," he added. "The hours are very rough, because we've got to be with them from the time they wake up to the time we tell them to go to sleep, and it makes it worth it, though, because you don't even realize how long you're there because you're constantly instilling new knowledge and things they've never heard before or done before."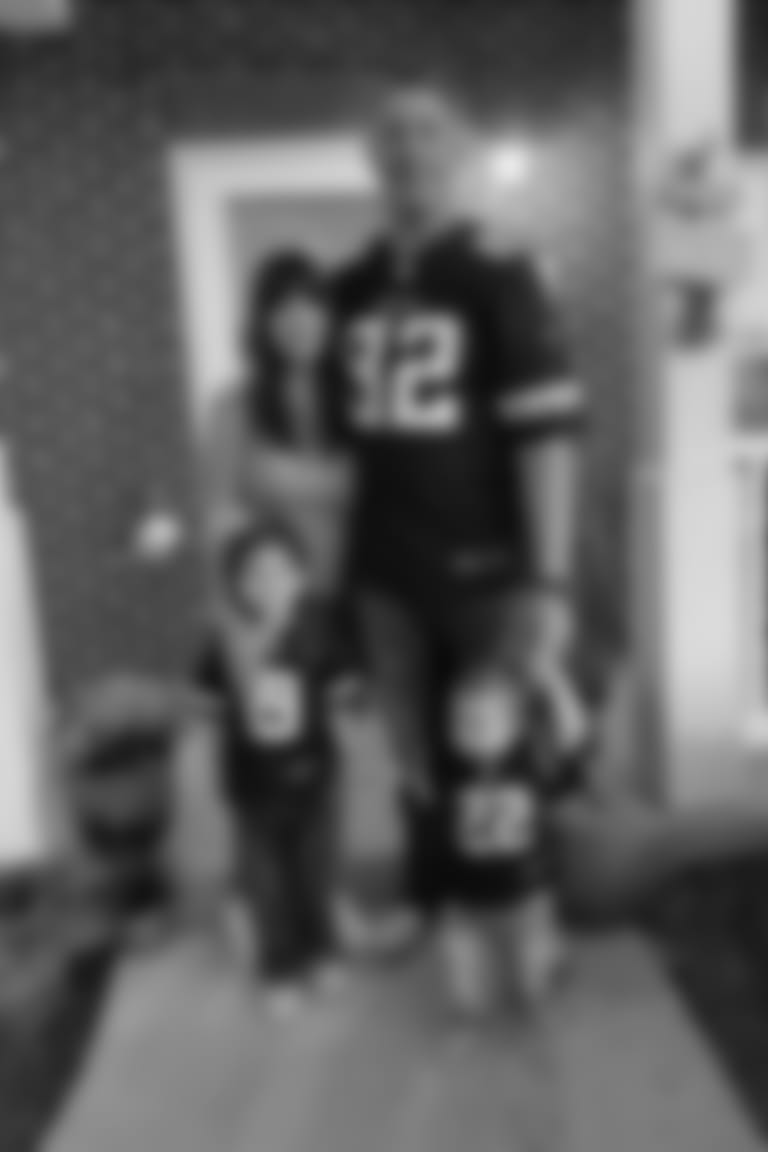 Shallenberger has been named one of the 60 Greatest Fans in honor of the 60th Minnesota Vikings season, a recognition that included a surprise video call from Vikings tight end Kyle Rudolph.
"Thank you for your service," Rudolph said. "I greatly appreciate you and all of our men and women in the Armed Services. I have two cousins that recently served in the Marines, so military history runs deep in our family. I understand that I get to play a game on Sundays because you provide us the freedom to do that."
A native of Beloit, Wisconsin, Shallenberger grew up a Vikings fan, forming a connection he enjoyed with his father (Frederic, who passed away at age 59 in February 2018). He has carried his commitment to the team across the country and globe at multiple stops during his nine years of service and is passing his passion to his two young children.
Shallenberger's assignments include Fort Campbell, Kentucky, a deployment to Afghanistan, followed by Fort Hood, Texas, and then Rose Barracks in Vilseck, Germany.
Rudolph discussed Shallenberger's time in Germany, as well as a visit that the tight end made to Ramstein Air Base in 2018.
Shallenberger didn't let living several time zones ahead keep him from watching Vikings games, waking up at 3 a.m. Monday to enjoy Sunday Night Football appearances. Now, he's in the Eastern time zone, able to capitalize on his only off day of the week.
"Our trainees get Sundays to rest and recuperate, so therefore, the drill sergeants do too, so I get to watch the games on Sundays," Shallenberger said.
Shallenberger won a Polaris Off-road GENERAL last year. When he designated his mother to receive the GENERAL because he was still stationed in Germany, Polaris was able to bring Shallenberger home for the holidays, a moment captured on video:
And when Shallenberger found out of his designation as one of the 60 Greatest Fans, he again thought of home. 
"It's awesome, kind of surreal just to be recognized because the Vikings know I'm a fan," Shallenberger said. "My dad would be ecstatic."