EDEN PRAIRIE, Minn. —Remember when Teddy Bridgewater spotted an all-out blitz by the Jets, changed the play at the line of scrimmage, quickly fired to Jarius Wright on a receiver screen that turned into an 87-yard game-winning TD last year?
It was nearly a year ago, but thought so.
This year, the Vikings defense has seen plenty of receiver screens, Head Coach Mike Zimmer said this week, because opponents are worried about the multiple types of pressure the Vikings can apply from a variety of directions.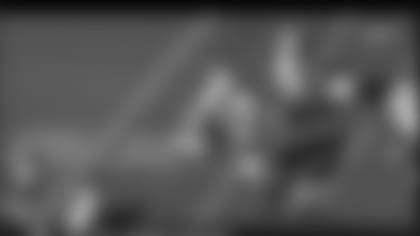 "Well, we're seeing them a lot because that's kind of everybody's answer to our pressures – throw this screen, throw that screen," Zimmer said. "Honestly, it's kind of discouraging for the offense if they think, 'Hey, we've got a big play here and we can throw this screen,' and it ends up being a no-gainer, it's like, 'Should have done something else.' "
The Rams threw six wide receiver screens for a total of 10 net yards (plus 15 yards that were awarded on a facemask penalty during a tackle). Three of the six gained a yard or less, thanks to quick reaction by linebackers and defensive backs and consistent tackling.
Anthony Barr made perhaps the most impressive display of closing ground to stuff shifty speedster Tavon Austin for a gain of 1.
The second-year linebacker stood on the Norseman's eyebrow near midfield when Rams QB Nick Foles released the ball to Austin, who began the play on the outside edge of the numbers. Barr made it to the top of the helmet by the time Austin began to chart his course. He tracked down the receiver at the gold numbers on each side of the 50-yard line.
Cornerback Captain Munnerlyn recorded tackles on three of the plays, but did accidentally get a facemask penalty on the first. According to analytics site Pro Football Focus, Munnerlyn has made the most in the NFL (26) without a miss this season. Chad Greenway and Trae Waynes also had tackles on receiver screens by the Rams.
"We've been playing them very well," Zimmer said. "I think our guys are understanding their responsibilities better and things we're trying to get done."
Vikings.com's Mike Wobschall took a look at how Oakland has used a receiver screen this season in a video segment for Vikings GamePlan. Wobschall pointed out that the Raiders like to do multiple things from the same formation: throwing a screen, or throwing to a single receiver at the other end of the line of scrimmage, or running the ball if defenders begin to overcommit.
Beat writers asked Zimmer Thursday about handling quick passes by Derek Carr.
Zimmer said Carr is keeping the ball "2.4 seconds on average, similar to a lot of them" before heaving it.
Pro Football Focus began **recording time to throw** in 2011. Since that time, Peyton Manning (2.22 seconds in 2014) has the fastest average for a whole season. Tom Brady, however, is averaging 2.1 seconds so far this season, according to the site.
The Vikings will want to put the brakes on Carr Sunday in Oakland.
"We have to make him pull the ball down some," Zimmer said. "It's always a combination of disguise, coverage and pressure. Some of it's tight coverage, some of it's pressure, some of it's trying to fool him a little bit."