EDEN PRAIRIE, Minn. — The Vikings are almost on the clock.
Minnesota is scheduled to have eight picks in this week's 2016 NFL Draft — one in each of the first six rounds plus two selections in the seventh round.
While the Vikings are looking to add some depth to their roster, here's a quick look at the last five selections at each of the picks Minnesota currently has:
2015 — Shane Ray, DE, Denver
2014 — Dee Ford, OLB, Kansas City
2013 — Sharrif Floyd, DT, Minnesota
2012 — Riley Reiff, OT, Detroit
2011 — Danny Watkins, G, Philadelphia
Reiff has been a stalwart along Detroit's offensive line with 55 career starts. Floyd is a vital piece of Minnesota's defense, and Ray just won a Super Bowl with the Broncos.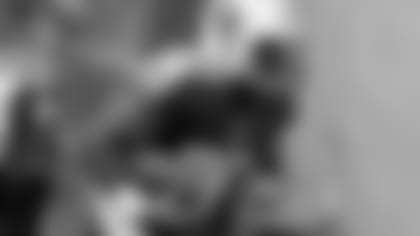 2015 — Ameer Abdullah, RB, Detroit
2014 — Bishop Sankey, RB, Tennessee
2013 — Jamar Taylor, CB, Miami
2012 — Ryan Broyles, WR, Detroit
2011 — Jaiquawn Jarrett, S, Philadelphia
Abdullah rushed for 597 yards and two touchdowns as a rookie.  Sankey has four total scores with the Titans.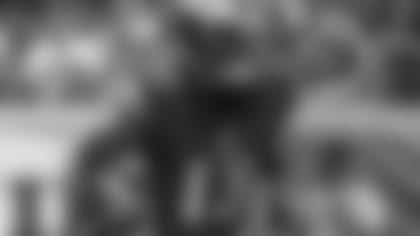 2015 — David Johnson, RB, Arizona
2014 — Josh Huff, WR, Philadelphia
2013 — High Thornton, G, Indianapolis
2012 — Sean Spence, LB, Pittsburgh
2011 — Allen Bailey, DE, Kansas City
Johnson was a breakout star as a rookie with 13 total touchdowns, including eight on the ground, four receiving and a 108-yard kickoff return. Huff has four career touchdowns, including a kickoff return. Bailey has turned into a reliable defender for the Chiefs.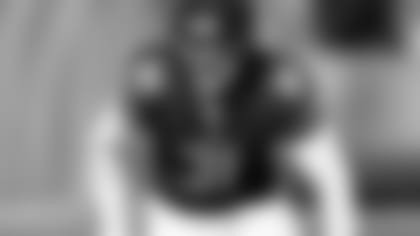 2015 — Doran Grant, CB, Pittsburgh
2014 — Carl Bradford, LB, Green Bay
2013 — Khaled Holmes, C, Indianapolis
2012 — Keshawn Martin, WR, Houston
2011 — Chris Prosinski, S, Jacksonville
Martin has 62 career receptions, including five touchdowns, and returned a punt 87 yards for a touchdown in 2013. Prosinski played in 13 games, including five starts, for the Bears in 2015.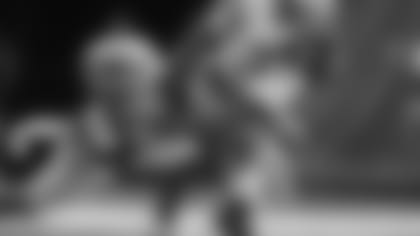 2015 — Jesse James, TE, Pittsburgh
2014 — Ed Stinson, DE, Arizona
2013 — Zac Stacy, RB, Los Angeles (St. Louis)
2012 — Ryan Miller, G, Cleveland
2011 — Nathan Enderle, QB, Chicago
Stacy has 1,355 career rushing yards and nine rushing touchdowns. After spending his first two seasons with the Rams, Stacy played eight games for the Jets in 2015.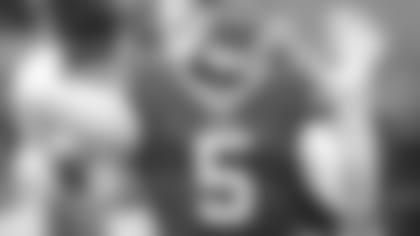 2015 — Michael Bennett, DT, Jacksonville
2014 — Kenneth Acker, CB, San Francisco
2013 — Nick Moody, LB, San Francisco
2012 — Trent Robinson, S, San Francisco
2011 — Tyrod Taylor, QB, Baltimore
The 49ers had three straight picks in this spot from 2012-2014. Taylor is now the starting quarterback in Buffalo and threw for 20 touchdowns last season.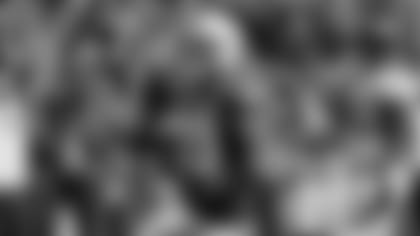 2015 — Corey Robinson, OT, Detroit
2014 — Tevin Reese, WR, San Diego
2013 — Reid Fragel, OL, Cincinnati
2012 — David Paulson, TE, Pittsburgh
2011 — Stanley Havili, FB, Philadelphia
Havili leads this group with 10 career starts and had one rushing and one receiving touchdown in his career. He was last in the league with Seattle's practice squad in December 2014.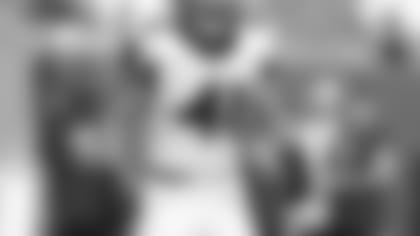 2015 — Trenton Brown, G, San Francisco
2014 — Jeremy Gallon, WR, New England
2013 — Zeke Motta, S, Atlanta
2012 — Jordan White, WR, New York Jets
2011 — Lee Ziemba, OT, Carolina
Brown is the only one among the group who was with a team last season. Motta appeared in the most games of this group with 10, including one start.