The Vikings (8-3) will have an authentic taste of playoff football against the Seahawks (9-2) on Monday in Seattle.
Two teams that are currently in the field and at least five games above .500? Check.
Hostile crowd and tough environment? Check.
Large television audience? Check.
The first game of December 2019 should be great preparation for a Minnesota team that can earn the right to play in January 2020.
Here are five Vikings-Seahawks storylines to watch this week:
1. Quarterbacks playing at elite level
Vikings QB Kirk Cousins is leading the NFL in passer rating with a 114.8, which is on track to be the highest of his career. Seahawks signal caller Russell Wilson is second with a mark of 112.1. His career best for a season was 110.9 in 2018. Passer rating isn't the only measure of quarterback play, but it has correlated to individual and team success for both players and their teams this season. Cousins has excelled when the Vikings have implemented designed movement with bootlegs, as well as play action. He has capitalized on deep shots, particularly in recent weeks to Stefon Diggs, who ranks third in the NFL among receiving qualifiers with 19.1 yards per reception. Wilson, meanwhile, has earned his reputation for being dangerous and skilled at playing on the move. The Vikings are no strangers to his Houdini-like ability to escape trouble and create a big play. Wilson was limited to 72 passing yards in last season's game, but he rushed seven times for 61 yards, including a 40-yarder. Containing him isn't easy to fathom or implement, but it is important.
The Vikings have racked up 1,567 rushing yards, averaging 4.6 yards per carry, and scored 14 touchdowns on the ground. The Seahawks have similar production: 1,506 yards, 4.5 average, 10 scores. A difference, however, could be the rush defense for both teams. Minnesota has allowed only 1,036 yards, 4.1 yards per carry and a league-best three touchdowns on the ground. Seattle, meanwhile has allowed 1,117, 4.5 yards per carry and 12 scores. Dalvin Cook is third in the NFL with 1,017 rushing yards and second with 1,472 yards from scrimmage. Even if Seattle shuts down the run, Cook has shown an ability to contribute in the passing game.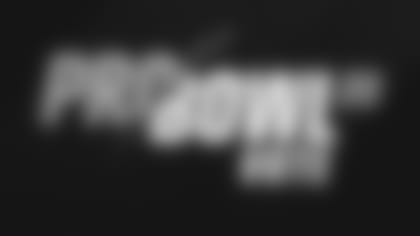 Pro Bowl Voting
Last chance! Vote to help make sure all your favorite Vikings make the 2020 Pro Bowl in Orlando. Voting ends Dec. 12, 2019.
The Seahawks have 23 sacks on the season, but they also have 10 interceptions and 14 opponent fumble recoveries. Defenses seek momentum plays, and the 24 takeaways are just that. Seattle's propensity for creating turnovers has helped a unit that is in the teens or even 20s in multiple statistical rankings. The Vikings also have intercepted opponents 10 times, but foes have only lost six of 10 fumbles against Minnesota this season. Picking off passes could be a special challenge for the defenses this week, however, as Seattle ranks third in the NFL with an interception rate of 0.85 percent. Minnesota ranks fourth at 0.94 percent.
4. Outdoors, but it's turf
As you likely know, CenturyLink Field is an outdoor stadium with a full complement of elements but it uses an artificial turf instead of grass. The Vikings are 1-3 this season when playing outside, including 0-3 on grass. The Cowboys opened their roof for the Week 10 game, but that counts as a retractable stadium, and Minnesota prevailed on the artificial surface. Since 2014, the Vikings have played 50 regular-season games outdoors under Head Coach Mike Zimmer and are 25-24-1, which includes an 11-5 mark in home games at the University of Minnesota from 2014-15. The Vikings have played five outdoor games on turf in that time and are 2-3 after suffering losses at New England and Seattle last season. Minnesota is 12-16-1 on grass since 2014.
5. Rest and recovery or rust
Zimmer gave the Vikings players an extended break (Tuesday through Sunday) for the second-latest bye week in franchise history and latest in his tenure. Was the bye able to give players a chance to get their bodies back after 11 regular-season games? Will the rest help fresh legs, or will the Vikings be a little rusty at the start of the game? The Vikings are 2-3 after bye weeks under Zimmer. On a different note, Minnesota went 0-2 on its long trips to the West Coast last season (at Rams and Seahawks) and faces two this month (at Seahawks and Chargers). Because this one is on Monday Night Football, the first injury report of the week will be released Thursday. Injury designations will be announced Saturday. Eyes will continue to be on the lookout for Adam Thielen, who has missed Weeks 8, 10 and 11 and most of Week 9 with a hamstring injury that he suffered at Detroit in Week 7.