The Vikings are back on Monday Night Football for the second time in five weeks.
It also will be the second time in as many seasons that Minnesota has visited Chicago for a prime-time divisional tilt.
Here are three games that the Vikings.com staff will have eyes on Sunday: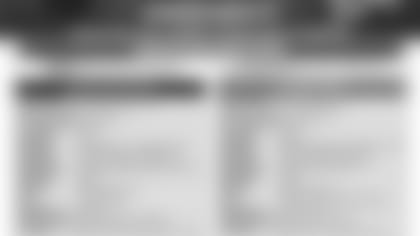 Carolina Panthers (3-1) at Detroit Lions (3-1) | Noon (CT) | Ford Field
This interdivision matchup is important to the Vikings for multiple reasons. Minnesota benefits in the NFC North with a loss by Detroit or in the overall conference race with a loss by Carolina. The Vikings will see both teams on the road in 2017 (at Detroit on Thanksgiving; at Carolina Dec. 10).
Cam Newton last week became the first quarterback in NFL history with 50 rushing touchdowns, a total that includes two that have come in previous meetings against the Lions.
Running back Jonathan Stewart (6,868 rushing yards) just passed DeAngelo Williams (6,846) as the most productive rusher in franchise history. Rookie running back Christian McCaffrey has caught 22 passes, which is tied for the second-most among NFL running backs.
Julius Peppers has added 4.5 sacks to his career total of 148 during his reunion tour with Carolina. He ranks fifth in NFL history and has totaled 14 sacks in 18 games against Detroit.
In Matthew Stafford's past four games against NFC South foes, the quarterback passed for 1,170 yards and nine touchdowns without an interception (passer rating of 114.8).
Ameer Abdullah's 94 yards against the Vikings last week were a career high. Theo Riddick leads all running backs with 147 receptions since 2015.
Anthony Zettel recorded his first multi-sack game last week in his fourth career start. Zettel also recovered a fumble.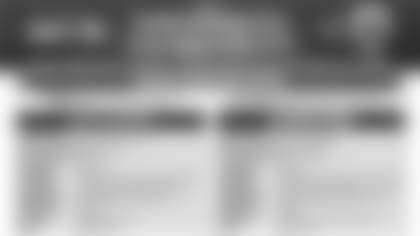 Seattle Seahawks (2-2) at Los Angeles Rams (3-1) | 3:05 (CT) | Los Angeles Memorial Coliseum
This one also is interesting, given Seattle has made the playoffs and won at least 10 games in each of the past five seasons and the upstart Rams haven't been to the postseason since 2004.
Russell Wilson, who completed 21 of 26 passes for 295 yards and two touchdowns last week, has passed for 18 scores and thrown only two interceptions in his past 10 games against NFC West foes.
Doug Baldwin has been Wilson's go-to receiver in Seattle's past six divisional games. Baldwin has totaled 40 receptions for 527 yards and three scores.
Seattle benefitted from a 21-yard fumble return touchdown by Bobby Wagner and a 28-yard interception return touchdown by Justin Coleman last week against Indianapolis.
Los Angeles leads the NFL with 142 points, which is more than Arizona and San Francisco have combined (140) and 63.4 percent of their total points in 2016 (224, which ranked last in the league). The total also is the fourth-most by any team in the first four games of a head coach's tenure.
After going 0-7 with 1,089 passing yards, five touchdowns and seven interceptions (passer rating of 63.6) as a rookie, Goff has passed for 1,072 yards, seven touchdowns and one interception (passer rating of 112.2).
Todd Gurley leads the NFL with 596 scrimmage yards and seven touchdowns. He became the third NFL player to post 575 or more scrimmage yards and seven or more touchdowns in a team's first four games of a season, joining Hall of Famers Jim Brown and Emmitt Smith.
Cooper Kupp leads all rookie receivers with 186 yards.
Aaron Donald has totaled more sacks (29) than any other defensive tackle since he entered the league as a first-round pick in 2014.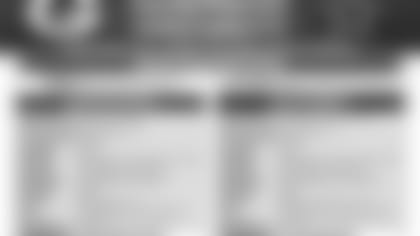 Green Bay Packers (3-1) at Dallas Cowboys (2-2) | 3:25 p.m. (CT) | AT&T Stadium
This is a rematch of one of the 2016 NFC Divisional games that the Packers won 34-31 in January.
Aaron Rodgers has passed for 2,152 yards, 13 touchdowns and two interceptions (passer rating of 101.7) in eight games (including two playoff games) against the Cowboys.
Jordy Nelson enters Week 5 leading the NFL with five touchdowns and has 62 receiving scores since 2011 (second-most in the NFL in that span).
Clay Matthews recorded his 75th career sack last week to pass Kareem Gbaja-Biamila as Green Bay's career leader. Gbaja-Biamila totaled 74.5.
Dak Prescott totaled 549 passing yards, six touchdowns and two interceptions (109.1 passer rating) in two games against Green Bay last season (including the Divisional).
Dez Bryant recorded nine catches for 132 yards and two scores in the playoff meeting. He leads the NFL with 63 touchdown catches since 2011.
Demarcus Lawrence leads the NFL with 7.5 sacks.