The Vikings-Cardinals game is part of single-game coverage by FOX this week.
Viewers throughout Minnesota, North Dakota, South Dakota, most of Arizona and parts of Wisconsin, Iowa, Nebraska, Montana Wyoming and California will see the game.
According to **506sports.com**, most of the country will see Jacksonville at Dallas, but a swath will see Baltimore at Tennessee during the 3:25 p.m. (CT) time slot.
Ideally, you'll be watching the Vikings-Cardinals at noon (CT), but you also might want to keep an eye on the score in the concurrent Bears-at-Dolphins game. After that, the Rams visit the Broncos (3:05 p.m. CT), which might be worth a glance.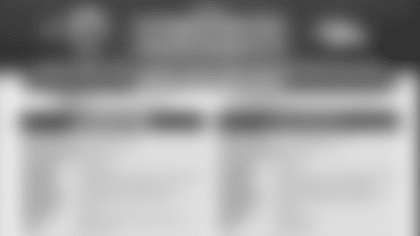 Bears (3-1) at Dolphins (3-2)
TV: FOX (markets generally near Chicago and Miami will have this game)
Sirius: 135 (CHI), 83 (MIA) | XM: 384 (CHI), 225 (MIA)
The Bears are back from their early season bye and looking to pick up where they left off during an impressive first four games under new Head Coach Matt Nagy.
After opening with three consecutive wins, the Dolphins have dropped their past two. Miami is beginning a stretch of three matchups against NFC North teams in a five-game span and will visit Minnesota in December.
Mitchell Trubisky joined Hall of Famer Steve Young and Michael Vick as the only quarterbacks to throw for at least 250 yards and rush for an additional 50 in the first half of a game. Trubisky had 289 through the air and 53 on the ground in Week 4 against Tampa Bay. He finished the day with six touchdown passes.
Tarik Cohen set career highs with 121 receiving yards and 174 scrimmage yards against the Buccaneers in Week 4.
Khalil Mack is trying to post his fifth consecutive game with a sack and a forced fumble.
Ryan Tannehill has completed 72 of 101 passes for 999 yards with 11 touchdowns, three interceptions and a passer rating of 126.6 in his past four home games.
Jakeem Grant had a 71-yard punt return touchdown against Cincinnati in Week 5 and became only the second player in NFL history (Dante Hall in 2003) to have a kickoff return touchdown of 100+ yards, a punt return touchdown of 70+ and a receiving touchdown of 50+ yards in one season.
Kiko Alonso is the only player in the NFL in 2018 with 40+ tackles (50) and two interceptions.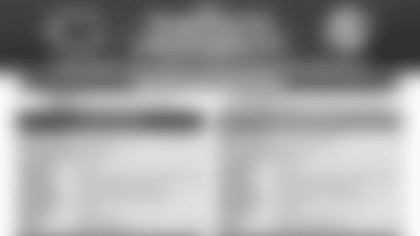 Rams (5-0) at Broncos (2-3)
TV: FOX (most of Southern California, the Rocky Mountain States, splotches through the Midwest, as well as the New York City area)
Sirius: 108 (LAR), 83 (DEN) | XM: 392 (LAR), 225 (DEN)
It's part of the way the rotational schedule hit this year, with the NFC West playing the AFC West, but this game will be the only one in the first eight that will be played by Los Angeles outside of the Pacific Time Zone.
Denver won its first two games but has dropped its past three. After taking Kansas City to the wire on Monday Night Football in Week 4, the Broncos allowed 323 rushing yards in falling to the Jets 34-16.
Jared Goff entered Week 6 leading the NFL with 1,727 passing yards and ranking second with a passer rating of 119.7. He has passed for 300 or more yards in each of his past four games.
Todd Gurley has had nine games with two or more rushing touchdowns since 2015, which is the most in the NFL. He leads the NFL with seven rushing touchdowns.
Former Chiefs CB Marcus Peters has racked up three interceptions, eight passes defended, a forced fumble and fumble recovery in five career meetings with the Broncos.
Case Keenum passed for a career-high 377 yards in Week 5 against the Jets. Keenum completed 35 of 51 passes with two touchdowns and an interception.
Demaryius Thomas has a touchdown catch in five of his past seven home games.
Von Miller has seven sacks and four forced fumbles in his past five games against NFC teams.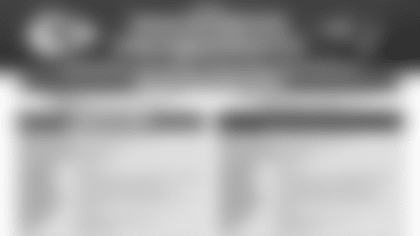 Chiefs (5-0) at Patriots (3-2)
Kickoff: 7:20 p.m. Sunday
National Radio: Westwood One
Sirius: 81 (KC), 83 (NE) | XM: 226 (KC), 225 (NE)
Monday's game between the 49ers and Packers will have more potential implications for the Vikings since it is an NFC game and involves a division rival, but this AFC matchup between defending division champs is compelling for multiple reasons.
Pat Mahomes entered Week 6 leading the NFL with 14 touchdown passes. He has won his first six starts and is trying to become the sixth player in NFL history to win his first seven. Ben Roethlisberger holds the record at 15 games. Mike Tomczak won his first 10. Dieter Bock, Daunte Culpepper and Jimmy Garoppolo each one their first seven starts. The Vikings stopped Garoppolo's streak in Week 1.
Kareem Hunt had 246 yards (148 rushing and 98 receiving) and three total touchdowns at New England in Week 1 of the 2017 season.
The Chiefs defense totaled five sacks and four interceptions in Week 5 against Jacksonville.
Tom Brady is going for his 200th career regular-season victory. Brady already holds the NFL record for regular-season wins, having overtaken the 186 apiece by Brett Favre and Peyton Manning. Last week, he joined Favre and Manning as the only three players to throw 500+ touchdown passes.
James White had 10 catches for 77 yards and a touchdown last week against the Colts. White has a touchdown reception in four of his past five games and has 16 since 2015, which leads all running backs.
Devin McCourty led the Patriots with 14 tackles, a forced fumble and fumble recovery last week. He had 10 tackles, two passes defended and a fumble recovery when these teams met to open the 2017 season.
Buccaneers (2-2) at Falcons (1-4)
Steelers (2-2-1) at Bengals (4-1)
Chargers (3-2) at Browns (2-2-1)
Bills (2-3) at Texans (2-3)
Bears (3-1) at Dolphins (3-2)
Cardinals (1-4) at Vikings (2-2-1)
Colts (1-4) at Jets (2-3)
Seahawks (2-3) at Raiders (1-4)
Panthers (3-1) at Redskins (2-2)
3:05 p.m. (CT) Sunday Game
Rams (5-0) at Broncos (2-3)
3:25 p.m. (CT) Sunday Games
Jaguars (3-2) at Cowboys (2-3)
Ravens (3-2) at Titans (3-2)
7:20 p.m. (CT) Sunday Night Football
Chiefs (5-0) at Patriots (3-2)
7:15 p.m. (CT) Monday Night Football
49ers (1-4) at Packers (2-2-1)