The Vikings have a win-or-tie-and-in-the-playoffs scenario facing them as they prepare to host the Bears this Sunday.
The game was flexed to 3:25 p.m. (CT) to overlap with other games that have interrelated playoff implications.
Normally, we use this space to preview games that are not scheduled during Vikings games, but this week is a little different.
Philadelphia (8-7) at Washington (7-8) and Arizona (3-12) at Seattle (9-6) could have a direct effect on Minnesota (8-6-1) and Chicago (11-4).
A loss or tie by the Eagles has the same effect as the Vikings defeating or tying the Bears and will grant Minnesota its third postseason berth in four seasons. An Eagles win, however, creates a situation where the Vikings must defeat or tie with the Bears.
The Vikings still have an outside shot at winning the No. 5 seed if they win and the Seahawks somehow falter against the Cardinals.
If the Rams (12-3) win, they will secure the No. 2 seed in the NFC. If they lose and Chicago wins, the Bears will have the No. 2 seed and knock the Rams to the No. 3 seed.
According to 506sports.com, CBS is scheduled to air the Jets-at-Patriots at noon (CT) and the Browns-at-Ravens at 3:25 p.m. (CT) in the Twin Cities. FOX is scheduled to air the Lions-at-Packers in the early slot, followed by the Bears-at-Vikings, which will be shown in a wide swath of the country.
The Detroit-Green Bay game will be former Vikings running back Robert Smith's first NFL game as a commentator.
Here are notes on the Eagles-Redskins, Cardinals Seahawks and 49ers-at-Rams games to "scoreboard" or "second-screen" watch.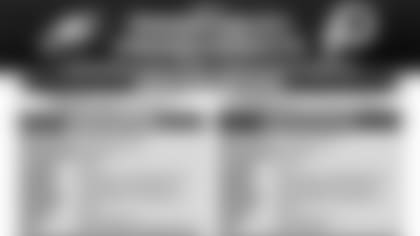 Eagles (8-7) at Redskins (7-8)
Kickoff: 3:25 p.m. (CT) Sunday
TV: FOX (markets in the Northeast and Texas/Oklahoma)
Sirius: 121 (PHI), 83 (WAS) | XM: 387 (PHI), 225 (WAS)
The injury-plagued Redskins can't go to the playoffs, but they can keep a division rival — and defending NFL Champ — from reaching them.
Nick Foles completed 35 of 49 passes for a franchise-record 471 yards with four touchdowns and one interception last week in a win over Houston. He is the first quarterback in Eagles history with two games with 400 or more yards and at least four touchdown passes.
Zach Ertz has set a franchise record with 113 receptions, the most by a tight end in NFL history. In his past four games, Ertz has caught 32 passes for 377 yards in his past four games.
Chris Long had two sacks and a forced fumble in Week 16 in the 10th-career multi-sack game.
Josh Johnson passed for 153 yards and a touchdown last week in a loss at Tennessee. He has one career start against Philadelphia, posting 240 yards and two touchdowns back in 2009 with Tampa Bay.
Adrian Peterson rushed for 119 yards in Week 16 to boost his career total to 13,318 and pass Hall of Famer Eric Dickerson (13,259) for eighth all-time.
Mason Foster led Washington with nine tackles last week to raise his season total to a team-leading 123.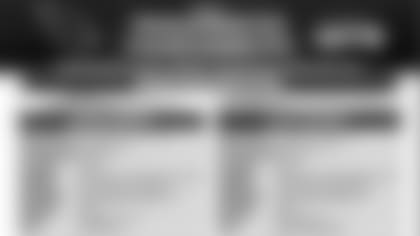 Cardinals (3-12) at Seahawks (9-6)
Kickoff: 3:25 p.m. (CT) Sunday
TV: FOX (the Pacific Northwest, Idaho, western Montana, Arizona and a small part of California)
Sirius: 78 (AZ), 126 (SEA) | XM: 388 (AZ), 232 (SEA)
The Cardinals are vying for draft positioning and would be helped by a loss; the Seahawks are in the playoffs but can't do better than the No. 5 seed.
Rookie QB Josh Rosen passed for 180 yards with a touchdown and 88.5 passer rating in the teams' first meeting, a 20-17 loss by Arizona.
Larry Fitzgerald had a 32-yard touchdown pass last week against the Rams. It was the first of the receiver's career.
Chandler Jones has 8.5 sacks and two forced fumbles in six career games against the Seahawks.
Russell Wilson has seven games with three or more touchdown passes this season, the most by a Seattle QB in franchise history.
Chris Carson rushed for 116 yards and two touchdowns last week against Kansas City. He has 1,029 rushing yards on the season.
Bobby Wagner led the Seahawks with 12 tackles last week and has recorded more than 100 tackles in each of his seven NFL seasons.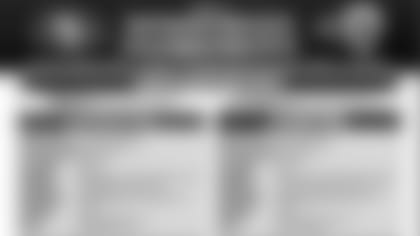 49ers (4-11) at Rams (12-3)
Kickoff: 3:25 p.m. (CT) Sunday
TV: FOX (Most of California and western Nevada)
Sirius: 133 (SF), 119 (LAR) | XM: 382 (SF), 235 (LAR)
San Francisco has suffered injuries throughout the season but kept it close with Chicago last week and upset Seattle in Week 15. The Rams bounced back after consecutive losses to the Bears and Eagles with a 31-9 win over the Cardinals last week.
Nick Mullens has 848 passing yards with three touchdowns and two interceptions in his past three games.
George Kittle ranks second in the NFL with 775 yards after catch and second among tight ends with 1,228 yards this season, a franchise record by a TE.
DeForest Buckner leads San Francisco with 12 sacks. He has 3.0 and five tackles for loss in his past two games.
Jared Goff has 2,538 yards (362.6 per game) with 18 touchdowns against three interceptions in seven home games this season.
C.J. Anderson rushed for 167 yards and a touchdown in making his debut with the team last week.
Aaron Donald leads the NFL with 19.5 sacks. He needs 3.0 to tie and 3.5 to pass Hall of Famer Michael Strahan's NFL record of 22.5 (set in the 2001 season).
Dolphins (7-8) at Bills (5-10)
Lions (5-10) at Packers (6-8-1)
Jaguars (5-10) at Texans (10-5)
Jets (4-11) at Patriots (10-5)
Panthers (6-9) at Saints (13-2)
Cowboys (9-6) at Giants (5-10)
Falcons (6-9) at Buccaneers (5-10)
3:25 p.m. (CT) Sunday Games
Browns (7-7-1) at Ravens (9-6)
Chargers (11-4) at Broncos (6-9)
Eagles (8-7) at Redskins (7-8)
Raiders (4-11) at Chiefs (11-4)
Bears (11-4) at Vikings (8-6-1)
49ers (4-11) at Rams (12-3)
Bengals (6-9) at Steelers (8-6-1)
Cardinals (3-12) at Seahawks (9-6)
7:20 p.m. (CT) Sunday Night Football
Indianapolis (9-6) at Tennessee (9-6)