The Vikings are back at home and in the noon (CT) Sunday time slot this week as they host the Lions.
Minnesota (8-4) is unable to clinch a playoff berth this week with a win over Detroit (3-8-1) but needs a win to keep its status as the No. 6 seed in the NFC and strengthen its hopes for making a run at Green Bay (9-3) for the NFC North.
The Packers host Washington (3-9) at noon (CT), which is when a blockbuster between San Francisco (10-2) and New Orleans (10-2) will be happening. Click here for a look at the NFC Playoff Picture entering Week 14.
The Vikings will be focused on what they expect to be a tough challenge from the Lions, but fans can do some scoreboard watching in that time slot.
The week's action also includes a couple of other interesting matchups, starting with the Cowboys and Bears meeting tonight in Chicago.
Here's a breakdown of that one, as well as the Chiefs-Patriots and Seahawks-Rams games: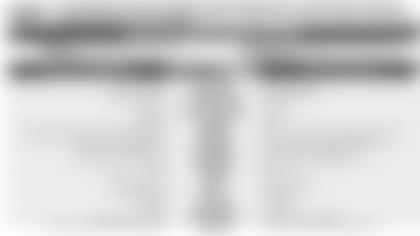 Dallas (6-6) at Chicago (6-6)
7:20 p.m. (CT) Thursday | Soldier Field | FOX
Outlook: The Cowboys are still leading the NFC East, a division that the Vikings swept this season, by a game over the Eagles. The Bears have won three of four, defeating the Lions twice and topping the Giants 19-14. Chicago has very little wiggle room for losses if it hopes to return to the postseason.
QB Dak Prescott leads the NFL with five games in which he has thrown for 350 or more yards this season.
RB Ezekiel Elliott totaled 137 scrimmage yards (71 rushing, 66 receiving) against Buffalo on Thanksgiving.
With six receptions, including a touchdown last week, TE Jason Witten became the fourth player in NFL history with 1,200 receptions.
QB Mitchell Trubisky passed for 338 yards and three touchdowns in leading a comeback against the Lions on Thanksgiving.
WR Allen Robinson has posted two consecutive games with at least 85 receiving yards and a touchdown.
LB Roquan Smith led the Bears with a career-high 15 tackles and recorded 2.0 sacks in a game last week.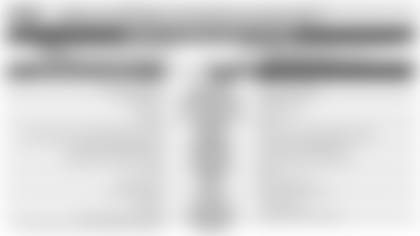 Kansas City (8-4) at New England (10-2)
3:25 p.m. (CT) Sunday | Gillette Stadium | CBS
Outlook: This rematch of the AFC Championship Game can impact the AFC playoff field considerably. Kansas City has a two-game lead on Oakland in the AFC West and can clinch the division with a win and a Raiders loss. New England, which has guaranteed 10-plus wins for a record 17th consecutive season, has a one-game edge on Buffalo. Those teams will meet in Week 16.
The Patriots can clinch another playoff berth with one of the following scenarios:
2. A tie and a loss by Pittsburgh
3. A tie and a loss or tie by Houston
4. A tie and a loss or tie by Tennessee
5. A Houston loos and an Indianapolis loss or tie and a tie between Oakland and Tennessee
QB Patrick Mahomes became the fastest player to throw 70 touchdown passes in NFL history (27 games).
Travis Kelce leads all tight ends this season with 923 receiving yards.
S Juan Thornhill returned an interception 46 yards for a touchdown in Week 13. He is the only rookie in the AFC with a pick-six.
QB Tom Brady passed for 326 yards and three touchdowns in nearly leading an improbable comeback at Houston in Week 13.
RB James White totaled 177 yards from scrimmage (98 receiving, 79 rushing) and two receiving scores last week.
DL Chase Winovich is tied for fourth among NFL rookies with 5.5 sacks.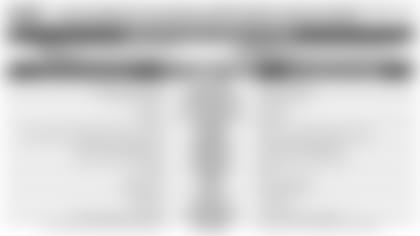 Seattle (10-2) at Los Angeles Rams (7-5)
7:20 p.m. (CT) Sunday | Los Angeles Memorial Coliseum | NBC
Outlook: The Seahawks can clinch a playoff berth with a win or tie and make the Rams postseason chances bleaker in one swoop. Each of Seattle's wins has been by one score (eight or fewer points), including a 30-29 win over Los Angeles to open October. The defending NFC Champion Rams are looking up at two teams within their division and are currently the first team out of the NFC playoff field.
QB Russell Wilson threw four touchdowns and had a near-perfect passer rating of 151.8 against the Rams in Week 5.
RBs Chris Carson rushed for 102 yards and a touchdown, and Rashaad Penny added 74 yards and a touchdown on the ground, as well as 33 yards and a score through the air against Minnesota.
S Bradley McDougald, who had a fumble recovery against Minnesota, is one of two players in the NFL with five or more interceptions and at least four forced fumbles along with Joe Schobert.
QB Jared Goff passed for 424 yards with two scores last week against the Cardinals. He passed for 395 yards and a touchdown but was intercepted by Seattle in Week 5.
RB Todd Gurley scored two rushing touchdowns against the Seahawks in Week 5 and has 10 total touchdowns (nine rushing, one receiving) in his past four games against Seattle.
DT Aaron Donald recorded 1.5 sacks against Arizona, bringing his season total to 9.5. He is the only player in the NFL with 8.0 or more sacks in each of the past six seasons.