Eight teams remain, but only one ultimate prize exists.
NFL teams that are in the Divisional round of the playoffs find themselves three wins from hoisting the Lombardi Trophy in a confetti shower.
The Vikings (10-6 regular season, 1-0 postseason) and 49ers (13-3) will open the action at 3:35 p.m. (CT) Saturday at San Francisco.
Those teams will be followed by a nightcap between the Titans (10-6, 1-0) and Ravens (14-2) in Baltimore.
Sunday's action will start with the Texans (10-6, 1-0) and the Chiefs (12-4) in Kansas City and conclude with the Seahawks (11-5, 1-0) and the Packers (13-3) in Green Bay.
Here's a breakdown of the three non-Vikings games: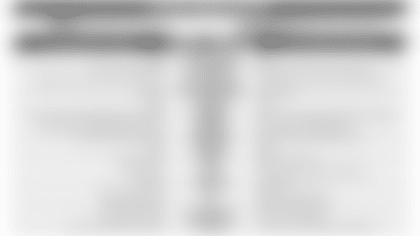 Tennessee (9-7, 1-0) at Baltimore (14-2)
7:15 p.m. (CT) Saturday | M&T Bank Stadium | CBS
Outlook: Like the Vikings in the NFC, the Titans are in an underdog role in the AFC. A No. 6 has reached a conference championship just five times since the NFL instituted the current 12-team format in 1990. The first (Pittsburgh in 2005) and most-recent (Green Bay in 2010) won it all. After following a 2-2 start with an overtime win at Pittsburgh, Baltimore pretty much shredded opponents over the final three months of the season. The only three-point win the rest of the way was against San Francisco in Week 13.
Tennessee Head Coach Mike Vrabel won his first career postseason game as a head coach, and quarterback Ryan Tannehill also secured his first playoff win.
Derrick Henry, who led the NFL with 1,540 rushing yards in 2019, racked up 182 yards and a touchdown at New England last week.
A.J. Brown led all rookies with 1,051 receiving yards and tied for the lead among first-year players with eight touchdown catches.
Logan Ryan finished off his former team with a pick-6 of Tom Brady last week. It was his second career interception in a playoff game.
This is the eighth trip to the playoffs in John Harbaugh's 12 seasons as head coach of the Ravens.
Lamar Jackson led the NFL with 36 touchdown passes in 2019 and set a record for rush yards by a quarterback in a season with 1,206.
Mark Ingram rushed for 1,018 yards and a team-best 10 touchdowns in his first season with Baltimore. He and Jackson are the ninth pair of teammates in NFL history to rush for more than 1,000 yards in the same season.
Marcus Peters, who was acquired via trade with the Rams during the season, returned three of his five interceptions in 2019 for scores.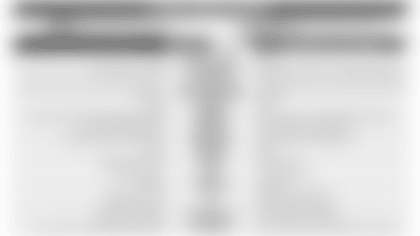 Houston (10-6, 1-0) at Kansas City (12-4)
3:05 p.m. (CT) Sunday | Arrowhead Stadium | CBS
Outlook: The Texans won their first playoff game since 2016 by outlasting the Bills for a 22-19 victory in overtime. Houston is trying to win two games in one postseason for the first time in franchise history. Kansas City won the AFC West for the fourth consecutive season, the longest streak in franchise history. Chiefs Head Coach Andy Reid is making his 15th career postseason appearance.
Deshaun Watson completed 20 of 25 passes (80 percent) for 247 yards and a touchdown, totaling a passer rating of 121.2 last week. He also rushed for 55 yards and a score.
The Texans rushed for 2,009 yards in 2019, marking the sixth time in franchise history that they've rushed for at least 2,000 yards.
DeAndre Hopkins set a personal postseason best with 90 yards against Buffalo. He tied for the AFC lead with 104 receptions in 2019.
In seven career postseason games, J.J. Watt has totaled 6.0 sacks, nine tackles for loss and five pass breakups.
Patrick Mahomes became the first QB in franchise history to throw for more than 4,000 yards and at least 25 touchdowns in consecutive seasons.
Travis Kelce is the first tight end in NFL history to have four seasons in a row with 1,000-plus receiving yards.
Tyreek Hill led Kansas City with seven receiving touchdowns in 2019, including two against Houston in Week 6.
Frank Clark had eight sacks this season. He forced a fumble by the Texans in Week 6.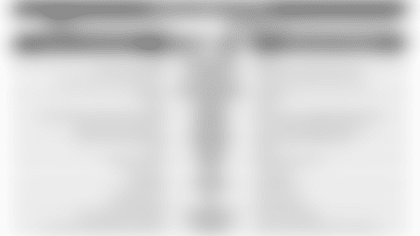 Seattle (11-5, 1-0) at Green Bay (13-3)
5:40 p.m. (CT) Sunday | Lambeau Field | FOX
Outlook: The Seahawks set a franchise postseason record with seven sacks at Philadelphia last week. Seattle is in its eighth postseason trip in 10 seasons under Head Coach Pete Carroll. Packers Head Coach Matt LaFleur became the fifth rookie head coach in NFL history to post 13 or more wins in his first season, joining Jim Caldwell (2009) Jim Harbaugh (2011), Steve Mariucci (1997) and George Seifert (1989). This will be the first postseason meeting between the teams since the 2014 NFC Championship when the Seahawks rallied with 15 late points in less than a minute to take a 22-19 lead and eventually prevailed in overtime on a 35-yard touchdown pass.
Russell Wilson has 95 career wins (regular season and postseason), the second-most by a quarterback in his first eight seasons behind Tom Brady (100). He has thrown for at least 3,000 in each season.
Marshawn Lynch scored his 10th career postseason touchdown last week (12 games). He totaled 183 scrimmage yards against the Packers in the 2014 NFC Championship.
D.K. Metcalf set a playoff record for a rookie in the Super Bowl era with 160 receiving yards against the Eagles.
Bobby Wagner led the NFL with 159 tackles, and K.J. Wright added a career-high 132 in 2019.
Aaron Rodgers ranks fifth in NFL history with 36 career postseason touchdown passes. He trails Brady (73), Joe Montana (45), Brett Favre (44) and Peyton Manning (40).
Aaron Jones tied for the NFL lead with 19 scrimmage touchdowns and 16 rushing touchdowns.
Davante Adams leads the NFL with 40 touchdown receptions since 2016. He's posted 100-plus yards and a touchdown in each of his two career playoff games at home.
Za'Darius Smith's 13.5 sacks in 2019 were the most by a Packers player since Clay Matthews had the same total in 2010. Smith and Preston Smith (12 sacks) were the only pair of teammates in 2019 with a dozen-plus and are the first pair of Packers to reach that total in one season.