EAGAN, Minn. — When defensive end Stacy Keely arrived in Minnesota in May as an undrafted rookie free agent, his weight was only a couple of pounds more than one of his favorite players to watch: Cardinals receiver Larry Fitzgerald.
The 6-foot-6 Keely tipped the scales at 220 pounds.
The 6-foot-3 Fitzgerald, a former Vikings ball boy turned surefire future Hall of Famer, is listed by Arizona at 218.
"I was definitely a big fan of Larry Fitzgerald coming out of high school," Keely said. "I was playing tight end and receiver, was running track, so a lot of my idols were receivers and on the offensive side of the ball. When I got to college, they flipped sides on me. He's still up there, one of my favorite all-time players.
Born in St. Louis, Keely spent much of his youth in Arizona before moving to Omaha, Nebraska, in 2006, so he's followed Fitzgerald's impressive career since its start in 2004.
Keely won two state titles in the high jump, played basketball and wrestled in high school. He initially enrolled at South Dakota State with his identical twin brother, Eron. After redshirting as a tight end, he transferred to Iowa Western Community College and switched to defense. He then helped the Alabama-Birmingham Blazers reignite their football program. In the first two seasons after being reinstated, UAB went 8-5 and 11-3.
When Keely gets to take the same field as Fitzgerald at noon Saturday in the third preseason contest, he'll be about 30 pounds heavier thanks to hard work in the weight room and a focus on nutrition.
"I started in rookie minicamp at about 220 pounds and now this morning I weighed-in at 251, so I've definitely put on some weight," Keely said recently. "I'm still looking to put on more muscle and continue with the ins and outs of the football grind. It's still a work-in-progress."
Keely said the meals served and nutritious snacks offered to players at Twin Cities Orthopedics Performance Center have helped.
"They take really good care of us, so it's stuff I can put in my body and not put on bad weight," Keely said. "It's definitely multiple meals a day but then snacks in between, because once you start getting hungry, it's too late. … I just try to keep something in my hand at all times."
Here are three topics covered with Keely:
1. What was it like to grow up as a twin?
"It was pretty good. It's like any other sibling, we're just more of best friends at the same time. We look just alike from the height to everything else."
A lot of twins say they have a special connection where they know what the other is doing…
"Sometimes we find ourselves finishing each other's sentences, just kind of knowing what the other is thinking. I don't think it's anything extra special. We just know each other."
2. What goes into a good high jump?
"Honestly, you've just got to attack it like you attack everything else. Some people get kind of scared of the height, but you're really just jumping over a bar. Technique helps. The higher you get, the more technique-sound you have to be. There's some guys that couldn't jump over 5-foot-10 and there were some guys that were jumping 7-feet-plus in high school."
3. What pride did you have in helping re-launch the Alabama-Birmingham football program?
"Starting out was definitely a challenge because we knew we wouldn't have the program back until a year and a half, so we were just attacking every day. It got kind of tedious, going against your own guys, but it really paid off. Knowing we had two great seasons, probably the best two in UAB history, so it definitely paid off. I met a lot of great guys out there. Just being able to do something that wasn't done there before was a real plus."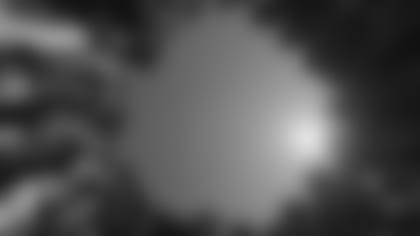 NFL Kickoff | We Ready
The kickoff for #NFL100 is here and we only have two words - WE READY! Don't miss the season opener Green Bay Packers taking on the Chicago Bears on Thursday, September 9th at 7:20 PM CT