EAGAN, Minn. – Larry Fitzgerald has spent his entire NFL career with the Cardinals, but he first impressed at the Vikings Training Camp in Mankato, Minnesota.
Fitzgerald, a Minneapolis native, joined the Vikings as a ball boy as a teenager, and his natural athletic ability was impossible to ignore.
Longtime Vikings equipment manager Dennis Ryan recalled the first summer that Fitzgerald joined the ball boy crew at training camp.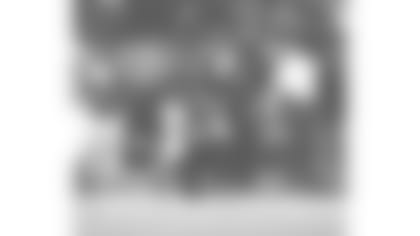 "He helped the receivers; I think that's about as much as I had to do with his football development, was assigning him to the receivers' coach," Ryan quipped.
Fitzgerald also assisted with the special teams drills, and it didn't take long for him to try his hand at roles, as well. Ryan explained that the special teams portion of practice would involve a handful of young players who hoped to make the team as a punt return specialist.
"They'd shoot the JUGS machine as high as the ball would go and as far as it would go, and on top of that Mankato hill, it was always windy," Ryan said. "Very difficult conditions to catch punts, and none of the young guys could catch them – but Larry could.
It seemed that each time the JUGS machine spit the football into the air, Fitzgerald would track the pigskin and haul it in.
"And he was so smooth in catching the ball," Ryan said. "I just remember all the veterans would line up and watch – guys like Cris Carter and Randy Moss, John Randle. They'd just watch this kid catch punts off the JUGS machine. And they were impressed."
Added Ryan: "He had a skill set that was pretty incredible."
Ryan said that Fitzgerald would pay close attention to the Vikings receivers and emulated his game after the talented players.
"I think he liked how Cris Carter practiced. I remember him practicing one-handed catches on the sideline, [getting] both feet in bounds, and you didn't have to do that in high school. But he did," Ryan said. "He looked up to those guys, and he wanted to be one of them."
Asked if Fitzgerald earned the respect of the older players after a while and became sociable with them, Ryan chuckled.
"It took about a day," he laughed. "The players saw him and realized, 'He's one of us.'
"Cris Carter really realized it right away," Ryan added of the Hall of Famer.
The respect from big-name players extended beyond the Vikings practice field.
During the school year, Fitzgerald garnered attention at Holy Angels Academy in Richfield, Minnesota, and Vikings players turned the tables and became spectators while Fitzgerald earned the spotlight.
According to Ryan, 12 to 15 teammates would regularly show up to support the high school standout. It wasn't uncommon for Ryan to attend football games and support his understudies, but it was a different scenario with Fitzgerald.
"I'd been to other ball boys' games, too, and you usually had to wait until garbage time for them to get in. But Larry was in the game, of course, right from the get-go," Ryan said.
Besides Fitzgerald's talent on the football field, what stood out to Ryan about the Minnesota kid was his high character and good manners. Fitzgerald consistently responded with, 'Yes, sir' or 'Yes, ma'am' and never took the opportunity as the Vikings ball boy for granted.
The NFL set a specific game-day dress code for ball boys, and the uniform included a blue baseball cap. Ryan remembered the way Fitzgerald's dreadlocks prohibited him from securing the hat down over his head; if he ran on the sidelines, the hat would fly off and fall to the turf.
"He probably felt like he looked ridiculous and didn't want to wear it, but he was respectful and [abided by the rules]," said Ryan, who added that Fitzgerald was eventually given permission to remove the hat.
Fitzgerald never outgrew his approach. Years after working for Ryan, Fitzgerald will sometimes borrow footballs from the equipment manager for his summer football camps in the Twin Cities. Ryan gladly accommodates, because he knows he'll promptly return everything and "come back and be very appreciative."
Ryan followed Fitzgerald's football career as he went on to succeed at the University of Pittsburgh, was drafted third overall by Arizona in 2004 and has appeared in 11 Pro Bowls.
"You think of what he was as a ball boy and where he could go, what you thought he could do, and he's done it all," Ryan said. "Then to be at his level, he's going in the Hall of Fame, pretty much no doubt. To do that – nobody could ever predict that, I don't think."
While Ryan will joke about helping Fitzgerald's football career, the receiver will tell you more seriously that he does credit Ryan partially with his success in the league.
Fitzgerald spoke to Twin Cities media members via conference call Thursday and spoke highly of Ryan right off the bat.
"I got a chance to witness [hard work from] Cris Carter and Randy Moss, John Randle and Randall McDaniel, and Daunte Culpepper, and the list goes on and on," Fitzgerald said. "But that hard work, I saw that same hard work from Dennis Ryan every single day. And he expected that same hard work from the guys that worked for him.
"A lot of the things that I do and the way I kind of approach the game is a testament to those guys and what they expected from my first job," Fitzgerald added.
Fitzgerald also credits his experience with the Vikings for enabling him to play 15 seasons in the NFL.
"I was able to … see Robert Smith and Cris Carter and see Chris Walsh, Jake Reed, guys getting the cold tub and working out, getting massages and eating right, and acupuncture, doing things like that that I implemented my career when I was very young because I saw them do that," Fitzgerald said. "I was fortunate to be able to see that first-hand as a youngster."
Ryan and Fitzgerald have stayed in touch over the years, and the two will have a chance to connect again when the Cardinals arrive at U.S. Bank Stadium for Sunday's game against the Vikings. If they don't interact on the field, Ryan knows he'll still hear from his former ball boy.
"If I don't shoot him a text, he will shoot me a text," Ryan said. "He's a good kid. I wish him well.
"Not so well Sunday," Ryan added with a smile. "But the rest of the year. His whole career has really been a treasure."