The 2016 NFL Scouting Combine is over, but opinions and speculation about what's ahead in 2016 have only begun. After a week in Indianapolis where we heard from coaches, GMs, draft prospects and experts, here are 14 observations from the combine…
1. There are a lot of opinions about how to best complement Harrison Smith
2. Experts love Vikings defense more than they focus on areas for improvement
* *We talked to and heard from more than 20 national media members who cover the NFL in some capacity, and more times than not they mentioned Coach Zimmer and the defense before they talked about areas that need to be improved when asked their thoughts on the Vikings.
3. Zimmer is committed and open-minded about improving the offense
4. Wide receivers ran slow
The last two WR classes have been dynamite. This year's class could turn out to be great, too. If they do, they'll have to overcome a disappointing collective performance in the 40-yard dash. Of the 37 WRs who ran the 40, only two broke 4.4 – Notre Dame's Will Fuller (4.32) and TCU's Kolby Listenbee (4.39).
5. Defensive linemen ran fastIn contrast to their WR classmates, the DL impressed while showing their speed. What was already considered a strong and deep class of linemen got even more hype when 11 of them clocked sub-5.0 times in the 40-yard dash and only two were over 5.2 seconds.
6. Clemson CB Mackensie Alexander is entertaining
Alexander's podium session with media was one of the liveliest, with the prospect seeming to enjoy the moment.
7. Laremy Tunsil solidified his status as the best OL and the likely top pick
Said NFL Media draft analyst Mike Mayock: "[Mississippi tackle Laremy] Tunsil was as advertised," Mayock said. "He was poetry in motion as far as a left tackle – great feet. I think his movement skills are even better than I thought they were, and I thought they were really exceptional."
8. Opinions vary on Jaylon Smith, and that's not changing any time soon
The standout Notre Dame LB would've been in contention to be the top pick in this year's draft before he suffered a severe knee injury in the Fiesta Bowl. That injury has put his 2016 availability in jeopardy and it has some wondering about beyond 2016, as well. Mayock summed it all up pretty well.
9. Height and weight aren't all the rage at WR
The next pass catcher the Vikings add may not be the kind everyone expects – a big-bodied WR who towers over DBs.
"We've talked about that a lot, about speed versus size and size versus speed," Zimmer said. "I really think it comes down to the player. There's big guys that don't get off of bump-and run very good— we see a lot of bump and run. There's smaller guys that have big catch radiuses. I think we're just looking for the most dynamic guy."
10. Free agents will have to meet a high intangible threshold before Zimmer signs off
When asked about free agency during his combine press conference, Zimmer indicated he'll have a high standard when it comes to intangibles.
"I really like my football team right now," Zimmer said. "I like the way they work, their mentality, the way they do things, and if we can continue to add players that have our vision and where we can see them fitting in, then I think it's great."
11. Spielman, Zimmer bullish on Vikings veterans
Both GM Rick Spielman and Zimmer had complimentary and optimistic things to say about the contribution the Vikings are seeing from veteran players. Chad Greenway and Terence Newman both caught praise from Spielman and Zimmer, with Spielman also praising Brian Robison and Mike Wallace. Zimmer was clearly open to the idea of Greenway returning and Newman playing safety in 2016.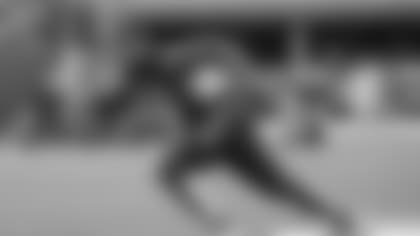 12. Mayock says Eric Striker is a fit for the Vikings
He didn't reference the Vikings by name, but Mayock indirectly said Oklahoma LB Eric Striker is a good fit for the Vikings.
"We've become so specialized. In my head, I've kind of got him targeted for a dome team," Mayock said. "A team that plays inside on turf with him as a situational pass rusher. That's who I think he is. Just come off the edge. The sub package, as we said, is 70 percent of the game. Let him come off the edge, especially in a dome where he'd have an advantage."
13. Analytics have become a standard part of evaluation process
14. There are quality RBs in this year's class