EAGAN, Minn. – As Verizon Vikings Training Camp continues and the 2020 season nears, plenty of players will play key roles for the Vikings.
But some players will be in the spotlight more than others, whether it is because of roster turnover or their own progression in recent years.
This is a 10-part series about X-factors on the roster, consisting of players who could be primed for more playing time, and a chance to help the Vikings more than in years past.
Rookies are excluded, as are veterans who have already cemented themselves as vital players on the Vikings.
Up next? Vikings linebacker Eric Wilson. Here's why he could be an X-factor in 2020:
— Has shown a continuous progression
— Young LB room presents opportunities
— Versatile player with ability to play multiple roles
Stat line: 66 tackles (coaches' tally), 3.0 sacks, six tackles for loss, five quarterback hits and a fumble recovery
Wilson hasn't missed a game since signing with the Vikings as an undrafted free agent in 2017. The linebacker has seemed to play a larger role on the team each season and brings a dynamic energy to the field whether playing defense or special teams.
In 2019, Wilson started a career-high six games and played 379 (35 percent; also a career-high) of Minnesota's defensive snaps. He also was on the field for 66 percent of special teams plays.
Wilson totaled 3.0 sacks, including a pair of takedowns of Raiders QB Derek Carr in Week 3.
Vikings Co-Defensive Coordinator/Linebackers Coach Adam Zimmer credited much of Wilson's success to his mental approach to the game and ability to handle multiple positions and responsibilities on the field, which he has demonstrated when being called on to start.
"He's been my project since we got him as a rookie free agent. We identified him on film and really liked his game and recruited him throughout the process. He came here and was kind of like [Eric] Kendricks, only probably not as polished," Zimmer said. "But he always wanted to jump and make plays and be super aggressive, and it showed up in his first preseason as a rookie.
"As he got more playing time [in 2018] and then played a lot in 2019, he really had a great understanding of the scheme. He backed up every position for us, base and sub," Zimmer continued. "I could put him in anywhere, and you could tell how much he learned because he's always asking questions. Now he's a real football junkie, like Anthony [Barr] and [Kendricks] are."
Wilson recently spoke with Vikings producer Gabe Henderson and reflected on his progression over his first three seasons. The 25-year-old credited his self-confidence, "regardless of the circumstances," for continued steps forward.
"Some of those obstacles that I've gone through and maybe what could be setbacks, or maybe people think of them as setbacks, you can't let that keep you from chasing your dreams … and really fulfilling those dreams and manifesting that greatness," Wilson said. "It's definitely a journey. Everybody has their own journey, but it's awesome to see that manifest."
Wilson has recorded a handful of impressive plays for Minnesota, including his career-high 3.0 sacks last season.
For his best splash play, however, it's hard to look past his blocked punt against the Falcons in the 2019 season opener.
Minnesota forced Atlanta to go three-and-out on the first possession of the game at U.S. Bank Stadium, and when Matt Bosher swung through for the punt, Wilson met him head on. The blocked punt – which resulted in a bloodied mask shield for Wilson – marked the Vikings first since 2014. The block was one of 11 across the NFL last season.
"We moved around a little bit," Wilson explained of the play following the game. "They might have got confused a little bit, and we got off the rock. It was clear as day. I took it right off his foot."
The 2020 season will continue to provide Wilson opportunity to make an impact for Minnesota.
With Ben Gedeon currently on the PUP list, it's likely Wilson would be in-line to start alongside Kendricks and Barr in the Vikings base defense. Depth behind him in the position group includes fourth-round draft pick Troy Dye, Jordan Fehr, Blake Lynch, DeMarquis Gates and recent free-agent signing Quentin Poling.
Kendricks complimented Wilson, also highlighting his football smarts and approach to the game.
"E-Wil is a beast, man. The guy is a mental beast," Kendricks said. "He's mentally capable of handling this game in all of its capacity. He's a physical beast. As far as the weight room, he's fast and he can hit anybody. And he has the football IQ. He does things with his instincts sometimes where he makes those reactions. He can do it all."
Vikings Special Teams Coordinator Marwan Maalouf was impressed by Wilson when he joined Minnesota's coaching staff last season, and he continues to appreciate not only the linebacker's athletic ability but also his ever-positive mindset.
Maalouf said that Wilson's smile is contagious and his attitude helps keep those around him up-beat.
"That's the type of guy he is," Maalouf said. "He's a great pro. The way he practices is so detailed. He makes great notes. I don't have to worry about him as far as his assignments go. He's one of the guys who helps get everybody else [aligned]. When it comes to rushing punts, when it comes to punt protection, we can put him in a lot of different places. He's a versatile player.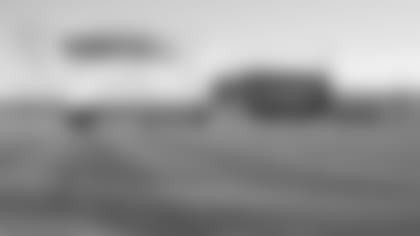 Watch 'Vikings Training Camp Live' Today at 2:15 PM
Tune in today at 2:15 PM to watch live coverage of Verizon Vikings Training Camp from the TCO Performance Center. Paul Allen, Pete Bercich, Ben Leber and Greg Coleman will break down position battles and look ahead to the 2020 season.
Watch and/or listen on all the Vikings digital + social platforms, as well as FOX 9, KFAN FM 100.3 & the Vikings Radio Network.
"And yeah, he's probably going to play 30, 40 snaps of defense, as well, so he's gotta juggle all that," Maalouf added. "But the guy takes it in stride. He's a student of the game, and I can't say enough good things about him."
Asked about his biggest motivators, heading into the 2020 season, Wilson said he's driven most by the pursuit of greatness and his teammates who share that goal.
"I think that's so great about our locker room. On offense, defense and special teams, we have a lot of leaders, and we have a lot of good guys, and that's very motivating," he said.
"[I want to continue honing] in on my techniques and continue to build my ability to communicate and work on my leadership," Wilson later added. "I think taking care of those small things will help reach the bigger goal. And if everybody does their individual part, then we'll have a much better shot of reaching that goal."