EDEN PRAIRIE, Minn. –A young boy, wearing a purple Harrison Smith jersey and a mixed expression of shyness and excitement, approached the autograph table with his father.
The miniature Vikings fan shook Head Coach Mike Zimmer's hand and timidly mumbled something toward the floor.
"He was so excited to meet you," interpreted his father, also clad in Vikings Purple.
Zimmer tapped his hand on the table, nodded his head at the boy and offered him a grin.
"Well, I'll tell you what. I *am excited to meet *you!"
Nothing but smiles from the young fan. He waved happily at Zimmer as he proudly walked away with much more than an inked signature to remember the moment.
Zimmer spent nearly an hour meeting and greeting fans for his second annual autograph signing at FanHQ in partnership with the **Mike Zimmer Foundation**. After being welcomed by the SKOL Chant upon arrival, he took the time to greet and thank fans of all ages.
"Number one, the fans have been great to me – all the people in Minnesota and the Twin Cities in general," Zimmer said. "I think we're all very fortunate to do what we do, and to have the opportunity to raise money for the kids here … the more that we can do, the better we feel about it."
The event came a day after the Vikings signed free agent quarterback Kirk Cousins and just hours after announcing the addition of defensive tackle Sheldon Richardson.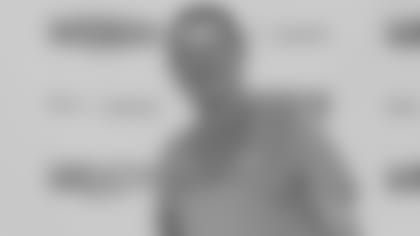 "Today's a good day since we ended up signing two players in the last two days," Zimmer said with a smile. "It's always good to interact with the fans. We have some of the best fans in the world."
Items autographed by the head coach ranged from photographs and mini helmets to custom art pieces and white-paneled footballs.
All proceeds from tickets purchased – which included multiple options – directly benefited **The Salvation Army North** and the Mike Zimmer Foundation. Tickets initially went on sale in November with a goal of raising $5,000 to provide Thanksgiving meals for Twin Cities families. But as the Vikings win total increased, so did ticket sales.
FanHQ owner Shaun Hagglund said the original goal was not only surpassed but nearly doubled.
"I think any opportunity to meet a player or a coach on the team just personalizes them and gives you an opportunity to see them from a different perspective, to be up close," Hagglund said. "You get to shake his hand, you know he took time out, you know he's supporting a charity. The level of engagement is so much greater at an event like this.
"Coach Zimmer gets to say 'thank you' to the fans for supporting the team, and fans get to say 'thank you' for an incredible season," Hagglund added. "And then you add the charity aspect on top of it, and all the way around it's a positive."
Ben Guter has been rooting for the Vikings since the franchise was founded in 1961, and he said it was an easy decision to attend when he heard about Zimmer's appearance.
"I love this team, and I love Mike Zimmer. And it was for a good cause, too – so it's a win-win," Guter said. "He seems like a throwback, more of a Bud Grant-type guy, doesn't take any guff from the players – a disciplined, hard-nosed football coach."
Fellow fan Kyle Bradt echoed his eagerness at the chance to meet Zimmer.
"It's a special event," Bradt said. "I thought it was a great opportunity to come up here, see our favorite head coach and then also support the foundation and charity, as well."
Bradt said that Zimmer coaching Minnesota to a 13-3 regular-season record and NFC Championship game added to the excitement.
"When we have years like we had last year, it just shows how the passion can spread throughout the state of Minnesota … and I think the fact that the organization, the head coach of the team, recognizes the fans' passion and talks about how great we are – it doesn't get any better than that.
"When I left work this afternoon and was talking to my co-workers, I was thinking, 'Man, we just had the Kirk Cousins signing [yesterday], Sheldon Richardson today, and now Coach Zimmer is going to be signing autographs," Bradt continued. "I mean, what a whirlwind for him, and how busy is he? – so for him to take time out of his busy, busy schedule during this free agency and preparation for the draft, that means everything to us, too, and that's why we're here."
Zimmer was joined at the signing by one of his daughters, Corri Zimmer White – who runs the foundation that was established to honor the memory of her mother, Vikki Zimmer – and his son Adam, Vikings linebackers coach.
"My mom was always really passionate about The Salvation Army," Corri said. "She always volunteered and donated whenever she could, so the opportunity to kind of pair with them for the holiday and Thanksgiving meals is [significant]."
Added Corri: "It's kind of like a special bond between us. Anything we can do together to honor my mom is always great. It's been fun."