EDEN PRAIRIE, Minn. — Mike Zimmer swapped his Vikings sweat suit for a purple sweater and black slacks, but his work ethic isn't about to stop.
Less than 48 hours after the best Vikings season since 2009 ended, Zimmer took to the podium and evaluated his second year at the helm.
He thanked media members for professionalism, the University of Minnesota for a "great two-year run" as the Vikings became the most successful team to play home games in a temporary stadium and Vikings staff members who did the behind-the-scenes logistical work.
Zimmer said he followed Minnesota's 10-9 heartbreaking loss with a spaghetti dinner his mother cooked, a little red wine and even less sleep.
Below are four takeaways that Vikings.com's Lindsey Young, Eric Smith, Mike Wobschall and I had from Zimmer's season-ending press conference.
"We've got a ton of work to do. I'm looking at a lot of different things already," Zimmer said. "It will be a big, important offseason for us, as far as moving forward to where we want to get to. We've got so much work to do and have already started the process."
Instead of prepping for a Divisional playoff game at Arizona, Vikings coaches are reviewing their own film for an important self-evaluation, to figure out who will remain on board as the Vikings steer their ship to their new home, U.S. Bank Stadium.
"We turn in evaluations on players and have meetings on each player and kind of figure out where we're going to go and start talking about unrestricted free agents and the players we have here," Zimmer said. "We kind of just do an in-depth self-evaluation."
Joe Berger, who started every game this season at center after John Sullivan was injured, is an example of a player the Vikings re-signed last season. The move was largely unheralded at the time but proved to be quite savvy.
"I love Chad [Greenway]. I hope things work out with him," Zimmer said. "He's a great Viking. I talked with him a while yesterday. I think his leadership is immense in the locker room, especially with a young football team. He took active ownership in the role he had this year, so I hope it works out. He's always going to be one of my kind of guys."
Zimmer commented on a handful of veteran players, one of them being linebacker Chad Greenway. Having played his entire career with the Vikings, Greenway took a little lesser role on defense during the 2015 season, but his role in the locker room was just as significant. Zimmer has commented before on Greenway's character and leadership both on and off the field, and it's clear he wants what's best for Greenway moving forward. Zimmer said he always wants his players to be in the best-case scenario, which will also apply to veteran cornerback Terence Newman and wide receiver Mike Wallace. Zimmer has coached Newman for several years, on three different teams. He said Newman has a lot of value, and where he is next season "has a lot to do with what Terence wants to do."
Lastly, Zimmer praised Wallace and the character he's shown over his first season in Minnesota, despite having a quieter role on offense than both he and the team had hoped. Zimmer said Wallace loves it in Minnesota and loves quarterback Teddy Bridgewater, and he would like to have Wallace back if it can get worked out that way.
"I love this kid.  I love the way he works, I love the way he competes," Zimmer said. "I love him as a person, a competitor, a football player, and I'm disappointed it didn't pan out the way I envisioned it."
"Teddy [Bridgewater] is our quarterback," Zimmer said. "He's going to be our quarterback, and there's no doubt about that going forward."
This statement followed Zimmer saying that the Vikings will evaluate quarterbacks every year because of the importance of the position. He left no doubt, however, that the Vikings view Bridgewater as the quarterback of the future. Zimmer added he expects that Norv Turner will be returning as Offensive Coordinator.
Zimmer later added: "Everything about Teddy, I love. There's not one thing I don't love about this kid. He's got the right demeanor, the right heart, the right competitiveness."
When the Vikings open the 2016 season in the fall, it will be the third year Zimmer and Bridgewater have worked together (likely in the same offensive system). After a season that saw Bridgewater throw for more than 3,000 yards and help lead the Vikings to their first NFC North title since 2009, Zimmer praised Bridgewater's work ethic and said he's excited to see him progress next season.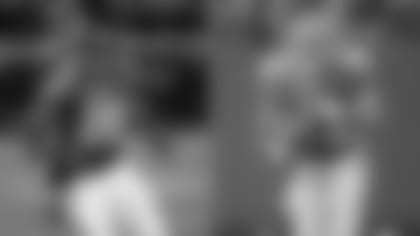 4) @Wobby: Still room for refinement
"I had a nice, long talk with [Adrian Peterson] yesterday about the things I think he needs to do. I go back and I happened to be in the NFC East when Tiki Barber was a veteran guy and had a lot of fumbles. He worked extremely hard at holding the ball correctly and fixing that issue. Adrian can do that, as well. Those are the kind of things … trust me, I'm going to stay on his rear end about it, as well.
"I think Adrian Peterson can do anything he sets his mind to. I do believe that."
Zimmer has proven to be adept at many things in his two seasons with the Vikings. Chief among them are motivating players and fixing problems. On Tuesday, Zimmer recalled from his extensive library of experiences from over 20 years in the NFL defending against Barber, a perennial 1,000-yard RB from 2000-06 who also had a fumbling issue; he was guilty of 34 fumbles from 2000-04.
As Zimmer said, Barber worked hard to correct the issue and that hard work paid off, as Barber fumbled only 4 times and lost just 2 of them in the final 684 carries of his career. Peterson had a fumbling issue in the past, putting the ball on the ground 16 times from 2008-09 and losing it on 10 occasions. He fixed it back then and, given his respect for the history of the game and his solid relationship with Zimmer, it's fair to expect he'll fix it again this offseason.