Oxford Head Football Coach Zach Line still remembers the day he asked Tate Myre to make the switch from running back to tight end.
For most 16-year-olds, running back would be the more desirable position: hold the ball in your hands, feel the spotlight, score the touchdowns. Especially Tate, who ran the 40-yard dash in under 4.25 seconds (multiple stopwatches were used to confirm) and whom Line thought might "be our next Adrian Peterson."
But two games into the 2021 football season, Line needed to make a change at tight end, and Tate simply stood out as the best option.
"He was smart, physical, fast, so he could run a lot of the offense we want to do," Line told Vikings.com. "So I asked Tate, 'Hey, I need you to move to tight end.' Without question it was just, 'For sure, Coach. Whatever the team needs.' "
A couple of weeks later, the former Vikings and Saints fullback checked in one evening with a text.
Hey Tate, you good with the move?
"It was what I expected, like, 'Why are you asking me?' type of deal," Line said. "That's just who Tate was."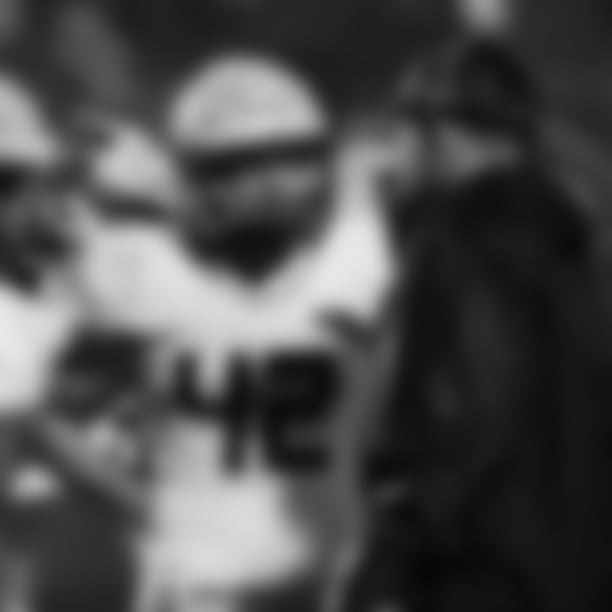 Tragically, Tate was one of four students killed in the mass shooting at Oxford High School on Nov. 30, 2021. He, along with Madisyn Baldwin (17), Justin Schilling (17) and Hana St. Juliana (14) were murdered by a fellow student.
Mass shootings happen at an alarming rate across the United States, appearing in news bulletins seemingly by the day.
The shooting in Oxford, Michigan, however, holds a unique tie to the Vikings family.
Before returning to his hometown to coach beneath the Friday night lights, Line spent seven seasons as an NFL fullback, starting his career in Minnesota from 2013-16. Former NFL kicker and Minnesota native Aaron Elling, whose daughter Braydee had been dating Tate, played all 16 games for the Vikings in 2003 before landing on Injured Reserve in 2004.
Elling has since relocated to Oxford with his wife and three children, Braydee, Brennan and Blake.
"It was like a nightmare that wasn't ending," Elling said of that afternoon, during which he received texts from Braydee during the lockdown and later waited an excruciating three-plus hours to hear about Tate.
When he did, Elling's heart – along with countless others – shattered.
"It felt like someone reached into your chest and ripped everything out of you. It's a place where your kids are supposed to be safe. And it wasn't that day. It's just hard to believe," Elling said. "You hear all these stories of these happening, and obviously they happen way too often, but still you think, 'It'll never happen to us.' But it did that day."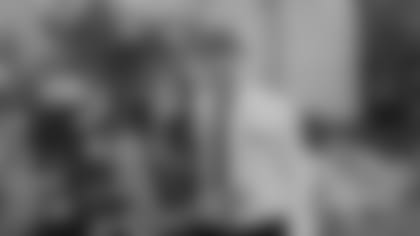 In a town of fewer than 3,600 people, most know the Myre family.
Line recalled attending a wrestling meet before becoming the head football coach; on the drive home, his wife McKenzie commented on "the Myre boys" and how respectful and friendly Tate and his older brothers were.
"There are those kids, those rare breeds, who are intrinsically driven and make an impact just by example. When they speak, people listen," Line said. "Tate was an extremely good athlete … and he backed that up with extremely hard work ethic. The way he led in the locker room."
Line and Elling individually emphasized Tate's uncanny ability to bring people together from all walks of life and all different cliques common throughout high school.
When Tate began dating Braydee, the young couple often spent three or four evenings a week at the Elling home – sometimes with groups of friends and other times just the two of them. But something that Elling observed is that Tate never retreated to the basement during visits; when he picked up Braydee for an activity, he never just waited in the car.
He was different than most teenagers, Elling noted.
"Whenever Braydee had friends over, my son Brennan would never be around. But when Tate was there? Brennan loved him. He'd come down in the living room, or they'd throw a football back and forth," Elling said. "And my little daughter, Blake, she totally had a crush on Tate. She'd sit there and just stare at him. He was so good to them.
"He was a really family-oriented kid, and you could see that," Elling added. "That's where he was so special."
Line often reminds his football players, "You never know who's watching. You never know who you're influencing." And after the Oxford tragedy, it was clear just how strongly Tate held that mindset and how far his impact reached.
"What's crazy is the amount of outreach I got from parents and outside communities like Orion, Lapeer, wherever, about Tate," Line said. "We have an ETS Performance gym here in Oxford, and Tate was one of our first athletes there, which is no surprise. He was never going to be outworked. But parents who had young kids reached out saying how much of an influence Tate was on their kid. He would take them under his wing after a workout to talk to them about what they needed to be doing.
"Those were things that just separated him from the pack – the intangibles of being able to reach out and give back," Line added.
Even after his passing, Tate continues to impact the Oxford community.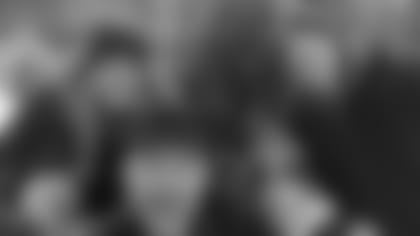 Tate's parents, Buck and Sheri, established 42 Strong, a peer-to-peer mentorship program that pairs older students with younger mentees. The program highlights 12 "Tate's Traits" to inspire its members:
More than 200 students have thus far voluntarily joined 42 Strong, which was named for Tate's jersey number.
"The way we saw it was, 'These kids need a friend. They need someone to lean on, someone to learn from, someone to look up to and someone to guide them in situations where you might feel alone,' " Line explained. "There has been a lot of work put in, a lot of research. Our team has done just an incredible job, and the community jumped to support."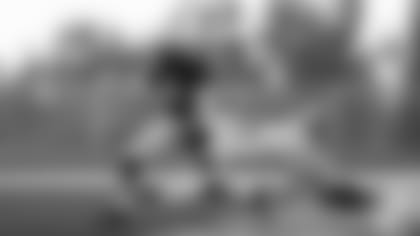 In addition to the 42 Strong board of directors, which Line serves on, numerous community members have stepped up and volunteered as team leaders to help guide mentors. The program holds monthly events, which so far have included various fun outings as well as an evening where young people learned about grief from a representative of the Pat Tillman Foundation.
"And then once a week the mentors have to get together with their mentees – I say 'have to,' but from what we're hearing, these kids are creating a bond and taking it seriously. They want to make a change," Line said. "When something like this happens at your school, you want to make a difference; you want to do something. There's not a lot of avenues for you to do that, but the best way to help is [through showing kindness and being a friend]."
In addition to 42 Strong, the community has established the Tate Myre Memorial Scholarship Fund, which in six months has raised almost $300,000. Each year, a student-athlete will receive a check for $12,000 toward the post-secondary school of his or her choice.
"Tate's legacy will live on and shine through these kids," Elling said.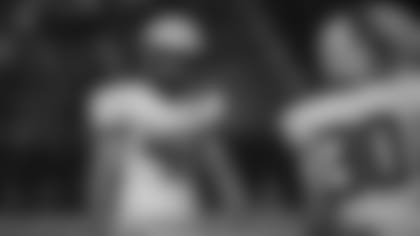 The scholarship fund and 42 Strong both have benefited greatly from the generosity of donors and will continue to rely on financial gifts and gained exposure to impact Oxford's youth.
Whether one is local to the area or not, it's possible to support Line, Elling, the Myre family and the rest of the Oxford community.
Sunday marks the inaugural 42 Strong Memorial Golf Outing, from which proceeds will directly support the mentorship program. Beginning Thursday, July 14, at 1 p.m. (CT), click here to peruse and bid on auction items that include a full-sized helmet autographed by Dalvin Cook, a football signed by Harrison Smith, an autographed Lee Brice guitar and a luxury vacation in Whitefish, Montana.
Individuals can also donate here to directly support the mentorship program.
Thanks to their time in Minnesota, Elling and Line both know firsthand the difference Vikings fans can make.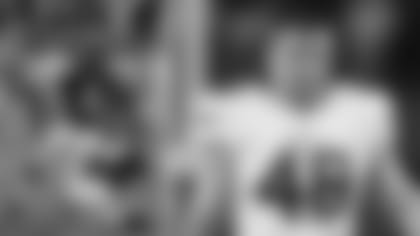 "There are amazing people in Minnesota," Elling said. "It's great people who have very similar values to the people in Michigan. … It's that Midwest feel. We're a small town in Oxford, just like a million small towns in Minnesota, that had a really horrible thing happen.
"If you can help and if you want to help, it'd be amazing if you're able to donate," Elling continued. "But it's not all about that. It's more about, I think we need to help our kids and teach them to be great friends, and to stand up for what they believe in, and have all these traits that sometimes get lost."
As Oxford continues to heal, two Vikings Legends are continuing to carry on Tate's legacy – with the help of so many others.
"This is something you'd never wish on your worst enemy," Elling said. "But it happened, and these kids, they bonded. They reached out. They picked each other up during the worst circumstances. You're not supposed to lose your friends at school.
"There are no silver linings … but there are good things happening from this that will be powerful and hopefully will make a difference," he added.
Click here to learn more and to consider donating to join Line and Elling in supporting the Oxford