More and more women are pursuing – and succeeding in – careers in football, and the Vikings have played an important role in that.
The Vikings on Monday hosted their first inaugural Women's Football Operations Summit, during which they virtually welcomed nearly 40 women or non-binary individuals who have interest in, and a passion for, the sports industry and specifically working on the football side of an NFL team.
"The League and the clubs are aligned in our mission to further diversify football roles in the NFL," NFL Senior Director of Football Development Sam Rapoport told Vikings.com. "Rick Spielman and the Vikings have committed to hiring women in Football Operations positions for years."
"The Vikings have taken a proactive approach to open the door a little wider for women who have a strong desire to work in football," Rapoport added. "This summit, led by [Vikings Director of Inclusion and Employee Investment] Anne Doepner and [Vikings People & Culture Associate] Mallorie Sanders, undoubtedly made us better as a League."
Doepner warmly welcomed the group of women to start off the event.
"I just want to welcome all of you who are here in attendance. We're thrilled to have you," Doepner said. "Representation and communicating some possibilities to you all of what your future could hold is really important to us, and we want to play an active part in inspiring you."
Doepner encouraged the participants to make the most out of a unique opportunity.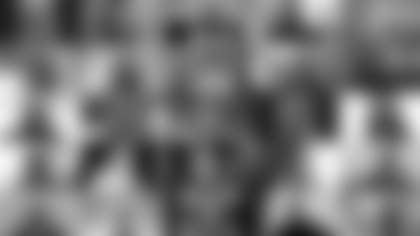 The half-day summit featured messages from Vikings Chief Operating Officer Andrew Miller and Spielman.
"This is a very unique platform. You're going to get an inside perspective not only of the NFL but of the Minnesota Vikings and what makes us so [special]," said Spielman, who urged participants to take notes and ask intentional questions throughout the event. "Very rarely do you get an opportunity to get this type of access to a lot of the people you're going to have today – so make sure that you definitely take advantage of that."
Spielman and Miller both noted the organization's emphasis on culture.
"That's our number-one priority in Football Ops. When we hire people or we bring people in as associates, the number-one thing is that they have to fit our culture," Spielman said. "I know myself and my staff will be able to educate them in the respective areas to get them up to the speed it takes to work at this level – as long as the people that we do bring in are self-starters – but you have to be a culture fit."
Spielman provided advice to the group of women, from the importance of proofreading résumés to networking and work experience.
Participants also heard from three series of panelists from the Vikings organization. The first and second sessions were moderated by Vikings Entertainment Network's Gabe Henderson, and the third was moderated by VEN's Tatum Everett.
Caroline DeFelice, Player Personnel Assistant
Mia Stephens, Football Video Associate
Emily Badis, Football Administration Coordinator
Paul Martin, Director of Team Operations
Paul Nelson, Executive Director, Football Information Systems
Les Pico, Executive Director of Player Engagement
Kaitlin Zarecki, Special Assistant to the GM/Player Development Manager
Taylor Brooks, Scouting Associate
Rob Brzezinski, EVP of Football Operations
Amanda DeKanick, Assistant Athletic Trainer
Rex Johnson, Football Analyst
Ryan Monnens, Co-Director of Player Personnel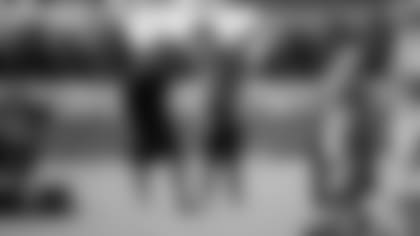 "I'm so proud to be a part of an organization so dedicated and proactive regarding diversity and inclusion in football," Brzezinski told Vikings.com. "Anne Doepner is just an incredible leader and advocate in this space, and as one of the first Directors of Inclusion for a NFL team she is blazing a trail and making a huge impact.
"I'm thrilled to have a growing network with so many amazing women who are passionate about working in football," he added.
Jessica Jefferson was one of the women who virtually attended the summit. Having most recently worked as Director of Recruiting Operations for Marshall University's football team, Jefferson is coming up on her sixth year working full-time in college football. The Clemson grad also completed earlier internships with the New York Jets and the Tampa Bay Buccaneers.
"It's been a goal of mine, a dream of mine, to get back on the football side of things [on the] football administration/operations side," Jefferson said.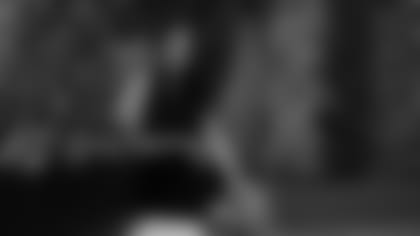 She especially appreciated learning from Brzezinski and others about working with the Collective Bargaining Agreement and salary cap.
"There's always so much that you can learn and grow. … It was really refreshing to not only see people whose shoes I hope to fill or work alongside of," Jefferson said.
"Sometimes your faith meter gets on E. Then you go to church, and God gives you so much joy and hope and faith," she added. "I like going to these things because it kind of renews your faith, it renews your hope, and it reminds you, 'OK, this is why I'm in it. This is why I have to keep going.' "
From the Vikings side of the summit, DeFelice also mentioned the encouragement conveyed by each speaker.
"We come to work every day and are obviously very passionate about our work and end goal of obtaining a championship, but I particularly felt so 're-inspired' by what I heard from our panel speakers," DeFelice said. "The wisdom Rick conveyed about what it takes to be a part of the Minnesota Vikings, I believe, really inspired all involved with this event.
"This is a tough, tough industry to get into and persevere through, and I really enjoyed hearing about his path to GM and the advice he had for our participants," she continued. "The event was so well-executed by Anne and her team, and I hope it resonated with participants as much as it did for me."
Johnson also welcomed the opportunity to speak with the group, willingly participating in the summit despite the encroaching busyness of U.S. Bank Vikings Training Camp. He referenced being a part of the interview process for potential new employees over the past few years.
"In that process, we don't come across a lot of women pursuing the analytics role, and we would love to see more become a part of that," Johnson said. "I hope an event like this has increased the interest of working in analytics, and it feels gratifying to think I could have inspired someone pursue it.
"It's great to be a part of good change," he added. "I have known so many women who could arguably say they love football more than me, so seeing more women get jobs in the NFL is awesome. I'm glad I can help be a part of that."
After each of the panels, participants were divided into breakout sessions where they had the chance for more dialogue and to ask direct questions.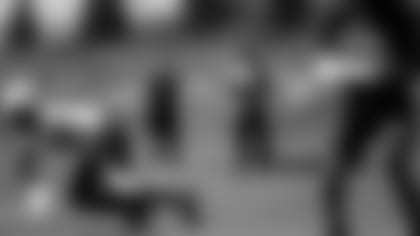 DeFelice fielded a question in her breakout room about working in the NFL specifically in a department that is predominantly male.
"I really appreciated this question because this is certainly something all women think about when contemplating working in football or another male-dominated sport or industry, especially if they have experienced harassment in the past," said DeFelice, who emphasized that strides have been made in this area over the past handful of years. "The football workplace culture is very different than it was 7-to-10-plus years ago. At least at the Vikings, women can come to work and be treated with equity and be valued for their work just like our male counterparts.
"This is definitely in part due to Rick and [the Wilf Family Ownership Group] but also my immediate superiors in Player Personnel," DeFelice continued. "It takes everyone to lead by example in order to create a healthy work environment, and I'm so thankful the Vikings organization takes this with the utmost seriousness."
Rapoport wrapped up the summit by speaking with the women and offering another dose of inspiration. In closing, she offered a quote from Hillary Clinton during her 2008 Presidential campaign speech:
From now on, it will be unremarkable for a woman to win primary state victories, unremarkable to have a woman in a close race to be our nominee, unremarkable to think that a woman can be the President of the United States. And that is truly remarkable.
"Sam, she came with it at the end," Jefferson said shortly after the summit. "That just gave me so much hope. I could have run through a brick wall."
In addition to Rapoport, Jefferson especially enjoyed listening to Famodu, as a fellow African American woman in football; Pico and Brzezinski. And as she walked away from Monday's event, she felt truly encouraged in her career path.
"That's the biggest thing the summit gave me, was hope and joy – 'You can do this. There is space for you to do this,' " Jefferson said. "It's also about willingness, and I really believe the Vikings are one of the top teams that are ahead of the curve in being more accepting of women being in traditionally male roles.
"It was a blessing to participate," she added. "It was kind of like God giving me signs, like, 'You're in this for a reason.' "