EAGAN, Minn. — In the days leading up to the 2020 NFL Draft, Vikings.com will take a deeper look at each of Minnesota's draft picks.
The Vikings currently have a dozen of them, including two first-round selections and five total in the first 105 picks of the draft.
This means Minnesota is in position to add an infusion of youth to its roster. But what kind of talent can the Vikings expect to get at each of those 12 picks?
We'll begin with Minnesota's first selection, the 22nd overall pick. In addition to noting the past five players taken at No. 22, we'll also take a look at what teams did with the selections that are one spot before and after.
21. Cedric Ogbuehi, T, CIN — has started 25 career games; recently signed with Seattle
22. Bud Dupree, OLB, PIT — has 31.5 career sacks; recorded career-high 11.5 in 2019
23. Shane Ray, DE, DEN — missed the entire 2019 season; currently a free agent
21. Will Fuller, WR, HOU — has 16 touchdown catches in 42 career games
22. Josh Doctson, WR, WAS — with Vikings for part of 2019, but missed most of season due to injury
23. Laquon Treadwell, WR, MIN — caught two scores in 53 career games with Vikings
21. Jarrad Davis, LB, DET — started 41 career games for division rival Lions
22. Charles Harris, OLB, MIA — recorded 3.5 sacks in three seasons in Miami
23. Evan Engram, TE, NYG — missed half of 2019 season due to injury; has 12 career touchdowns
21. Billy Price, C, CIN — started 18 games as interior lineman with Bengals
22. Rashaan Evans, LB, TEN — 23 career starts; helped Titans make playoffs in 2019
23. Isaiah Wynn, T, NE — started eight games in two seasons due to injuries
21. Darnell Savage, S, GB — started 14 games and had two picks for 2019 division champions
22. Andre Dillard, T, PHI — played in all 16 games, with four starts, as a rookie
23. Tytus Howard, T, HOU — started eight games for Houston in 2019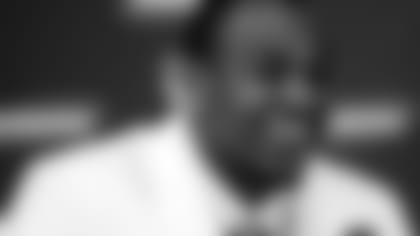 Vikings/Others of Interest
1978: Steelers — DB Ron Johnson, Sr., Eastern Michigan
1985: Bears — DT William Perry, Clemson
Known as 'The Refrigerator,' Perry had a pair of rushing touchdowns as a rookie.
2009: Vikings — WR Percy Harvin, Florida
The only player ever selected by Minnesota from the 22nd pick, Harvin scored 29 total touchdowns, including five on kick returns, in four seasons in Minnesota.
— Five of the past 20 picks at No. 22 have been quarterbacks, and four have been wide receivers.