EAGAN, Minn. – On a quiet day during the Vikings offseason, Hall of Fame Head Coach Bud Grant motions for a friend to join him at a table.
Kelly Wilske, Vikings Executive Assistant to the General Manager, crosses the cafeteria at TCO Performance Center and slides into a chair, greeting Grant. The legendary coach glances over at Wilske's plate and offers a quip about her "picky" nature and tendency toward desserts. His voice is gruff, but his eyes smile.
The two are longtime friends. And interestingly, it's Wilske's sweet tooth that started her on a journey to Grant and the Vikings, where she has worked for the past 30 years.
I recently sat down with Wilske to discuss her longevity with the organization. This is what she shared with me.
Ask Wilske why she loves her job, and she'll list many reasons, but first out of her mouth is that she loves the game of football.
It wasn't always like that, however.
Wilske recalled growing up in Glencoe, Minnesota, where her father religiously followed the Vikings from the franchise's inaugural 1961 season. Wilske's mother consistently purchased various types of candy for her husband, who snacked on the sweets while watching games.
"If I watched the games, I could have the candy, too," Wilske recalled with a laugh. "So, I always watched the games. Not because I cared about football but because of that damn candy."
Over time, however, Wilske began to inquire about the game and learned the ins and outs, gradually becoming similarly passionate. She loved watching the Purple People Eaters and Grant, who soldiered the sidelines from 1967-83, and again in 1985.
Wilske became a football fan watching Grant, but it wasn't until years later that she found herself working with him.
Wilske graduated high school and set her sights on attending the University of Minnesota; when she was told by her parents that college wasn't a feasible opportunity, however, Wilske worked in finance at Northwest Airlines. She held the position for 10 years but opted to step away when her first son, Josh, was 2 years old.
She had a second son, Zak, a year later, and enjoyed being an at-home mother for her boys until Zak started first grade in 1989. At that time, she accepted a part-time job with the Minnesota Vikings and worked two days a week on players' insurance and workman's comp payments related to injuries.
When Wilske started, Patty Crowe held the position of Executive Assistant to the VP of Player Personnel. Crowe, who had been with the team since its founding, retired in 1990, and Wilske assumed the role she holds to this day.
Wilske first worked for Frank Gilliam, whom she called "awesome."
"I still call him every year for his birthday," she said of her former boss.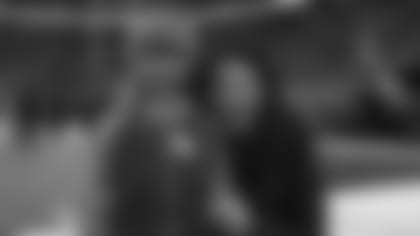 Her direct report was Gilliam, but Wilske also supported others in football operations, including Grant, who worked actively as a team consultant.
"Burnsie (Jerry Burns) was the head coach, and Bud was a consultant at the time, and I typed for him and made phone calls for him and stuff like that," Wilske recalled.
Wilske soon got to know the coach she watched from a distance as a little girl. She told one story that especially struck her.
"One morning during a big snowstorm, his [SUV] wouldn't start," Wilske remembered. "He called me up and asked if I'd give him a jumpstart, and I said, 'Sure.'
"So as I'm driving in a snowstorm on my way over to his house, I thought, 'This is surreal, that Bud Grant and I would have a close enough relationship that he would call me to come jump his car,' " Wilske added with a chuckle.
Three decades spent with the walls of the Vikings headquarters are sure to produce stories, and Wilske has plenty of them.
There was the time legendary sports columnist Sid Hartman "chewed out" Gilliam because the team hadn't drafted a specific Golden Gophers player.
"Sid said, 'Do you know how many tickets you'd sell?' And Frank responded, 'I don't give a ----. I'm in the business of finding good players and putting good players on the field. Ticketing isn't my business. I don't worry about that,' " Wilske recalled. "Sid being Sid, he still argued. Frank said, 'Look – I don't tell you how to do your job. Don't you be telling me how to do mine.'
Added Wilske, "Frank immediately came over and apologized for swearing in front of a lady."
There's the time that Wilske and the other 11 female employees—a number that's grown to 75 now — donned the new Vikings Zubaz gear and snapped a photo in front of the Winter Park offices to help market the gear.
"We got to keep all the clothes, and of course we wore the [pants] to games until we realized, 'We really don't look all that good,' " she laughed. "They're pretty unbecoming on everybody."
Or the time that Wilske helped Korey Stringer make his flight home just after being drafted by the Vikings.
Minnesota selected Stringer with the 24th overall pick in 1995, and Wilske arranged travel for the tackle from his hometown of Warren, Ohio.
"He wasn't even watching the draft. He was watching The Lion King," Wilske said of the late Stringer who "had a big, big heart." 
When Wilske realized that Stringer did not have a driver's license, she suggested that he bring his student ID card to the airport to pick up his prepaid ticket. The young athlete did so, arrived in Minnesota for his introductory press conference Saturday afternoon, was treated to a nice dinner by the team executives and prepared to fly back to Ohio the next day.
When Wilske was called out of the Vikings draft room Sunday for a phone call, though, Stringer was on the other line.
"He couldn't find his student ID to pick up his ticket," Wilske said. "He told me, 'I can't find it. I looked everywhere.' So I said, 'You know what? Is the ticket agent there? Put him on.'
"I asked the agent, 'Do you happen to have the Star Tribune there?' And he said, 'Yeah,' " Wilske continued. "I said, 'Go look at the front page of the sports section.' He did, and I said, 'OK, the picture on that page, is that the same person that's standing in front of you? You can give him the boarding pass.' "
And just like that, Wilske had saved the day.
The past three decades have held countless memories for Wilske. She's changed bosses and locations – it's ironic that TCO Performance center was built on the former Northwest Airlines land – and her desk is now adorned with photos of her grandchildren ("my joys"), Ethan, Lilia and Harper.
But one thing hasn't changed, and that's Wilske's love for her job.
"I've watched the game since I was a little girl, but I've learned what it takes to put a team on that field for game day. The game is so small compared to everything else that goes into it," Wilske said. "Being in the position that I've been in for many years, it's taught me so many things – how we acquire a player, how we release players – the intricacies of what it takes."
She spoke of the shift in philosophy under Vikings Owners Zygi and Mark Wilf – the fourth ownership group she's worked for – and General Manager Rick Spielman.
"I'm so proud and open about working for the Vikings because we've come a long way in how we value things like character, integrity, honesty – all of those good things that we like to see in people – we see those in our players," Wilske said. "The Vikings make that a priority."
"[The Wilfs] are so kind and so generous," Wilske continued. "They are just top-notch. They have such good values and are good people. I'm so appreciative of all that they've done for me."
As Wilske celebrates her 30th anniversary with the Vikings, the thing she's most grateful for? It's the people she's gotten to know along the way – like Grant, who notifies Wilske each time he visits the facility so the friends can have lunch.  
"I'm a people person anyway, and the people I have met and gotten to know … it's just been priceless. I feel like I've been very blessed," Wilske said. "I love my job. I love the work, and I love the people."