Photos Courtesy of Denise London
People came in the door to see Stephen Weatherly the football player, but they left having truly heard from Stephen Weatherly the person.
Weatherly traveled to Lakeside, Arizona, last month to speak to parents, community members and young people attending NFL Suicide Prevention Night. He was joined by Vikings Executive Director of Player Development/Legal Les Pico and NFL Vice President of Wellness and Clinical Services Dr. Nyaka Niilampti.
Pico approached Weatherly about making the trip because of the defensive end's passion for mental health awareness and regular involvement with the **One Love Foundation**.
Weatherly said he understood that his presence as a professional athlete would help draw more community members to the event. But most importantly, he felt strongly about "tearing away" the stigma surrounding mental illness.
"When people think about others having a mental health disorder, [they assume], 'Oh, they must be violent, they must be irrational, unstable,' so on and so forth," Weatherly said. "[I just want to help] people understand that, nine times out of 10, that's not the case."
The program took place at Blue Ridge High School, located within Navajo County. According to Blue Ridge Junior High Counselor Becky Montoya, LPC , the Navajo County suicide rate is three times that of the U.S. average. She explained that suicide is the No. 1 cause of death in teens and young adults after accidental deaths, many of which may be unreported suicides.
"We appreciate the time and energy the Vikings organization put toward this event. We are committed to strategizing and offering resources to heal our community and help everything understand the value they have," Montoya said. "NFL players are awesome and help shine a light on important topics. My heroes include the survivors and individuals determined to choose compassion over judgment in building emotional wellness."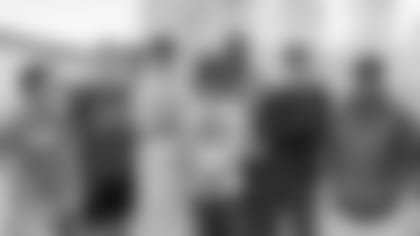 The numbers provided by Montoya struck Weatherly, who said the statistic especially hit home after hearing from many whose loved ones have taken their own lives. Montoya said the line to meet Weatherly and receive an autograph was made up almost entirely of individuals impacted firsthand by suicide.
"To see multiple people coming up and saying, 'I lost so-and-so. I lost my mother. I lost my son. I lost my brother. I lost my sister.' It's just person after person after person," Weatherly said.
One mother he met had lost two sons to suicide. Now, while working through the pain and grief of burying her children, she also is desperate to protect their younger siblings.
"She was asking, 'What do I do?' " Weatherly recalled. "You don't want your other kids, when they get older, to go through something and get depressed or sad and think, 'My older siblings took their lives; maybe this is the right thing to do.' You don't want it to be an easy answer. So, what can we do to break that [cycle] and stop it?
"That hit heavy with me," Weatherly added. "That's when it really hit me, like, 'Wow – this is an epidemic.' If you replaced 'suicide' with any other disease, this is an epidemic. It's about addressing it and doing everything that can be done. I think this was a step in the right direction."
Pico and Dr. Niilampti spoke to the group and shared the suicide prevention approach called QPR (Question, Persuade, Refer).
They emphasized the importance of talking with friends, family, classmates and teachers about stress, depression and suicide, and they used a role-play exercise to demonstrate the first step of the QPR method.
Weatherly appreciated that parents and students alike could access the information. He explained that several middle-school-aged children were in the audience and, while he initially was concerned about the younger audience, the program was digestible for a wide age range.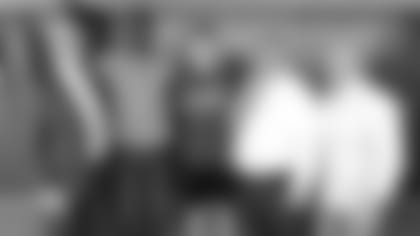 "Nothing was too harsh, there was nothing that was too in-your-face," Weatherly said. "Everything was given at a very reasonable pace and very understandable level, so I honestly believe that those middle schoolers were able to take it and understand that, 'If I see my friend has been acting differently because maybe they've lost a family member, or maybe they've just moved, or maybe their friend group changed' or something like that, they know how to ask the right questions to see if … their friend is OK.
"And if they're not, and if they don't respond well to the questions, then they know [what steps to take] rather than just being silent," he continued. "They know to go get an adult; they know to ask the follow-up questions."  
When Weatherly had a chance to share his own story, he did so in an honest and candid manner.
The 25-year-old shared about his experience with depression after a high school relationship that he later recognized as being emotionally and verbally abusive – terms he says he wasn't even aware of until attending college at Vanderbilt University. He became involved with the One Love Foundation and other on-campus programming that worked to promote healthy relationships.
"I analyzed my own first relationship and realized, 'These were the exact same things that I was going through.' That's why I'm so heavily involved, because I don't want anyone else to go through that and feel alone like I did," Weatherly said. "If it's not addressed, and they don't have someone to help them out, like I had my grandmother, eventually it could lead to self-harm or, even worse, an attempt on their lives."
Added Weatherly: "If I could get the proper messaging out … so people don't have to go through those down points, I feel like that's important."
Weatherly's willingness to open up about his background made him more relatable to those hearing the message.
"I think everybody believes that because I'm a professional athlete, I lived a very happy-go-lucky life, that everything just kind of worked out for me. And that's not the case," Weatherly said. "Not only for myself but, I think, for a lot of people in the locker room.
"Everyone at some point has gone through some ups and some downs, and to be able to feel comfortable enough to share [that] with people I didn't know really just made it more of a community feel," he added. "Even though I'm not a true member of the community, I feel like they accepted me in that moment and were able to receive the next person's input just a little bit better. I feel like I acted as a bridge in that way."  
Young people may grow accustomed to talks from parents, teachers and school counselors, and Weatherly hopes that his brief time with the Navajo County community will build upon those previous conversations.
As Weatherly prepares for his fourth season with the Vikings, he plans to make an impact not only on the gridiron but in the field of mental health awareness.
"[Mental illness] doesn't care who you are, it doesn't care what you do, it doesn't care what your family did or if you have money or don't have money," Weatherly said. "It comes in all shapes and sizes, and it impacts a lot more people than you would expect. I feel like at the end of the day, it's just about making the attempt to be more understanding, more open if it does affect you directly or affect someone you love or care about.
"Just take a moment and learn on your own, and you'll be pretty surprised," he said. "The first time … someone broke those stereotypes down and told me the truth about it, my jaw dropped. It was, 'But everything I've seen is telling me X, and you're telling me Y.' I was a part of the problem. So now it's my turn to go and take that next step and use my platform to positively impact as many people as I can so that it's no longer a problem."