Ross Blacklock was getting a haircut in late August when he received a phone call.
The Missouri City, Texas, native had been traded to the Vikings from Houston to bolster their defensive line. Blacklock and a 2023 seventh-round pick were sent to Minnesota for a 2023 sixth-round pick.
"I was very surprised, but life's all about adjusting, and it's been a great adjustment since I've been up here," Blacklock said about his initial reaction to the trade. "I've been more at peace since I've been up here, and I'm just learning more about the game and myself. This is a heck of a place to play football. I love game days a lot more because the environment here is insane. I wouldn't want to play in another place if they don't have that same environment. I love it here."
We sat down recently for a Water Break presented by Crown Royal.
Q: What's it been like to reunite with defensive line coach Chris Rumph?
A: "It's been really good. Just getting that connection back that we had when we were in Houston. He's been good to me since we've been here, so we're just trying to create more memories and good games."
Q: What have you learned from guys in your position group like J.J. Watt in Houston and Dalvin Tomlinson and Jonathan Bullard here in Minnesota?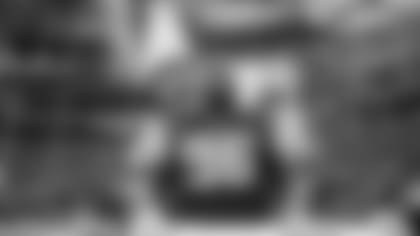 A: "Just being patient with everything with this journey. Knowing who I am, staying true to who I am and continuing to be a better player every day. Just kind of the things that those guys have helped me with throughout the years with motivating me and giving me confidence throughout this whole thing. That's what it's really about."
Q: You recorded your third career sack and first one with the Vikings against New England in the final minute of the game. What was that moment like?
A: "It felt good. I couldn't celebrate like I wanted to because it was in the 2-minute [situation], but it's all good. I'm just trying to rack them up. God has a plan for everything, so I'm just trying to get better on this journey every day."
Q: How was it growing up with your father being a member of the Harlem Globetrotters?
A: "It was fun. Just going to the games, getting to see all of the guys, hang out with the players, me trying to be a Globetrotter knowing I'm a football player, I just had a good time. I'm glad my dad got to have that experience, and I was able to experience it with him."
Q: Have you gone to a lot of their games?
A: "I go to a lot of games depending on where they're at. They're all over the world, so I try to catch them wherever I'm at."
Q: Can you do any tricks with the basketball?
A: "A magician can't tell his secret. No, I've got a couple [of tricks]. I'm not like [the Globetrotters], but I can kind of spin the ball, do a little kick trick, a whole bunch of stuff. I'm not as good as them, but I'm all right."
Q: You have a self-adopted mantra, "Underdawg Mentality," that you've incorporated into a line of merchandise. Where did that originate and how has that helped shape you as a player?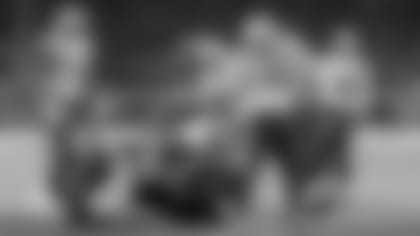 A: "I always love a good underdog story. I don't know about everybody else, but I love people who've overcome certain situations. I feel like that's been me the majority of my life, just making something out of nothing, and that's all that it's about. Everything in life is about adjusting, so as people we always find ways to get better. Even when things are going well, you've got to be grateful and even when they're bad, you've got to be grateful because it's all a lesson at the end of the day. That's how I see it, so just keep taking steps forward, and even when people don't believe in you, prove them wrong."
Q: You attended TCU. How excited have you been watching them this season and to see them reach the College Football Playoff?
A: "It's awesome. I remember we were the [fourth-ranked team] one year, [and] we got upset by Iowa State. I'm glad [TCU] gets another chance at it, being in the final four. I think they play Michigan, so hopefully they can knock that win out and represent for the Big 12 and for the [Horned] Frogs."
Q: As a Texas native, have you gotten used to the cold and winter here in Minnesota?
A: "No, I'm sick of the snow. I've got to get some heat; I need about 80 to 90 degrees, it's too cold here. I thought people were playing with me, but the snow's been undefeated so far since I've been here."