As cornerback Chandon Sullivan weighed his options during free agency this past spring, he looked at the Vikings roster and saw a few familiar names.
There was outside linebacker Za'Darius Smith, whom Sullivan had spent the past three seasons with in Green Bay. Sullivan also saw that two of his former coaches, Assistant Head Coach Mike Pettine and Outside Linebackers/Pass Rush Specialist Mike Smith, had been recently hired to Minnesota's staff.
"It was fun to reunite with them; it was like a mini family reunion," Sullivan said. "I was the last one to sign [with Minnesota], and Za'Darius shot me a text and was like, 'Sully, let's run it back. Let's run the North.' And I was just like, 'Let's do it.' [The Vikings] accepted me with open arms, and it's been working out so far."
Sullivan has started nine of 13 games this season for Minnesota and been on the field for 82.2 percent of the Vikings defensive snaps. He's recorded 45 tackles and six passes defensed this season as the team's nickel cornerback. He has played in every game since 2019, his first of three seasons with the Packers after initially entering the NFL with the Eagles as an undrafted free agent out of Georgia State.
We sat down recently for a Water Break presented by Crown Royal.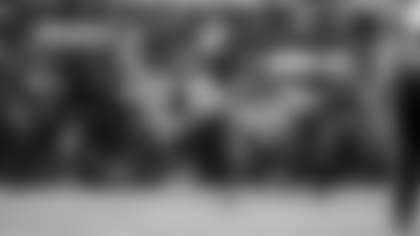 Q: How did your experience with the 3-4 defense in Green Bay help your transition into the 3-4 scheme with Minnesota?
A: "It was pretty similar. Mike Pettine was my former defensive coordinator, so he brought some of the ideas over and I was able to just fit into the defense right away."
Q: What sparked your interest in majoring in journalism/broadcasting?
A: "I just wanted my voice to be heard. With journalism, there's so many different areas to do that in, and I think that's what attracted me at a young age. I kind of always knew this is what I wanted to do outside of football."
Q: Do you want to get into broadcasting once your career is over?
A: "For sure. Broadcasting, maybe being a sports analyst. Maybe even have my own podcast one day, but I definitely just want to use my voice and my platform to reach out to others."
Q: Have you either been on or asked Patrick Peterson about his podcast?
A: "I haven't been on his actual podcast yet, but I talked to him about how he started it up and what inspired him to go that route. You see so many athletes now that are doing that once they retire, so to see him still in the league playing at a high level and he's venturing off and having other endeavors, it's pretty cool."
Q: How much has having veteran teammates like Peterson and Harrison Smith in the secondary room helped you on & off the field?
A: "I can't ask for anything more. To have two future Hall of Famers in my room every day and for those guys to be so humble and consistent and see their work ethic day in and day out, it just inspires a young kid like myself. I'm just very grateful for them."
Q: Your nicknames are "Sully" and "Showtime." How did those originate?
A: " 'Sully' is pretty much my name in football and my whole life. It was just something easy and quick. 'Showtime' — but really I shortened it to 'Show' — is a nickname I got in high school. It came from my mom, she was like, 'All right, it's Friday night lights, go on and put on a show.' And it kind of stuck. My high school coaches started calling me that, and then I got to college, and it just transferred that way so I just kind of rolled with it."
Q: You have a chance to win a fourth straight division title. How difficult has it been to be able to do that and how rewarding has it been to have that chance?
A: "I'm very fortunate. For whatever reason, it's been working out for me in the NFC North, so as an undrafted kid like myself, I'm just going to keep riding and taking advantage of every opportunity I have."