When it comes to quarterbacks, it is fair to say Hall of Famer Warren Moon knows what he's talking about – and he thinks the Vikings have a good one on their hands.
"What I like about [Teddy] is that he studies," Moon said of Vikings quarterback Teddy Bridgewater in a phone interview with Vikings.com. "He understands the offense and knows where to go with the football. A lot of young quarterbacks make a lot of turnovers because they're not sure where to go with the ball or they might force the ball sometimes. He doesn't seem to do that."
In addition to Bridgewater's care of the offense, Moon said he's impressed by the demeanor of the quarterback entering only his third NFL season.
"A quarterback has to have a calm demeanor, and it helps not only his play but also shows everybody else around him, 'Your leader is cool and calm, and [he] really thinks everything is going to be OK,' " Moon explained. "He really has that demeanor that shows he's never rattled, no matter what's going on. You never see him too high when things are going well or too low when things are going bad, which is great."
When asked what he expects to see from Bridgewater moving forward, Moon said Bridgewater will continue improving as he develops chemistry with a consistent receiver corps. The former quarterback especially liked what he saw from Stefon Diggs as a rookie in 2015 and said he'll be key in playing with Bridgewater.
"Those two have a chance to really develop a relationship for a long time," Moon said. "As a quarterback, you just need time to develop that continuity, develop that confidence and trust in all your receivers that they're going to do exactly what you want them to do in exact situations."
Moon said Bridgewater should also have success with an improved offensive line, a self-proclaimed offseason focus by Vikings Head Coach Mike Zimmer and Rick Spielman. Moon had a direct look at the impact of an improved Seahawks offensive line midway through the 2015 season and the impact it made for Seahawks quarterback Russell Wilson.
Throughout the first eight games, Wilson was sacked 31 times, recording a sacks-per-pass-attempt of 15.1 percent.
"We had a lot of problems on our offensive line [to start the season]," Moon said. "Russell was getting harassed a lot, sacked a lot and hit a lot. He was never really comfortable in the pocket."
Following the bye week, Seattle made adjustments, including the elevation of Patrick Lewis as its starting center. In the second half of the season, the Seahawks allowed Wilson to be sacked just 15 times in eight games, dropping the sacks-per-pass-attempt to 5.3 percent.
"Once we got our offensive line solidified and they gave him better protection, now he was able to sit back there with confidence, read the field and throw the football," Moon said of Wilson's improved passing game.
The offensive line has a significant impact, as Moon experienced first-hand. The Houston Oilers used their first-round picks in 1982, 1983 and 1984 on offensive linemen before signing Moon out of the CFL in 1984. More than 30 years later, Moon and two of those linemen – Mike Munchak and Bruce Matthews – are in the Pro Football Hall of Fame.
Over a successful 17-season career, Moon went on to play for the Vikings, Seahawks and Chiefs. During his time in Minnesota (1994-96), Moon racked up 10,102 yards and 58 touchdowns. He was elected into the Pro Football Hall of Fame in 2006, becoming the first Canadian Football Hall of Fame player, first undrafted quarterback, and first African-American quarterback to be so honored; he was elected in his first year of eligibility. 
Since hanging up his cleats, Moon now works in Seattle as an analyst for Seahawks Radio. In 2015, Moon's current position in broadcasting offered him two interesting looks at the Vikings, in the regular season and playoffs. The Seahawks defeated Minnesota 38-7 on Dec. 6, 2015, and the Vikings fell just short in the Wild Card game on Jan. 10, losing 10-9.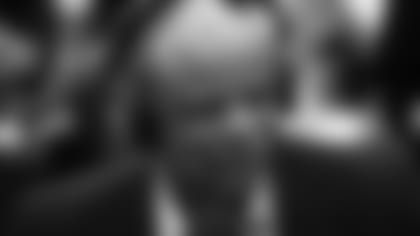 "The difference between that first game and the second game was their confidence," Moon said of the Vikings. "And I think the confidence was because they were healthy."
In the first meeting, the Vikings were without Linval Joseph, Anthony Barr and Harrison Smith. Barr and Smith started but left the game early in the first quarter. Moon emphasized the key roles those three play and the impacts they have on Minnesota's defense under Zimmer.
Moon followed Zimmer's career as a defensive coordinator for the Cowboys and Bengals before the coach took the helm in Minnesota.
"He's always had the top defenses in the league wherever he's been," Moon said. "I always wondered if he'd be able to make that transition [from coordinator to head coach] because he's such a football guy. But he's done a pretty good job as far as how he handles the media how he handles all the players, not just the defensive side of the ball.
Moon said one thing he looks for as evidence of a coach's impact is the players' attitude toward him.
"The players seem to play for [Coach Zimmer]," Moon said. "That's a clear-cut sign if a head coach is good or not – if your players believe in what you're doing and if they play hard for you. I watch the Vikings on tape, and they play hard each and every week. He's definitely had an effect on them."