Life as a mom is always on the go.
When Lindsay Lundeen's second child was born five years ago, she decided to transition to working as a stay-at-home mom after nine years as an elementary school teacher. She loved being with her children and the natural activity that came with it. However, the former Division I volleyball player wanted to find a part-time outlet to combine her passions for fitness and teaching.
Lindsay attended group fitness classes on a regular basis. Two-and-a-half years ago, the Group Fitness Department Head at Life Time started talking with Lundeen about the possibility of Lindsay teaching cycling at the gym. After a period of studying, an audition and a 200-question exam, Lindsay started leading classes.
"I have loved having a little something that's an outlet for me, while still getting to stay home with my kiddos," Lindsay said. "I love the members and the community we have at Life Time. Our group fitness staff is top notch, and it's fun to learn new things and be challenged on a daily basis."
On Oct. 5, Lindsay will be leading a **free, one-hour cycling class** for Vikings Women members – and a guest – at the Chanhassen Life Time from 6 to 7 a.m. as part of a "Workout Wednesday" series. Lindsey has been a part of Vikings Women since the initiative took off, and she's excited to be involved in this way. She encouraged women to sign up and come ready to have a fun time, no matter their experience level.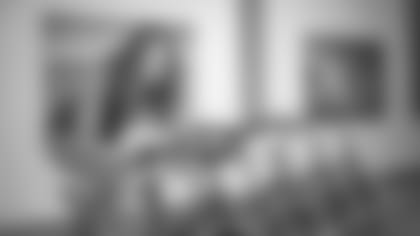 "The great thing about cycle is that you're in a dark studio – as long as you keep moving your legs on that bike, no one really knows [your speed] or how much tension you have on," Lindsay said. "It's the perfect fitness class to start with because you really can go at your own pace and ability."
When Lindsay isn't teaching classes, she enjoys spending family time with her husband and three children. Some of their favorite activities include swimming, playing at a local park or getting together with neighborhood friends. She also enjoys focusing on her own fitness through various competitions, including half marathons and triathlons. Another hobby, of course, includes supporting the Vikings.
As a native of Minnesota, Lindsay identifies as a life-long Vikings fan.
"My parents taught me early on a love for all Minnesota sports teams. Even when I was in college in another state, I always made sure I watched the Purple on Sundays – marrying someone in the organization was just icing on the cake," said Lindsay, whose husband, Chad, works for the Vikings as the Vice President of Operations and Facilities.
Lindsay said game days are a family affair at the Lundeen household – even their dog wears a Vikings bandana on Sundays to support the team.
"The thing I love most about the Vikings is that it's such a family organization," Lindsay said. "From the Ownership, to the management, to the front office, to the coaches and players, they make sure everyone is included and part of the 'team.'
"When we stop by to bring Chad dinner on the weekends, or any time we just visit Winter Park, it's amazing how many of the staff members know our kids' names or how players will ask how hockey is going for our kids," Lindsay added. "I don't know how other organizations in the NFL run, but I feel like that's pretty special here."
Lindsay said she's grateful for the Vikings Women program and how it's brought women connected to the team closer together. Although she's felt "part of the team through marriage" over the past eight years, Lindsay said getting involved in Vikings Women fulfilled a missing piece of the puzzle.
"Our husbands put their heart and soul and into that organization and end up working very long hours," Lindsay said. "It's fun to be with a group of women who are in the same boat, have a little girl time and celebrate all things Purple."
---
To join Vikings Women or register for an upcoming fitness session, including Lindsay's cycling class on Oct. 5, click ****here***. *