MINNEAPOLIS – Molly Sweeden knew that attending her first Vikings game would be memorable, but she couldn't quite anticipate how unforgettable the day would be.
Sweeden and her boyfriend of three years, Logan Brandt, made the drive from Des Moines, Iowa, to Minneapolis to see the Oct. 13 Vikings-Eagles game with family members.
Brandt, a former Army sergeant, was approached during pregame by a Vikings staff member and told that he had won "fan of the game" and would receive a gift of appreciation for his commitment to the team as well as his military service.
The thing is, Brandt was about to do the surprising.
He and Sweeden were invited, along with their family, to the Gjallarhorn platform that overlooks the field.
Brandt was presented with a Celebration Pack filled with Vikings memorabilia and Salute to Service gear; but as he opened the gift, his mother covertly transferred a small item into his hand.
Wearing a Vikings T-shirt, Brandt got down on one knee, looked up at Sweeden and popped the question.
Sweeden said "yes," and plenty of excitement, smiles, cheers and hugs ensued all around.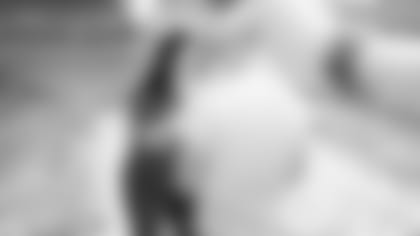 After a few minutes of initial celebration, the newly engaged couple shared some of the backstory with Vikings.com.
"I probably came up with this idea about six months ago," Brandt explained. "We've always watched Vikings games together on Sundays. She's never been to the stadium before, and I thought it would be a cool place to do it because it means a lot to us.
"I was shaking," he added, laughing. "I feel so much better now."
Sweeden admitted that she suspected that something might be up, and she was ecstatic that her hopeful hunch came to fruition.
"When Logan's mom said that he won something, I was thinking, 'Oh, that's kind of cool,' but then in my head, I was thinking, 'Wait a minute …' because we've talked about [getting engaged] for a while," Sweeden said. "I just had a feeling I was going to be getting engaged today. I told all of my classmates, 'I might come back Monday engaged – I don't know!' "
Because Sweeden currently is enrolled in the police academy, she and Brandt opted for an October game in order to avoid treacherous weather later in the season.
The two could only laugh and shrug their shoulders when mid-October snow flurries flew on their drive north.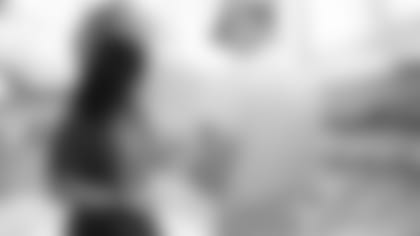 Brandt and Sweeden both are Iowa natives, but Brandt's father attended the University of Minnesota and has been a longtime supporter of Twin Cities teams – a love that he passed along to his son.
"I've grown up watching [the Vikings] ever since I can remember," Brandt said. "I've always been a huge fan."
Added Brandt: "I hadn't really watched a lot of professional sports, but when we started dating … I became a Twins, Wild and Vikings fan. All of it."
The couple regularly watch Vikings games together on Sundays and have bonded further over the activity. Now, the team – and its home – have an even deeper meaning in their relationship.
"The fact that he's a die-hard Vikings fan, [this was perfect]," Sweeden said. "I've always wanted to come to U.S. Bank Stadium for a game and experience it, and I just think it's really cool that now we have such a special memory here.
"Now we can come back with our kids one day, experience this and tell them, 'Your mom was proposed to right over there,' " she added with a smile.