EAGAN, Minn. – The Vikings welcomed a special visitor to their headquarters this week.
Ambassador Ron Dermer, Israel's Ambassador to the United States, was hosted at Twin Cities Orthopedics Performance Center Monday afternoon by Vikings leadership, including Owner/President Mark Wilf. Ambassador Dermer was given a tour of the state-of-the-art facility.
In Minnesota for events centered around government, business and Jewish community leadership, Dermer is the first Israeli Ambassador to visit the state of Minnesota since 2000.
"It was an honor to receive a visit from the Ambassador, and we endeavored to provide him as broad of an experience as possible when he visited Minnesota," said Steve Hunegs, Executive Director, Jewish Community Relations Council of Minnesota and the Dakotas.
Hunegs helped arrange the visit to TCO Performance Center for Ambassador Dermer, who was grateful to reconnect with the Wilf family.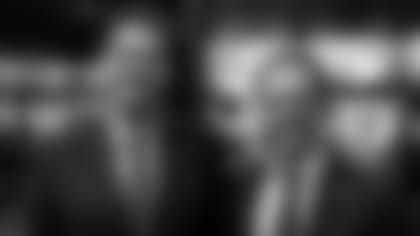 Vikings leadership, including Owner/President Mark Wilf, gave Ambassador Dermer a tour of Twin Cities Orthopedics Performance Center
"The Wilf family, of course, is deeply connected to Israel in numerous ways, particularly philanthropically with **Yad Vashem** (the World Holocaust Remembrance Center)," Hunegs said. "That was very touching for the Ambassador to get a chance to talk to Mark and express his appreciation for what they do, and the Wilfs expressed their appreciation for the work of the Ambassador and Israel. That was an important, reciprocal moment.
"It was a powerfully poignant moment when the children of Holocaust survivors, who own a professional football team in Minnesota, could host the Ambassador of Israel, whose country is so completely embedded in Jewish history," Hunegs said. "It's as if all things came full-circle."
Wilf also emphasized the impact of Ambassador Dermer's visit not only on a professional level but on a personal level.
"Not only have we done business in Israel and continue to do so, but with our parents being Holocaust survivors and having a strong tie to Israel for decades, it was a nice full-circle experience, if you will, because of our love of this country and American football and the great values it represents," Wilf said.
In addition to Wilf, Dermer was joined by Vikings Chief Operating Officer Kevin Warren, Executive Vice President of Public Affairs Lester Bagley and Executive Vice President and Chief Financial Officer Steve Poppen.
Ambassador Dermer also spent time with Vikings Head Coach Mike Zimmer and General Manager Rick Spielman, and he received a behind-the-scenes look at the Vikings Draft Room, locker room and Indoor Practice Facility, where the former quarterback even took the opportunity to throw a few passes.
"He still has a pretty good arm – he threw a nice spiral," Wilf said.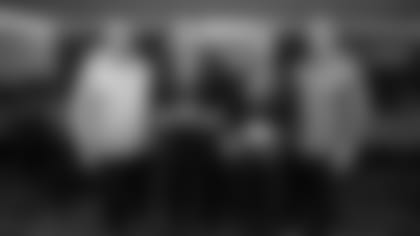 Ambassador Dermer (second from the left) spent time with Vikings Head Coach Mike Zimmer, Owner/President Mark Wilf and General Manager Rick Spielman
Born and raised in Miami Beach, Florida, Dermer watched the NFL from an early age, later quarterbacked Israel's flag football World Cup team three times and in 2010 was inducted into the AFI (American Football in Israel) Flag Football Hall of Fame.
Hunegs described Ambassador Dermer as "a huge sports fan."
"There was quite a bit of good-natured teasing back and forth about the Vikings and the Dolphins," Hunegs said of the Miami native. "But the Ambassador agreed that he could become a Vikings fan since the Vikings play in the NFC – until the Vikings and Dolphins meet in the Super Bowl."
Dermer was presented a custom purple Vikings jersey by Wilf, who said he appreciated the opportunity to give the Ambassador a glimpse not only into the Vikings franchise but also into the organization's dedication to the community.
"We're very proud of what this organization has accomplished, and we wanted to talk about how we've tried to bring a sense of community and share about the great things that our players, our staff, our organization does in the community," Wilf said. "Whether it's our high school football events that we've hosted here in Eagan or our community service efforts, it was great to talk to the Ambassador about how important the Vikings are in this community."
Hunegs spoke about the commonality between Ambassador Dermer and the Wilf family, both of whom share the mindset of "outward thinking" and desire to help others.
"We heard that from the Ambassador, and know that from the Wilfs," Hunegs said.
Added Wilf: "The Ambassador's visit was really a special day, and we're really glad he got to spend the time in his busy schedule and learn a little bit more about what we're doing here with the Vikings. It's something that all our community and our organization is really proud of."