There may not have been a true score or any real prizes, but Vikings teammates Justin Jefferson and Bisi Johnson will never turn down a competition.
The pair of wide receivers appeared virtually as special guests on Kids Clubhouse, a fun, interactive show produced in-house by Children's Minnesota of Minnesota's Star Studio. Hosted by "The Dude," Kids Clubhouse can be viewed by young patients and their families. Viewers even have the ability to dial-in live during the show.
Jefferson, Johnson and The Dude joined three other personalities of the show throughout the 60-minute program, which included a game called "Nummy-Num" that focused on numbers-based trivia.
Questions included how many seconds are in a year, how many days it took someone to count to one million and how many blimps currently exist in the world. Johnson celebrated when his answer of 12 blimps came closest to the actual number (13) and edged Jefferson's guess of 10.
Jefferson and Johnson also participated in a speed round of football trivia, during which the duo good-naturedly protested questions that spanned a wide-range of the sport's history.
For instance, who was named the 1939 NFL MVP by the Professional Football Writers Association?
"Yeah, that was way before I was born," Jefferson quipped. "We need to do trivia that's in 2000-plus."
The answer, by the way, is Cleveland Rams tailback Parker Hall.
Jefferson did get in a groove, though, when answers to questions were fellow Louisiana natives Odell Beckham, Jr., and Ed Reed.
In addition to playing the games, Johnson and Jefferson shared more about themselves with viewers, providing background info about the starts of their football journeys to naming their favorite video games and animals – to which both receivers answered cheetah.
The teammates also reflected on overcoming challenges, including the Vikings tough start to the season. Johnson offered encouragement to the young people tuning in.
"You really just have to look deep down inside yourself and tell yourself that you can do it, that you've got it," Johnson said. "Throughout life … there's tough times, you've always got to battle back. You can't give up."
Jennifer Soderholm, Chief Development Officer and President of the Children's Minnesota Foundation, voiced appreciation to the Vikings players for joining the Star Studio programming and offering laughter and entertainment to patients.
"It can give these kids a moment to forget about their treatment and just have fun," Soderholm said. "We've heard from kids and parents who have expressed how much the shows and special guests, like the Vikings, mean to them."
Johnson and Jefferson were not the only Vikings to make a recent appearance. In fact, Children's determined Sept. 28-Oct. 2 to be "Vikings Week."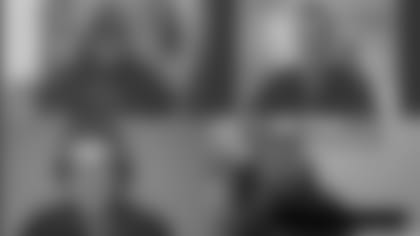 On Monday, Vikings Legend Ben Leber, who remains active in the community, appeared on Star Studio to participate in a live bingo event with hospital patients.
Fellow Vikings Legend and analyst Pete Bercich participated Thursday in a trivia game show that not only challenged the former linebacker but provided a fun afternoon for viewers.
In addition to the player appearances, Vikings Head Coach Mike Zimmer and his family again have provided generous support to Children's Minnesota. Through the Mike Zimmer Foundation, they recently gifted iPads, video games and movies to be used by patients and families during their stay.
"We're so grateful for the support we've received from the Minnesota Vikings and Coach Mike Zimmer," Soderholm said. "Especially during these times, it's great to have a partner in the Vikings who believe in our values of putting kids first and joining together."
To view the Kids Clubhouse episode featuring Johnson and Jefferson, click here.