MINNEAPOLIS –The 2017 Vikings are hard at work in hopes of leaving an impact on the field this season and into the postseason.
Even on their off days, however, they're striving to make a lasting difference.
Laquon Treadwell has spent almost every off day this season involved in various community activities, most recently joining teammates for an afternoon with youth at St. Joseph's Home for Children. The players helped Vikings Youth Football Director E.J. Henderson lead the young people through a variety of drills and activities. Treadwell then hung back as most of the gymnasium cleared and approached a young boy who had gone to sit by himself in a corner.
"I just went and had a conversation with him. It went a long way – he was running around the gym, and now he's playing in the snow," Treadwell said, gesturing outside to the boy and his friend, who laughed as they darted through the cold.
The second-year receiver did more than offer a listening ear and a hug. He invited the boys to the Vikings final regular-season game at U.S. Bank Stadium against the Bears.
"Hopefully they'll see the plays and … big touchdowns and stuff on the video boards and know that they can still relate to us as people. And know that we've been in their shoes, and we've been through difficult situations," Treadwell said. "I think it's just so good to always be a positive reinforcement for youth."
Treadwell was joined by Anthony Harris, C.J. Ham, Stephen Weatherly and Aviante Collins. Vikings Legends Tyrone Carter, Wes Hamilton and Tuineau Alipate, along with two Minnesota Vikings Cheerleaders, also were there. In addition, Director of Sports Medicine/Head Athletic Trainer Eric Sugarman, Coordinator of Rehabilitation/Assistant Athletic Trainer Tom Hunkele, and Assistant Athletic Trainers Rob Roche and Albert Padilla, regular supporters of the St. Joseph's annual event, talked with the youth and helped lead drills.
Rookie Aviante Collins seemed to have just as much fun as the youth he worked with. He interacted with them and laughed as they ran and hit a tackling dummy that he held up in front of him.
Afterward, Collins said he recalled being a young person still trying to find his way in life.
"I see myself in their shoes," said Collins, who spoke to the group about the importance of education. "It's good to just give back and try to help those kids find a path, and definitely the right path. Starting off with [encouraging them] that they're a student-athlete first. That was my main thing. I graduated early, I started working on my masters in college because that's a big thing – [education] is something that you're going to have for the rest of your life."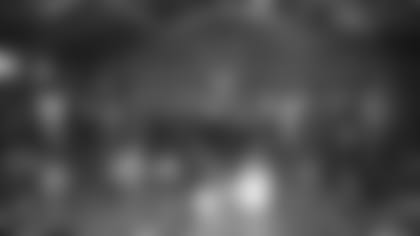 Collins also said he appreciated the opportunity to be a positive influence.
"Some kids can fall into gangs or get into trouble to get attention, but if we're giving them that attention instead, we're helping them out, guiding them, filling in for that role," Collins said. "It's amazing. I love that the Vikings organization does these things, and I'm just glad to be a part of it."
St. Joseph's Director John Stumbras said that many children who spend time at the facility are isolated from their families and community, and the Vikings annual visit serves as an extra support system from the Twin Cities community.
He also commended the long-term commitment the Vikings have had with St. Joe's.
"The kids change year to year, but the commitment by the Vikings does not," said Stumbras, who added that the afternoon also impacts the St. Joe's staff members.
"They look forward to this too, they get excited about the players coming in," Stumbras said. "For them, it helps them recognize that people care about the work that they do. Because this is very hard work."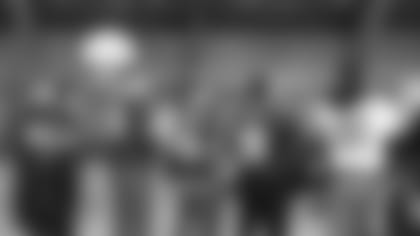 St. Joe's Volunteers Receive 'Community Quarterback' Award
Each year, hundreds of individuals are nominated for the Vikings "Community Quarterback Award," which recognizes a community member who is a dedicated volunteer in the Twin Cities community.
This year, co-winners of the accolade were Adam Fielitz and Jim DeSimone, friends and fellow improv teachers who commit one evening a week to St. Joe's and its youth. While DeSimone was unable to be present Tuesday afternoon, Fielitz was gifted with a Vikings game ball and honored for his commitment.
Fielitz, who has been in the improv business for more than two decades, first got the idea to use improv as a volunteer opportunity at St. Joe's five-and-a-half years ago, and it's a decision he's grateful that he made.
"It's not typical to the improv that we normally teach, but these kids aren't typical," said Fielitz, who invited DeSimone to join him three years ago. "All of them have had issues that most of us don't even think about. You wake up, you go through your day, and you don't have to have all these other problems with you.
"The kids run hot and cold a lot – sometimes they want to perform, and sometimes it's just joking around with them a little bit until they feel comfortable enough to do it," Fielitz continued. "So it's definitely different from a normal class … these kids aren't always ready, and that's OK."
Although initially Fielitz wanted to humbly shrug off the award and public recognition, he later become motivated to share his experiences and story in hopes that others would hear and strive to make a similar impact.
"A lot of these kids go through life feeling like they don't matter. If we can make them feel like they matter, that's awesome," Fielitz said. "And they crack me up, too. Some of the stuff that they come up with is just hilarious, and if it weren't for the kids, I wouldn't be doing that.
"Having them know that someone believes in them is the reward," Fielitz added.