Video Courtesy of NBC's TODAY Show
MANKATO, Minn. –When Jacque Yaneff found out she would be attending her first Vikings Training Camp on Aug. 2, she was ecstatic.
But she was in for a bigger surprise than she could imagine.
After making the 200-mile drive from Sioux City, Iowa, with her husband Tom, Jacque sat down on a park bench on the campus of Minnesota State University, Mankato. She relaxed a bit, while hoping for the chance to see a few of her beloved Vikings bicycle past en route to their morning walk-through.
A couple of position coaches and golf carts carrying team staff members and trainers buzzed by, and then one pulled up and stopped in front of Jacque, who glanced up as a natural reaction.
These faces were very familiar.
"It was Al Roker, Megyn Kelly … and [Vikings General Manager] Rick Spielman!" Jacque explained excitedly.
"I started crying," she added with a chuckle. "It's all the emotions. There's just some sense of loyalty that you find in loving a team and sticking with them forever."
Jacque and Tom have been married for 15 years now, having blended their families of three children each. Tom happily looked on as Jacque recounted her reaction to the surprise.
And if there's anyone who can attest to her loyalty to the Vikings, it's Tom.
"No one sits in the room with her during a football game," Tom quipped. "Even our dog would actually leave because Jacque screams and yells."
Added Tom: "There's not a bigger Vikings fan, I assure you."
It was because of that devotion that Jacque's interest was piqued a couple of months prior while watching the *TODAY Show. *The program announced a contest called "The Summer of Yes," posting the following on the **show's website**:
Have you ever wanted to master a certain skill, cross off a bucket list item or do a particular activity outside of your comfort zone? "TODAY" wants to hear about it!
Jacque decided to fill out the short online form, but initially it wouldn't submit correctly.
"I sat there and I thought to myself, 'Hmm. Does it really even pay? I'm not going to win anyway,' " recalled Jacque. "But I decided to turn around and [redo it]. It was just three or four sentences telling them, you kno
w, 'I'm a 50-year-old female, I'm a teacher and athletic director at my school. I'm a die-hard Vikings fan, and I would love to take motivation and [inspiration] back to my students.' "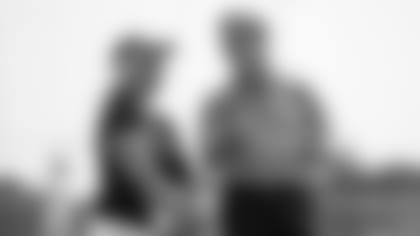 Jacque told *TODAY *that she would love to be a fly on the wall and observe the Vikings coaching staff. Instead, she was treated to an entirely unique experience: "GM for a Day."
From the morning walk-through session, to lunch and midday meetings, through the end of the Vikings afternoon practice, Jacque shadowed Spielman and learned all she could about the position and the organization.
"Rick's been phenomenal. He's a [Nebraska] Huskers fan because his son plays there, so we're good," Jacque chuckled.
"But he's so knowledgeable, and this organization has been so pleasant to me," Jacque said. "It's been so friendly and unreal – I didn't expect anything like this."
Jacque has never called Minnesota home, but she's as dedicated a fan as anyone who has.
Growing up in Freeman, South Dakota – a town of fewer than 1,500 people – Jacque and her family had only three television stations, one of which carried Vikings games. Cheering for the Purple and Gold was a family affair. Then, when Jacque was just 12 years old, her mother passed away.
"[The Vikings] became kind of a bonding situation for my dad and me," Jacque said. "My brothers are 14 and 16 years older than I am. So it was just my dad and me at home."
The father-daughter duo often made the four-hour trip from Freeman to Minneapolis, where they would watch the Vikings play at Met Stadium.
"We sat through many snow storms outside," Jacque recalled with a smile. "And we took my best friend, who was a neighbor. The local banker would get us passes, so we actually had seats on the 40-yard line down at the bottom. Seeing Fran Tarkenton and Tommy Kramer and all those guys, it was just [awesome]."
Now decades later, Jacque found herself meeting the Vikings current quarterback, among other players and coaches.
Along her tour with Spielman, she had the opportunity to speak with Sam Bradford, Kyle Rudolph, Everson Griffen, Xavier Rhodes and Adam Thielen. Jacque said the interactions just added to an already "phenomenal day" and that she absorbed a lot of information to take back to her students.
"They had some really good things to say. And [Vikings Head Coach Mike Zimmer], he had really good points," Jacque said. "You need to be an all-around athlete, and to get that way, it's important to participate in more than one sport.
"But more importantly, your academics [are crucial]," she continued. "If you're not smart in school, you're not going to be smart on the football field. You have to put forth that effort in the classroom to be successful as an athlete."
Jacque has always loved the Vikings, but her admiration has grown since becoming a seventh- and eighth-grade literature teacher and also serving as her school's athletic director. She now more deeply appreciates the work that the team does off the field with children's hospitals, schools and local youth.
After spending the day alongside Spielman, she's gained yet another perspective of the team she adores.
"I'm totally blown away by everything that they have their hands in and how much they have to do," Jacque said of Spielman and his staff. "I mean, from a TV perspective, you know they're there, but boy, the budgets and the practices and the plays and the film – I just have real appreciation for everybody that's part of this place. It's absolutely unreal."