Stefon Diggs had a pair of special guests with him during his pregame warmup, as he was joined on the field and played catch with Randy Moss and Steve Young.
The Vikings wide receiver covered a few topics during his interview with the pair of Hall of Famers, including the criticism that Vikings quarterback Kirk Cousins receives around the league.
Diggs had high praise for Cousins, who has an 18:1 touchdown-to-interception ratio and has thrown for 2,020 yards in his past seven games, six of which have been Vikings wins.
"That's my quarterback. I'm a reflection of him at the end of the day," Diggs said. "I want him to have success and perform at a high level.
"If they say that about my quarterback, that means I have to do more," Diggs added. "It's my job to come out here and make the plays when they come my way."
Entering Week 13, Diggs ranked seventh in the NFL with 880 receiving yards. But he's accumulated those yards on just 46 catches, as his 19.1 yards-per-catch average is third in the NFL. By comparison, the six players ahead of him in receiving yards each have at least 56 catches.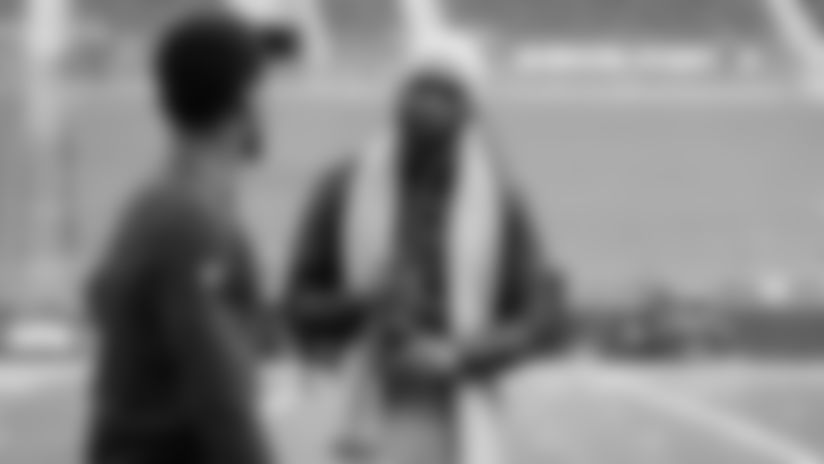 Moss was a first-round pick by the Vikings in 1998, and he played seven-plus of his 14 seasons in Purple. He was inducted into the Pro Football Hall of Fame in 2018 with career totals of 982 catches for 15,292 yards and 156 touchdowns.
Young was a three-time Super Bowl champion with San Francisco, where we spent 13 of his 15 seasons. Both players are analysts on ESPN's Monday Night Countdown show.
Here are four more topics Diggs covered with the duo:
On the playoff implications of tonight's game against Seattle:
Diggs: "We do it one week at a time, one game at a time. We understand the magnitude of the game and where we want to go and what this will do for us. At this point, we're taking it one play at a time. It's going to be a lot of fun, and we're going to work through it."
On the Vikings early frustration and two-month offensive surge:
Diggs: "It's been a work in progress, I feel like. I can't say we all went in the huddle and sang 'Kumbaya.' But we did go in there as men … everybody has an objective and a goal that we want to win. At the end of the day, we have to do whatever it takes to win."
On the past two wins against Denver and Dallas:
Diggs: "Last [game], we were down bad. Kirk threw us back into the game … he had a hell of a game. The Cowboys win … he played a great game. I feel like he doesn't get enough credit. At this stage in our season and with where we want to go, he's playing well."
On playing without an injured Adam Thielen:
Diggs: "At this point, it's kind of been a growing process because I haven't played without him. Since I've been in the league, he's been with me. It's been a growing process as far as learning. But I know me as a player, I'm going to step up and do my job. I'm trying to take advantage of my opportunities. But at the end of the day, it's fun out there. I've got some young guys that are running with me so I have to lead by example."