PITTSBURGH — Sunday's Vikings-Steelers game included a moment of silence and flag-raising ceremony in honor of late Steelers Chairman Dan Rooney, who passed away at age 84 in April.
One of the most respected and influential people in NFL history, Rooney's first job in the League was working as a water boy for the Steelers when he was 12. Rooney's full-time employment began in 1955 after he graduated from Duquesne University, embarking on a career that helped shape the NFL in numerous ways and resulted in his enshrinement in the Pro Football Hall of Fame.
NFL Commissioner Roger Goodell attended Sunday's game in honor of Rooney, and Vikings Owners Zygi Wilf, Mark Wilf and Leonard Wilf joined in expressing their condolences to the Rooney family, which has owned the Steelers since 1933.
Goodell said Rooney was like a father figure to him.
"To the League, he was a member of the Hall of Fame and someone who had a tremendous influence on the game over the years," Goodell told Vikings.com. "To me personally, he was like a father figure, someone I spoke to on a regular basis. He was always someone who was direct. We didn't always agree on things, but you so admire the man and admire what he did for the League over the years."
Goodell said Rooney always displayed a genuine sincerity.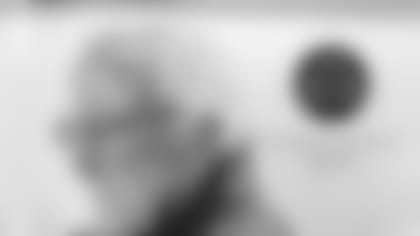 "He treated everybody with care and he was the real deal," Goodell said. "That's the thing that I'll always admire about him."
Vikings Owner/President Mark Wilf said his family appreciated their relationship with Dan Rooney and the entire Rooney family.
"Mr. Rooney was such a wonderful role model, not just for our owners but everyone in the football business and really for the greater community," Wilf said. "He was an outstanding owner, a great person and was always so gracious to us. He and his family represent the finest in terms of how they conduct their business."
Wilf said Rooney always was "always very personal," recalling, "I have a son named Daniel, and [Mr. Rooney] used to kid around with him when he was a little boy, 'We have the same name.'
"[Rooney] always was a very giving person in terms of offering advice on the business of the League, or just in general," Wilf said. "I know that tradition is carried on now by Art and the entire family in a wonderful way. I have a lot of respect for him, and we wish the Rooney family well and to cherish the memories."
Pittsburgh was one of three NFL franchises that joined former American Football League teams in forming the American Football Conference for the 1970 merger.
The Steelers began a dynastic era and finished the decade with four Super Bowl titles (IX, X, XIII and XIV) in a six-season span. From 1970 until 2001, the Steelers won 15 AFC Central Division titles. Pittsburgh, Cleveland, Baltimore and Cincinnati formed the AFC North in 2002 when Minnesota, Detroit, Chicago and Green Bay formed the NFC North.
The Steelers also won Super Bowls XL and XLIII for an NFL-best total of six.
In addition to leadership that produced titles, Rooney also championed diversity in hiring practices.
The Rooney Rule was established in 2003 to encourage consideration of minorities for head coaching and senior football operations positions. The Rooney Rule was expanded in 2016 to increase consideration of females for executive positions.
Since 2003, there have been 17 minority head coaches, and eight teams currently have minority head coaches, including Pittsburgh's Mike Tomlin.
"As it relates to the Rooney Rule, which was named after him as Chairman, that made such a difference and still does, not only in the NFL, but I think a lot of industries have adopted it," Goodell said. "One of the other things that I think is so amazing is that he had an influence on the labor negotiations, he had an influence on realignment. He cared about the League in general and the game of football. That's something you can never replace, the influence he had on the game."
Former Vikings Head Coach Dennis Green, who coached the Vikings from 1992-2001, was just the third minority head coach in NFL history and second in the modern era.
Vikings Chief Operating Officer Kevin Warren is the highest-ranking African-American executive working on the business side of an NFL team and became the League's first African-American COO on Feb. 12, 2015. Since Warren's promotion, the Vikings have named three women as Vice Presidents. Rooney selected Warren for the NFL's Committee on Diversity.
Rooney served on multiple NFL Committees during his tenure, including the Expansion Committee in 1973 that added the Seattle and Tampa Bay franchises. He also is credited with playing significant roles in multiple labor agreements between NFL owners and the Players Association.
President Barack Obama named Rooney Ambassador to Ireland in 2009, and Rooney held the post until 2012.