EAGAN, Minn. – Kyle Rudolph will be staying with the Vikings for the 2019 campaign and beyond.
The team announced Tuesday that it has agreed to terms on a contract extension ahead of Rudolph's ninth season in Purple. The 2019 season was the last on his previous contract.
Rudolph joined his former college coach Charlie Weis and Bob Papa on SiriusXM's The Opening Drive to talk about his excitement and sense of relief after signing.
"It was extremely important to my wife, Jordan, and me," Rudolph said. "Quite frankly, our only objective in this was to stay here in Minnesota. This is home for us. We want to stay here. We know how important it is to this fan base and the state of Minnesota to bring that first championship here, and now my sole focus is on that – just playing my roles on this team to the best of my ability and going out and trying to lead this team to a championship.
"I feel like now I can just go focus on football. Throughout this whole process, I trusted my agents, I trusted the Minnesota Vikings," Rudolph later added. "Now I have the opportunity to just go out and focus on football and do what I've done my entire life."
Drafted 43rd overall in 2011, Rudolph stepped into a regular role for the Vikings early on.
He started eight of 15 games played as a rookie and and caught three touchdown passes. In 2012, he started all 16 games for Minnesota and recorded 53 catches for 493 yards and nine touchdowns en route to his first career Pro Bowl, where he was named MVP of the all-star game.
Rudolph has started 104 of 112 games played for the Vikings thus far. Over eight seasons, he has totaled 386 receptions for 3,787 yards (9.8 yards per catch). His 41 receiving touchdowns in that span are tied for third-most in his draft class behind wide receivers A.J. Green and Julio Jones, and his catches rank fourth in the class. Both totals are the most by any tight end drafted in 2011.
The two-time Pro Bowler (2012, 2017) currently ranks ninth all-time in Vikings history in career catches and receiving yards. His touchdowns rank fifth all-time behind Cris Carter (110), Randy Moss (92), Anthony Carter (52) and Sammy White (50) and are the most in team history by a tight end.
Rudolph has made a tremendous off-field impact during his time in the Twin Cities, particularly in partnership with the University of Minnesota Masonic Children's Hospital.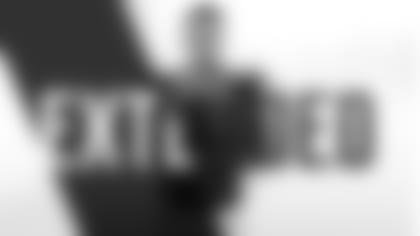 Twice nominated by the Vikings for the Walter Payton NFL Man of the Year award, Rudolph and his family opened the Kyle Rudolph's End Zone at the hospital in 2017.
Built as a getaway for children undergoing treatment, along with their families, the End Zone allows young people to engage in therapeutic play and experience a sense of normalcy. The 2,500-square-foot space features an indoor basketball hoop, a digital sports simulator, small kitchen, a lounge area with table games and a sensory wall for children on the autism spectrum.
Since opening its doors, the End Zone has hosted more than 5,500 visits.
While there was some outside speculation this spring about Rudolph's future, the tight end and the team remained confident that a deal would be worked out allowing him, his wife Jordan, and their three children – twin daughters, Andersyn and Finley, and son, Henry – to remain in Minnesota.
Henry may be too young to celebrate, but Rudolph shared that he has "three really happy girls" at home.
"I know my family's extremely excited to be staying here in Minnesota," Rudolph said before adding with a laugh, "My girls are scared to death of Viktor [the Viking], but they're excited that we're still on Viktor's team."
In a **Twitter post** Monday night, Rudolph expressed gratitude for the way the entire state has taken his family under its wing and capped his statement with #UnfinishedBusiness. He explained the hashtag to Weis and Papa:
"Two years ago, when we made a run to the NFC Championship game, we all got a taste of what a championship would mean to not only this organization and all the players, coaches and staff, but what a championship would mean to the state of Minnesota and Vikings fans all around the world," Rudolph said. "For me, that's the unfinished business. I want to be part of the first team that wins and brings a championship here to the state of Minnesota and the Vikings organization."
When the Vikings tabbed tight end Irv Smith, Jr., with the 50th overall pick of the 2019 NFL Draft, some on the outside began to speculate about Rudolph's status with the Vikings.
But as Minnesota's three-day mandatory minicamp opens, the Vikings have two second-round tight ends in the mix. The team has utilized multiple tight ends in sets during voluntary Organized Team Activity practices that were open to the media.
Rudolph said recently that the prospect of two-tight end sets in Minnesota's new offensive system is "exciting."
"[It's] an element that we've never had here in my nine years. It forces defenses to play with three linebackers, and that allows us to control the game," Rudolph said. "When we go out there in three-wide sets and people talk about creating mismatches, well, now they have five DBs on the field. There are still mismatches, size mismatches, but you can kind of control and do things how we want to do them."
VIKINGS CAREER TD RECEPTIONS
RK PLAYER………….................................................TDs
1. Cris Carter………….................................................110
2. Randy Moss……………….........................................92
3. Anthony Carter………................................................52 
4. Sammy White…………..............................................50
5. Kyle Rudolph……….................................................41
VIKINGS CAREER RECEPTIONS BY A TE
RK PLAYER…………................................................Rec.
1. Steve Jordan……….................................................498
2. Kyle Rudolph………...............................................386
VIKINGS CAREER RECEIVING YARDS BY A TE
RK PLAYER………….....................................Rec. Yards
1. Steve Jordan………..............................................6,307
2. Kyle Rudolph………............................................3,787