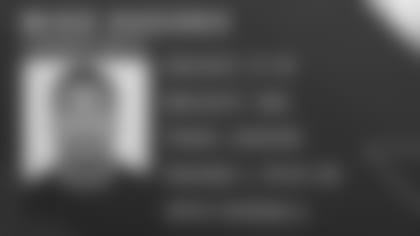 EAGAN, Minn. — The Vikings added to their secondary on Thursday selecting cornerback Mike Hughes out of Central Florida.
The 5-foot-10, 189-pounder started 11 games for the Golden Knights in 2017. He totaled 49 tackles (37 solo) and four interceptions, including one he returned for a touchdown, and broke up 11 passes.
Hughes also contributed significantly on special teams, returning 14 punts for 233 yards and a touchdown and 20 kickoffs for 635 yards and two touchdowns.
He garnered three selections as American Conference Player of the Week and was named to the All-Conference First Team as a corner and to the Second Team as a return specialist.
"He's my 15th overall player. That's a heck of a value for the Vikings," NFL Media analyst Daniel Jeremiah said during NFL Network's broadcast.
Hughes became the third cornerback the Vikings have selected in the first round since 2013, joining Xavier Rhodes (2013) and Trae Waynes (2015). Minnesota also drafted Mackensie Alexander in the second round in 2016.
Click **here** to read Hughes' Prospect Profile.
An all-state pick from Bern, North Carolina, Hughes signed on with home-state UNC for the 2015 season. He played in 11 games as a reserve that year, making 12 tackles and breaking up three passes. Hughes was suspended in October, however, for violating team rules after being part of an incident at a fraternity house. His time with the Tar Heels was over, so he attended Garden City Community College in 2016, earning national junior college All-American honors with 47 tackles, two interceptions, six pass breakups, and three return touchdowns. UCF Head Coach Scott Frost convinced Hughes to join UCF for the 2017 season, and his play was a big reason for the team's undefeated record. He started 12 of 13 contests, garnering first-team All-American Athletic Conference honors as a defensive back (44 tackles, four interceptions -- one returned for a touchdown, team-high 11 pass breakups) and second-team accolades as a returner (20 attempts, 635 yards, two touchdowns on kick returns; 13 attempts, 233 yards, one touchdown on punt returns).
Hughes simply hasn't had the game experience he needs to put together the consistency in coverage that teams might like to see. He's a projection-based prospect who has shown twitch, ball production and toughness in a small sample size. Despite being a little short, he is likely to stay outside in coverage. While teams wait for him to gain coverage experience, they can certainly lean on his tremendous talents as a return man. Hughes has potential, but there is still work to be done in coverage.
-A little short but stout and tough
-Very physical from press
-Gives opponents a rough ride out of their release
-Won't just jam, looks to completely halt the route with his initial punch and aggression
-Tracks and catches the football like a receiver
-Ball skills include plus timing, soft hands and an ability to adjust body to make the catch
-Plus short-area foot quickness to burst on ball and tremendous run-you-down speed on deep balls
-Should be able to run with most every receiver in the league
-Premium talent as a return man
-Capable of making huge changes to field position and momentum
-Eludes first tackler on punt returns and can change field position battle quickly
-Downhill kick returner with speed to house it once he gets his crease
-Has played just two years of college football with just one season as a starter
-Not as natural with mirror and match footwork as he will need to be on next level
-Lacks height and gets high-pointed by capable wideouts with size
-Plays too tall in his backpedal and from off coverage which slows transitions on the throw
-Allows physical receivers to knock him off the top of the route
-Needs more practice and game experience for improved pattern recognition
-Coverage balance is hit-or-miss
-Has room for improvement as a tackler 
"I wish he would have stayed. I don't see him as a 'one' and I think he could have been with another year. He's just raw right now but he's got the ability to become a really tough ball challenger." -- NFC regional scout
View images of 30th overall pick Central Florida cornerback Mike Hughes.