It isn't uncommon for David Peterson to attend Vikings games in costume.
David and his girlfriend, Teresa Frank, regularly show up to their seats at U.S. Bank Stadium wearing clown costumes with a purple-and-gold flair. The couple also has been known to dress as Santa and Mrs. Claus for December games.
So when David and Teresa – as the Clauses – were invited by Vikings Ticket Office Supervisor Tessa Carter to help with a promotional video during the Dec. 23 Monday Night Football game against the Packers, they didn't think much of it.
Except there really was no promotional video.
Instead, David and Teresa were met by Viktor the Viking, who presented them with quite the holiday surprise: a pair of tickets to Super Bowl LIV in Miami.
They asked me, "Is there anything that Santa would like for Christmas?" David recalled. " 'Well, no, Santa gives gifts; he doesn't receive them.' But then they said, 'How about these?' And that's when they held up the Super Bowl tickets.
"Total shock," David added of his reaction. "They tell me that there was more of the game after that, but I really don't remember it."
Starting a family tradition
David has been to every Vikings game at U.S. Bank Stadium since it opened in 2016.
He first purchased season tickets with his wife, Pam, who had been battling cancer for six years. Pam suggested the season tickets as a family activity and way to spend extra time bonding with their daughter, who at the time was attending Bethel University for athletic training.
David worked with Carter to purchase three seats; due the number of ticket packages already been sold, the best seats available were in Section 215.
"We really enjoyed the beautiful view through the doors, especially at night," said David, who added that he, Pam and their daughter always planned a meal downtown before or after the game to make an entire family day out of it.
Following that first season, David and Pam talked to Carter about getting an even better vantage point to watch their favorite team, and they upgraded to a trio of seats in the Delta Sky360 Club.
"We couldn't sell the 215 seats [after one year], so we decided to keep them for family and friends," David explained.
Sadly, Pam passed away after a long-fought cancer battle in July of 2017 and never got to view a Vikings game from the Delta Club. David and his daughter remained loyal fans, attending every game and inviting additional friends and family along with them.
Some time later, David and Teresa met at their church while working with a local nonprofit that combats homelessness in their community.
David invited Teresa to her first-ever Vikings game in 2018, the Week 3 matchup against the Bills, and says he still gives her a hard time about Minnesota's difficult loss that day.
"She almost never got another invite," David quipped.
But since then, David and Teresa have been a staple in the Delta club – as well as in the community.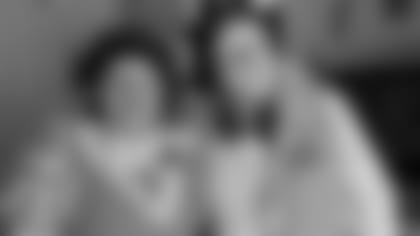 Giving back on and off the gridiron
The two are heavily involved with Family Promise, where David serves as the board of directors president, as well as additional nonprofits. The couple often dresses in costume for various youth events and every December makes several appearances as Mr. and Mrs. Claus, including at a large Family Promise holiday event.
And although he could have opted to sell his three seats in the 200-level, David instead chooses to retain them and bless others. He has on occasion traded them in for ADA seats in order to provide tickets for fans in wheelchairs, and he regularly gifts the tickets to friends – or friends of friends – who are attending their first Vikings game.
"We like showing off our stadium," David said proudly.
For the 2019 season finale against Chicago, David gifted the tickets to three Wounded Warrior veterans. He even added an extra-special touch by purchasing Celebration Packs for the servicemen.
"Teresa and I have both had some sorrow and sadness in our lives," David said. "We understand that you can't change somebody's life, but you can give them a smile for a while. And you know what? It's a lot of fun, too."
Carter highlighted the impact the couple makes through Vikings games and beyond.
"David and Teresa always look to do good for others, and it doesn't stop with volunteerism in their local community. They give back to others with the Vikings experience," Carter said. "They are always dressing up on game days to give a smile to those who see them, they are kind to the club employees and always trying to get them the recognition they deserve, and most admirably they are always bringing others with them to games who may otherwise not be able to have that experience.
"Those selfless actions and spreading the amazing in-person experience of Vikings football to help grow the fan base is what being a Vikings season ticket member is all about," Carter added.
And yet, when David and Teresa were recognized with Super Bowl tickets, they both were caught entirely off guard.
"I've been to every game in U.S. Bank Stadium, and we've seen tickets given away to very, very deserving people," David said. "But we never, never thought that's what they had in mind that night, and we certainly didn't feel that we fell into the category as deserving as the others who have gotten tickets."
But Carter and the Vikings were proud to send David and Teresa to Florida to well-represent the Minnesota fan base.
Lifetime memories in Miami
While in Miami, the pair of Vikings supporters connected and spent time with fans of all other 31 NFL teams.
"It was a lot of fun meeting people from all over the country," Teresa said. "We had a lot of fun talking and laughing and just enjoying that weekend together. Everybody was excited and happy."
As part of the experience, the group of fans attended "You Make the Call" with NFL Senior Vice President of Officiating Al Riveron and "How to Make the NFL Schedule" with NFL Vice President of Broadcast Mike North.
"The talks were so interesting," Teresa said. "I'm not as avid a football fan as David is – I enjoy the games, but I'm not as detail-oriented – and it really opened my eyes to a lot. It helped me understand some of the behind-the-scenes things."
On the eve of Super Bowl LIV, the fans received a unique perspective of NFL Honors, where they were able to view the red carpet and during the ceremony received a backstage experience.
"[Event host] Steve Harvey came back and filmed live," said David, who added with a laugh, "I even got on TV for about 2-and-a-half-seconds."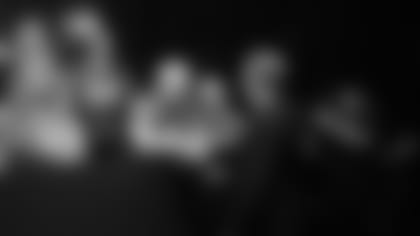 The group received pregame sideline passes, and David and Teresa took in the energized environment from the field. The Minnesotans had fun making "snow angels" on the turf near the Kansas City bench a couple of hours before kickoff.
"We've been saying the Chiefs players copied us after the game when they did snow angels in the confetti," David quipped. "That's our story, anyway."
The duo opted to root for the AFC team, being that Chiefs quarterback Patrick Mahomes is the son of former Minnesota Twins pitcher Pat Mahomes, whom David watched play in the Metrodome.
"We decided to just [claim him as ours] and cheer for him," Teresa said.
David recalled watching the Vikings throughout the Bud Grant era, during which he saw Minnesota make it to four Super Bowls.
"Back then, I was dairy and grain farming, so a lot of my football experiences were through the radio on Sunday afternoons," David said.
Asked if their experience in Miami allowed them to envision the Vikings returning to the Super Bowl, David didn't hesitate.
"Oh yes," he said. "Absolutely."