The recognition for Smith is well-deserved and, many believe, an overdue honor.
It serves as a reminder to Vikings scouts and coaches, who descended on Lower Alabama for this week's Reese's Senior Bowl, of the 110-plus quality prospects who are invited to the annual all-star game, and also a point of pride.
The Vikings learned a considerable amount about Smith in 2012 when they coached him the full week of practices and in the game. General Manager Rick Spielman traded back into the first round of the draft three months later to select Smith 29th overall.
"It makes you feel good. You pound your chest a little bit because it's hard to pick players and be right on them," said Vikings Director of College Scouting Jamaal Stephenson, who is in his second full season in this role but entering his 15th overall with Minnesota. "No matter what they do in college, on that stage, the NFL is a different level. This kind of puts it in that setting with guys they're going to be facing at the next level. It's a good proving ground, and we enjoy coming here."
Stephenson, who was recognized by the Fritz Pollard Alliance as NFC Scout of the Year in 2012, was Assistant Director of College Scouting at the time under Scott Studwell, a legendary linebacker who remains with the team as a college scout.
Stephenson remembered that the Vikings had a few questions about Smith in between his time at Notre Dame and the Senior Bowl, but in that week, the Vikings "saw his football passion and what he brought to the table."
"I think we were taken aback by how athletic he was," Stephenson added, "so being able to see these guys move around with their peers and to do it on a big stage, that's invaluable to our scouting process."
Although most of the Vikings coaching staff has changed since 2012, the scouting department hasn't experienced much turnover under Spielman.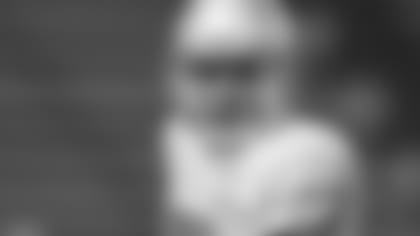 Smith's ability to cover passes and deliver momentum-seizing plays — he has 12 career interceptions, including a franchise-record four returned for touchdowns — is accompanied by his ability to make big hits in run support and as a blitzer. The versatility, combined with his emphasis on making routine plays — if there is such a thing against talented NFL offenses — make him an ideal fit for Mike Zimmer's scheme.
The alignment happens to be a coincidence, but it has been observed across the league.
NFL Network reporter Alex Flanagan has covered Smith since his college days at Notre Dame and is excited for him to make his first Pro Bowl appearance on Sunday.
"I think he's kind of, in talking about Mike Zimmer and his toughness, I think Harrison, toughness just kind of oozes out of him," Flanagan told Vikings.com. "I think he's a player that kind of puts his head down and does his thing, plays hard, works hard, and it's really nice to see him be rewarded with the Pro Bowl."
Players who have been added to the Vikings since Zimmer's hire in 2014, like fellow 2016 Pro Bowler Anthony Barr, are the product of what Stephenson said is "top-notch" collaboration between the personnel department and coaching staff.
"I believe you have to have that in the NFL to succeed," Stephenson said. "I firmly believe that we do have that maybe for the first time since I've been here, and I've been here since 2002. It's a relief to have a staff that you know what they want and what they're looking for and you can go out and identify those players."
Zimmer has worked with the scouting department to explain the traits and abilities that best help what he wants to get accomplished, and clear communication serves as a guiding light when they renew the screening process each summer and comb the country every fall.
"Rick has done a really good job of getting a lot of guys in here, guys that we both have the same kind of vision for," Zimmer said. "We like the same kind of guys, and I think that's starting to show up in the way they play, and then, he's able to help with the scouts and Jamaal and Scott Studwell. They are kind of already talking about, 'Zim' would like this guy' and 'these are the kind of guys that fit into what we're looking for' and things like that, so they already kind of know where we're at, as opposed to starting at the beginning like we did a couple of years ago."
Since Vikings coaches are occupied each autumn with in-season duties, the Senior Bowl is really their first exposure to players who want to become pros.
Prospects participate in three days of practice, Saturday's game (this year's coaching staffs are the Cowboys and Jaguars) and in formal and informal interviews with coaches and scouts.
Next month's NFL Combine will also include interviews, in-depth medical exams and timing and testing drills, but the Senior Bowl is the only chance to personally eyeball players in pads and see how quickly players learn and adjust to a new environment.
"It's an opportunity to see these guys in an atmosphere that might be foreign to them," Stephenson said. "You don't want to downgrade a guy if he doesn't play well here, but the guys that do play well, that's another feather in their cap because it means they can adjust and adapt to different situations and still stand out."
Stephenson launched his career in 1999 as an intern with the Redskins when Vikings Offensive Coordinator Norv Turner was Washington's head coach. He then worked two seasons for the Texans as college administrator before joining the Vikings in 2002.
"We have a great bunch of guys. Most of us have been together since 2006 [when Spielman was hired as Vice President of Player Personnel]," said Stephenson, who thanked Studwell for his help with the transition. "It's a team like it's a team on the field. We rely on each other to get our work done and share ideas and brainstorm about how we can make this team better."