When Anthony Barr batted down Aaron Rodgers' final pass of the 2015 regular season's final game, hands and helmets along the Vikings sideline went up in elation.
Like the orange Gatorade that surprised Head Coach Mike Zimmer, Minnesota's excitement for the NFC North title drenched the Vikings bench.
One individual, however, stood stoically among the celebration.
"You've never seen me cheer on the sidelines … because I'm working and I've got a job to do," Vikings Director of Security Kim Klawiter said in a recent interview before his March 31 retirement.
"I'm jumping up and down inside," he assured. "I'm thrilled to death with every victory, and I hate every defeat. But I think if you watch me on the sideline, you wouldn't know if we had won or lost the game."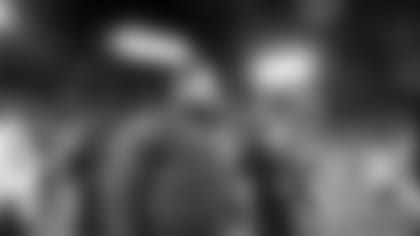 Anyone who has worked with Klawiter over the years understands this side of him.
"When you meet Kim and get to know him, you see that he likes to have fun, joke around and interact with people socially," Vikings Vice President of Operations and Facilities Chad Lundeen said. "At the same time, when it comes to performing his job, there are no gray areas – the rules are the rules, and Kim lives by them and enforces them.
"The strong integrity Kim demonstrates allows him to effectively perform his job duties," Lundeen added.
Discipline is something that comes naturally for Klawiter, who spent 18 years in the U.S. Army. He served as a platoon sergeant during the Vietnam War, during which his heroic actions earned him the Bronze Star and Purple Heart.
Following his time in the military, Klawiter spent 25 years in law enforcement for the Minnesota State Patrol and retired as a lieutenant.
"That kind of discipline made it an easy move for me because I can separate [being a fan from being on the job] very easily," he explained.
Klawiter grew up in White Bear Lake, Minnesota, and regularly watched the Vikings play on Sunday afternoons.
So when an opportunity to work games at the Metrodome opened up, the prospect appealed to him.
Following the Sept. 11 terrorist attacks, the NFL heightened security across the league. Rather than just the Minneapolis Police and Fire Departments at the stadium, the NFL wanted representatives from the Sheriff's Department, State Patrol and FBI at a security command post for every game.
Klawiter worked at the command post for home games from 2001-05, adding special events security to his responsibilities for the team in 2002, and in 2006 he retired from the State Patrol and assumed the full-time Director of Security role.
"I literally left my job at 8:00 in the morning on a Monday and started working for the Vikings at 9:00 the same day," he laughed.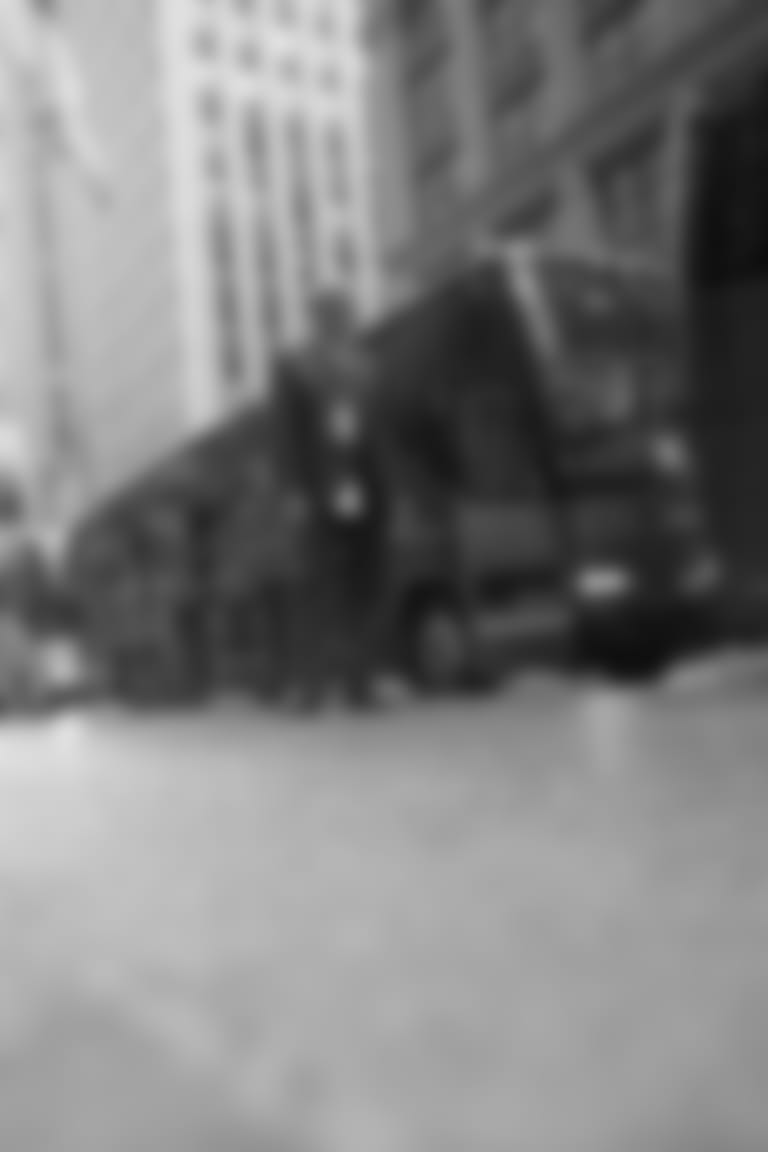 On the scenes – and behind them
Klawiter has worked tirelessly at his job ever since, making it his priority to keep safe everyone within the Vikings organization.
There are the heavy undertakings that most would think of as part of Klawiter's detail: planning and arranging security for home and road games throughout the season, overseeing security at Vikings Training Camp – first in Mankato and then at Twin Cities Orthopedics Performance Center – and ensuring the team facility is secure.
The Vikings trips to London in 2013 and 2017, Klawiter said, involved the most work from a logistics and planning standpoint.
Former Vikings linebacker Chad Greenway was a rookie during Klawiter's first full-time season, and the two spent 11 seasons together before Greenway retired in spring 2017.
He recalled one year when Klawiter had to handle a situation during a game, when someone without proper credentials crossed onto the Vikings sideline. According to Greenway, the situation escalated to a degree, and Klawiter had to physically apprehend the individual without creating an overly dramatic scene.
"Kim's a complete bad-ass," Greenway said. "And you felt super safe because he controlled the sideline and [ensured] nobody was overreaching where they were supposed to be."
Former Vikings running back Adrian Peterson, whom Minnesota drafted in 2007, also gained a deep respect for Klawiter during their time together.
Peterson said Klawiter's impact and leadership was "unmatched" during his time with the organization.
"He was a consistent professional, and he didn't take any crap from anybody. He just went about his business," Peterson said. "You would have thought he was protecting and watching over the President. He was dead-serious.
"He was always serious, no matter if there was family around, people he knew, he always put his job above everything," Peterson added. "He was always able to maintain that strictness and that firmness but still was genuine and kind to people once he got to know them."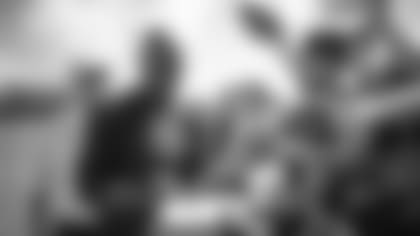 While much of Klawiter's job has been public-facing, he always paid attention to behind-the-scenes responsibilities.
Lundeen pointed out Klawiter's work on background checks of potential employees, and others noted Klawiter's commitment at the team hotel before home and away games.
"Security is on our floor of the hotel every night," Vikings tight end Kyle Rudolph said. "Someone's constantly there, and you always knew you could see Kim there at the hotel when he very easily could have passed those duties on to other employees under him. He didn't have to show up at the hotel every Saturday before a home game, but he would be there."
Zimmer, who took the helm in Minnesota in 2014, said Klawiter has done a "remarkable job" in their six seasons together.
"The way he goes about his business is extremely professional. He always cares about the players and the coaches and trying to help them in any way he can," Zimmer said. "He's there at any moment, for anyone. Like he's said many times, his phone is on 24/7 except for the time he's in church on Sunday. All the players have really respected him. He's been by my side for every game.
"He goes out of his way to help the team, my family and everybody else," Zimmer added.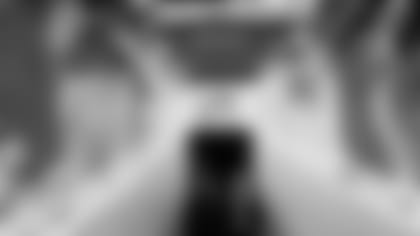 Talk to most players who have spent time with Klawiter, and they will highlight the care and consideration he showed to their families.
Greenway, Peterson and Rudolph shared similar sentiments about the experiences of their wives and young children when attending training camp practices or Saturday morning walk-throughs during the season.
"Whether it was when they were coming to the facility on Saturday mornings – helping them get in, helping them get to the indoor facility, helping Jordan with all the kids, Kim was always kind of the line of communication between myself and Jordan when I couldn't be there to communicate," Rudolph said. "Whether it was at work, during a game, whatever it was, Jordan always knew that she could reach out to Kim, and Kim would be able to provide answers."
He mentioned instances where he suffered an injury during a game, such as a broken foot in Dallas in 2013, and Jordan was able to reach out to Kim for an update.
At the beginning of every season, Klawiter spoke to the players' significant others every season and made sure they were able to get in contact with him for anything security- or injury-related.
"I'll go in the locker room and see, 'Did somebody just tweak their knee, is it an ACL, a concussion?' I end up talking to one or two players' families almost every game," Klawiter explained.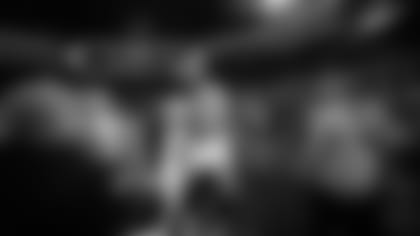 Vikings tackle Aviante Collins recounted the 2017 NFC Championship game in Philadelphia when Vikings fans, including his wife, faced a rowdy and aggressive crowd.
Collins emphasized the "extra mile" that Klawiter went to ensure the wellbeing of players' family members after the tough loss.
"My wife along with some [other players' family members] were stuck in the middle of this crazy crowd just trying to get out and get to the hotel," Collins said. "Kim personally made sure that they were walked all the way to the exit and into a car by a trusted member of his staff."
For Klawiter, it's always been important to him to extend care in whatever way possible.
"I just think that not only am I trying to do the right thing for the families, but I think the players see that and appreciate that, also," Klawiter added. "I think when they see how close I am to their [families], they do appreciate that, and it makes the rest of my job easier."
Lundeen admires the relationships that Klawiter has developed with players and their families over 14 full-time seasons with the Vikings.
"That's an important aspect of his job, having the players trust him. The guys know he is not here to get them out of trouble but that he has their best interests at heart," Lundeen explained. "Kim is focused on providing the leadership to help the players make good decisions and keep them safe in their homes, at work and as we travel."
Lundeen also pointed out that Klawiter hasn't established connections only with Vikings personnel but also with various fans that he's come to know throughout his tenure with the team.
Particularly when training camp was hosted at Minnesota State University, Mankato, Klawiter formed friendships with longtime fans who visited year after year.
One family in particular had a son who received a Multiple Sclerosis diagnosis at a very young age and wasn't given a long life expectancy. Every summer, that family drove up from Illinois and stayed in Mankato for a week or two in order to attend daily training camp practices.
It was there that Klawiter bonded with the family and the son, who at that point had already defied the odds.
"I just got to know the family, and we would get them passes so they could come out onto the field. I think the son lived to be [middle-aged], and he wasn't supposed to live to even be a teenager," Klawiter reflected. "For them to come back every year [was special]. A lot of the players knew him. … Adrian, Kyle, Everson [Griffen]. He was always there, and he never asked for anything. They were just a good family, and if they got some autographs it was cool, but that's not why they came. They came just because they were big fans."
Since that time, the son – as well as his father – have passed away, and Klawiter has quietly made the trip to Illinois to attend their funerals.
"I would like to think I was a good representative of the team that way," he said. "And there have been others. There's probably six or eight families that I've gotten close to over the years who are just big Vikings fans and always come to training camp.
So much more than security
The impact Klawiter made on the Vikings organization has been far-reaching.
Vikings General Manager Rick Spielman said that if one looked up "integrity," "honor" and "service" in the dictionary, they each should have a picture of Klawiter beside them.
"Those words would describe Kim the best," Spielman said. "It's who he is as a person. He's always putting people first – that's what makes him so unique.
"He's always going to do something that will provide a service to people before himself," Spielman added. "The unselfishness that he shows throughout his time here was demonstrated daily."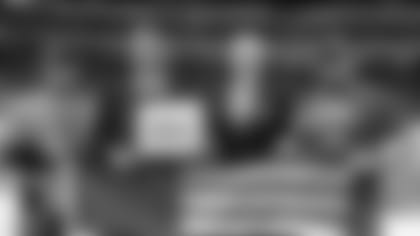 When the Vikings signed Collins as an undrafted free agent in 2017, Klawiter was among the people he met during a meeting that introduced players to executives and other personnel. Klawiter handed out his business card to the team that day, and Collins has kept the card in his wallet ever since.
"The connection I have with Kim is unlike any other. He isn't just a friend; he's become like another father figure," Collins said. "To me, a father figure is someone who instills genuine character and teaches you life lessons through your own experiences – and that's exactly what Kim has been to me."
Greenway emphasized that Klawiter always was "so much more than running security" to him and his family.
"It became just like having a relationship with a teammate – with Brian Robison for 10 years or Adrian for 10 years – Kim and I had that very same relationship for 11 years," Greenway said. "I trust Kim with everything in my life. He's just a phenomenal guy."
After 14 seasons as the Vikings Directory of Security, Klawiter is stepping away from the job he loves.
It's a position that he never will take for granted, calling it an honor to have held the role for the time he did.
"When I was a lieutenant with the State Patrol, there were about 50 other lieutenants; and in law enforcement in Minnesota, there are probably 300-400 people that did the same kind of job I did with the State Patrol," Klawiter said. "[In this role], there are only 31 other people in the world that have my job. I'm very blessed, and I'm honored that I was one of them.
"And I don't take that lightly – which is why I conduct myself the way I do, especially on the sidelines," he added. "I think that's really special."
Likewise, he didn't take lightly the decision to retire. But if you ask him, he'll tell you that it's just time.
Zimmer will miss the postgame walks to the locker room, during which Klawiter would quietly but genuinely offer his support.
"He is very stoic and serious about his job," Zimmer said. "But if we're walking off the field or walking somewhere together, he'll say a comment like, 'I'm so happy that you won this game' and things like that. That's always meant a lot to me."
Collins said that Klawiter is leaving behind "giant shoes" to fill, adding that he has been an inspiration and role model.
"He always showed us how to act with class and character, things that are sometimes hard to come by," Collins said. "He definitely earned this retirement, and even though I'm going to miss him a lot, it would be selfish of me to keep him and his wife from enjoying their well-earned time. My wife and I will forever be grateful for Kim and the time and love he has given! We love you, Kim."
Peterson also offered a long-distance message for his friend:
"I just really appreciate the time that he invested to be there for us," Peterson said. "Me and my family, we have everlasting memories of him. He's a person that we'll never forget. … We are truly appreciative for everything he has done not only for my family but the entire Vikings organization."
Added Peterson as the phone interview came to an end: "Make sure to tell Kim I love him."
Klawiter may not be on the sidelines for upcoming games, but you can bet he'll be closely following the team he's always loved. He also will have more time to spend with his family, which is his pride and joy.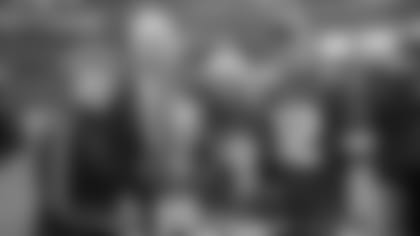 From one retiree to another, Greenway shared some advice for Klawiter.
"I know Kim's very passionate about his family, and I'm sure he's going to dive in with them on a bigger level," Greenway said. "The best part about being retired, especially in Kim's profession, having gone through multiple careers now and retired multiple times, is to sit back and enjoy yourself, and really look back and appreciate what you've created and the relationships you've developed.
"I think it's important to reflect," Greenway added. "I hope Kim takes the time to do that, to really understand how many people he's done such amazing things for."