When Marc Hasko received a call that he and a guest had won a trip to the NFL Pro Bowl, he asked his son, Josh, to clear that weekend "just in case."
Marc admits to being a bit skeptical at first, wondering if the news was simply a prank call or even a scam.
It was neither, however. Rather, Marc had been selected after submitting Vikings Rewards points in a sweepstakes for the experience.
"It wasn't until I got an email and talked to her again that I knew it was real," Marc said of Vikings Loyalty Coordinator Nicholle Egan, whom he spoke highly of.
The news could not have been more exciting for Marc, who grew up in Minnesota and has been a Vikings Season Ticket Member at all four stadiums the team has called home.
"I certainly remember going to the games at the Old Met, where we were snuggled on bench seats and only seeing eyes and noses for a lot of those winter games," Marc reminisced.
"It started with my father-in-law, now four generations of season ticket holders. We've seen everything from the agonizing Drew Pearson push-off to the [Minneapolis Miracle]," Marc continued. "It's been a lot of fun and, frankly, family time for all of us through four generations."
Originally the owner of a pair of season tickets, Marc increased the number of four seats per game when U.S. Bank Stadium was built because he wanted to have more opportunities to include his five grandchildren, who eventually will inherit the tickets. Older siblings Harry, Gabby and Rachel have all attended games, and Daniel (5) attended his first Vikings game with Marc during the 2018 season. Leah, 2, will one day do the same.
But Marc didn't think twice about who he would bring with him to Orlando for the Pro Bowl experience, despite receiving a little bit of grief from Harry.
"You've got a once-in-a-lifetime experience, and who would I rather it share it with than my son?" Marc said. "Harry, my grandson, was upset that I didn't take him – I told him that he'd miss too much school."
After working with Egan and the Vikings, who "did everything first-class for us," Marc and Josh traveled to Florida the Friday before the game. They enjoyed experiences that offered a behind-the-scenes look at the NFL, from a session with the league's Senior Vice President of Officiating Al Riveron to a chalk talk with NFL Legends Brian Urlacher and Chad Pennington.
Marc called the sessions insightful and interesting and appreciated the time NFL representatives spent with the 32 fans – and their guests – from each team's market.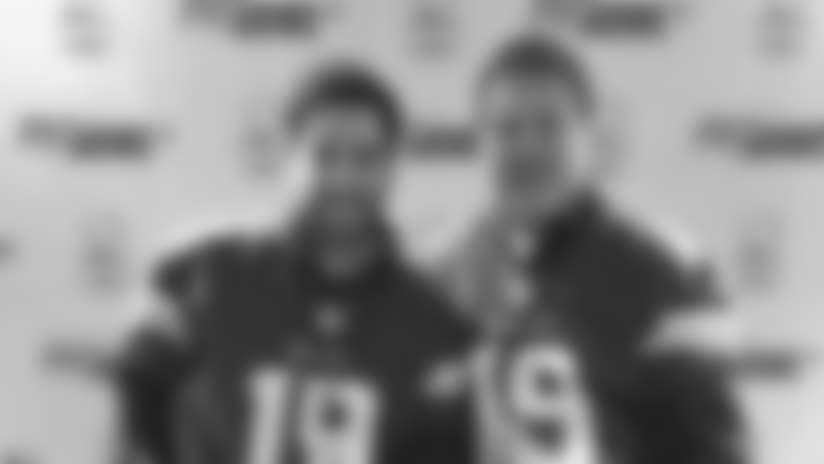 On Saturday, the fans spent time at ESPN's Wide World of Sports and were able to take in youth flag football tournaments that were coached with the help of Pro Bowlers, including Vikings receiver Adam Thielen.
"Everything about it really made you feel special," Marc said. "It was just a lot of fun to be part of all of that.
"You felt pretty special representing all season ticket holders and the fans," he added. "They made you feel that, while there were only 64 of us there, we really were representing a much larger, valued piece of the NFL."
The father and son spent Saturday afternoon at Epcot at the nearby Disney Parks, an experience that won't be taken for granted.
"I can tell you that as you get older, having time with your kids and being able to spend it with them is invaluable," he said. "Everybody's busy and everybody has a lot going on, so it was really nice."
Game day brought chillier-than-normal temps for Florida and a steady downpour, but Marc and Josh embraced the weather like the hardy Minnesotans they are, knowing the Twin Cities were being hit with subzero temperatures back home.
"It wasn't bad at all. You had a jacket on, and you had a poncho on, and you got wet – it wasn't the end of the world," Marc said matter-of-factly.
"It changed the experience on the field a little bit, but everybody had a good time," continued Marc, who expressed gratitude for Alexandra Smoczkiewicz, the NFL representative who worked with the NFC North fans.
"They were right alongside of us getting soaked," Marc said with a chuckle. "They provided us ponchos, and we all went on the field [for a video board recognition]. To be honest with you, sometimes when you have those experiences, they become as much fun to talk about as any of the nice, sunny days."
Marc was certainly grateful for the jerseys, memorabilia and other tangible "perks" of the trip, but it was clear he was most impacted by the personal connections.
Besides sharing the experience with Josh, Marc emphasized the unique opportunity they had to bond with fans of other franchises. The friendships formed with some of them, he said, will likely last long past the weekend. Talks of road-game trips between families even were discussed.
Although Marc didn't meet any of the Vikings four Pro Bowlers in person, he appreciated and valued the chance to see them practice and play. And he even shared a flight back to the Twin Cities with Thielen, who traveled with his wife, Caitlin, and two young sons.
"We didn't want to bother him with his family. We tried to be 'Minnesota Nice,' " Marc said. "He's my grandson's favorite player, so I certainly [would] shake his hand and thank him for what a great season he had."
Reflecting back over the trip that he's looking forward to telling his grandchildren about, Marc said it will be a forever memory.
"It was just wonderful," Marc said. "It really was a once-in-a-lifetime experience that I'm glad I could share with my son."